Los Angeles and New York City are typically over-credited when it comes to art and culture in the US. As a cultural capital in its own right, Chicago has long held a stake as a creative laboratory not just in the states, but globally. The Windy City is a proud sports town and a musical mecca that spawned the swinging compositions of Benny Goodman and the funk-induced Jazz of Herbie Hancock, to the inception of House music along with a myriad of rappers and producers. Chicagoans do things differently, and they are damn proud of it. Take Cody Hudson, an artist and designer who's abstract shapes and compositions provide a refreshing human touch in our increasingly digital world. Hudson has traveled across the country throughout his career, but ultimately knew that the midwest would always be home base. 
A master of shape and color, Hudson works across mediums and designs under his studio, Struggle Inc. His aesthetic feels familiar, carrying a childlike curiosity that gives each piece a primal yet inviting nature that begins to take on new meanings alongside each other and the surrounding spaces. Having exhibited across the world, Hudson has worked along a range of products, murals and prints for clients that range from Nike, Stussy and Undefeated to Pitchfork, Starbucks and the MCA. I hopped on a chat with Hudson to discuss his work and what the Midwest means to him. 
I'd like to know a little more about your roots growing up in the Midwest, floating around the country, getting into art and the influences that inform your work?
I was born in Kenosha, Wisconsin. It's right in-between Milwaukee and Chicago so we got influenced by both cities growing up. I grew up skateboarding and going to punk shows and making zines and drawing on my grip tape and all that stuff. I didn't realize until years later that some of what I was doing was basically graphic design or what we called it back then "Commercial Art". I was working at Piggly Wiggly also and that was starting to get old so I tried to focus more on finding ways to turn making flyers for friends' rave parties and such into more of a real job.
What about the Midwest do you believe often gets overlooked — charms that you can't quite get in the big coastal cities such as LA or NYC?
The Midwest is the Midwest. I think you either love it or you don't get it. I just happen to be from here, love it here, and will probably always live here. I like the honesty of the people; I like the work ethic; I like the food and the music. I moved around for years thinking that the location of where I lived was going to change my life; after 10 years of that I realized the change that needed to happen was in my own head not in a new city, so I came back home and started focusing on that.
Chicago is a cultural mecca in its own right — from its sports heritage to music, art and design — what about Chicago do you believe cultivates this creativity?
There are a lot of creative people here who want to do good work and represent the city in their own way. I feel it also gets looked down at and constantly reminded that it's not NY or LA so I think people take pride in doing good things here and putting in the work.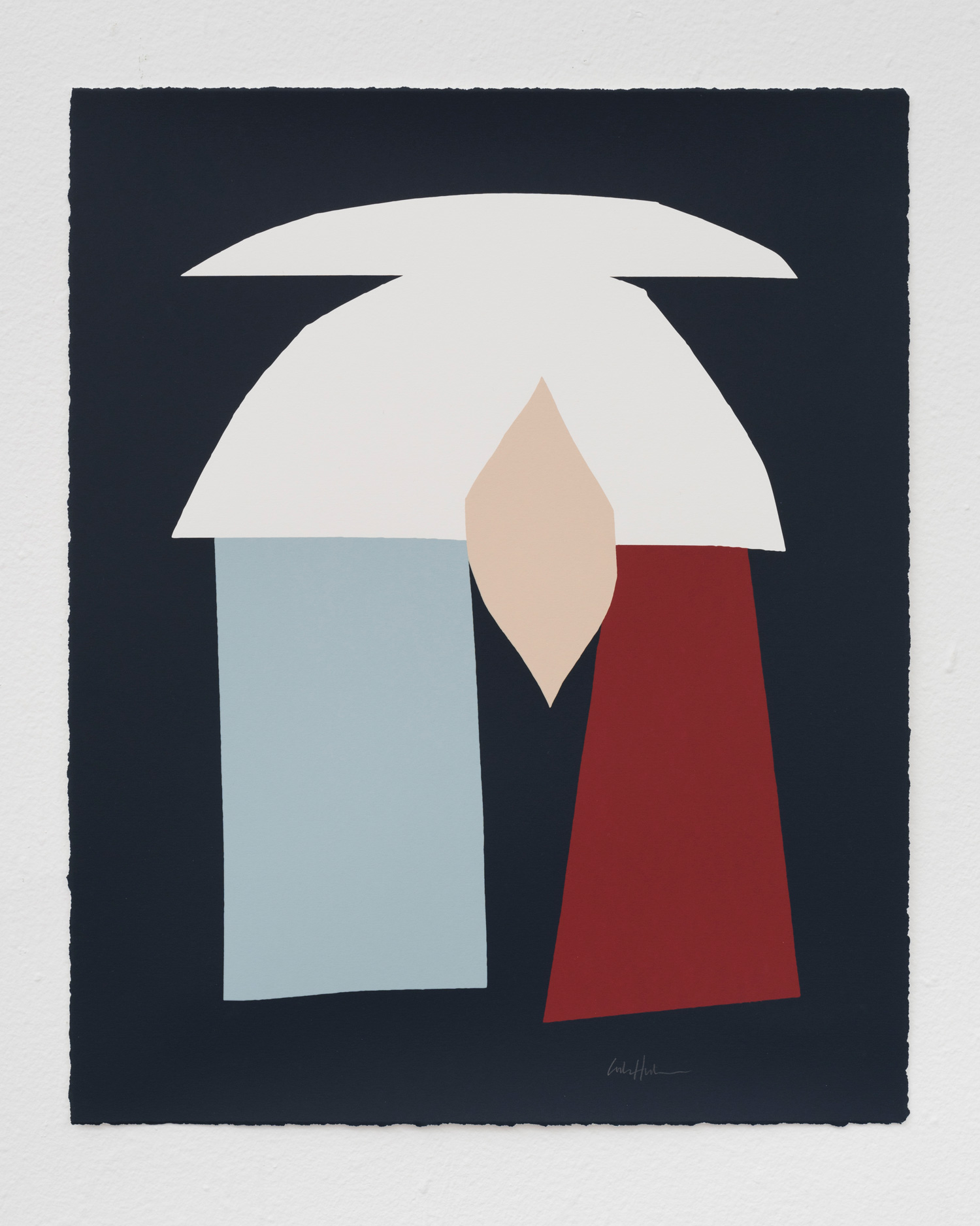 In our increasingly digital age, your work embraces the human touch. How would you describe your art and are there any messages you try to convey?
I like making stuff by hand, I'm getting old. I started doing graphic design before they used computers to do graphic design so my hands have always been a big part of my work. I also think my time focusing more on painting and sculpture has only pushed that more into my practice. I think something made by hand has a more honest feel to me; it's not trying to be perfect. When I cut out a circle I like that it has imperfections, I don't need or want to try and make it be a perfect circle.
Paintings tend to flow out more naturally for you, where there isn't a particular image or predetermined goal in mind. In hindsight, what would you say influences much of the final mark — be it music, film, art or anything really.
Everything around me makes its way into the work in some way or another. Music, art, walking in the woods, plants, nature, animals, my family, human emotions, feelings, etc.
What tracks and artists are currently on the playlist now?
It's been pretty mellow around the studio lately, Listening to a decent amount of Mary Lattimore, Joseph Shabason, Arp, Sign Libra, and more mellow music in the AM. Been also listening and getting back into a lot of Grateful Dead and Mazzy Star lately. Usually try to pick up the tempo later in the day and get into some more house music or electronic jams.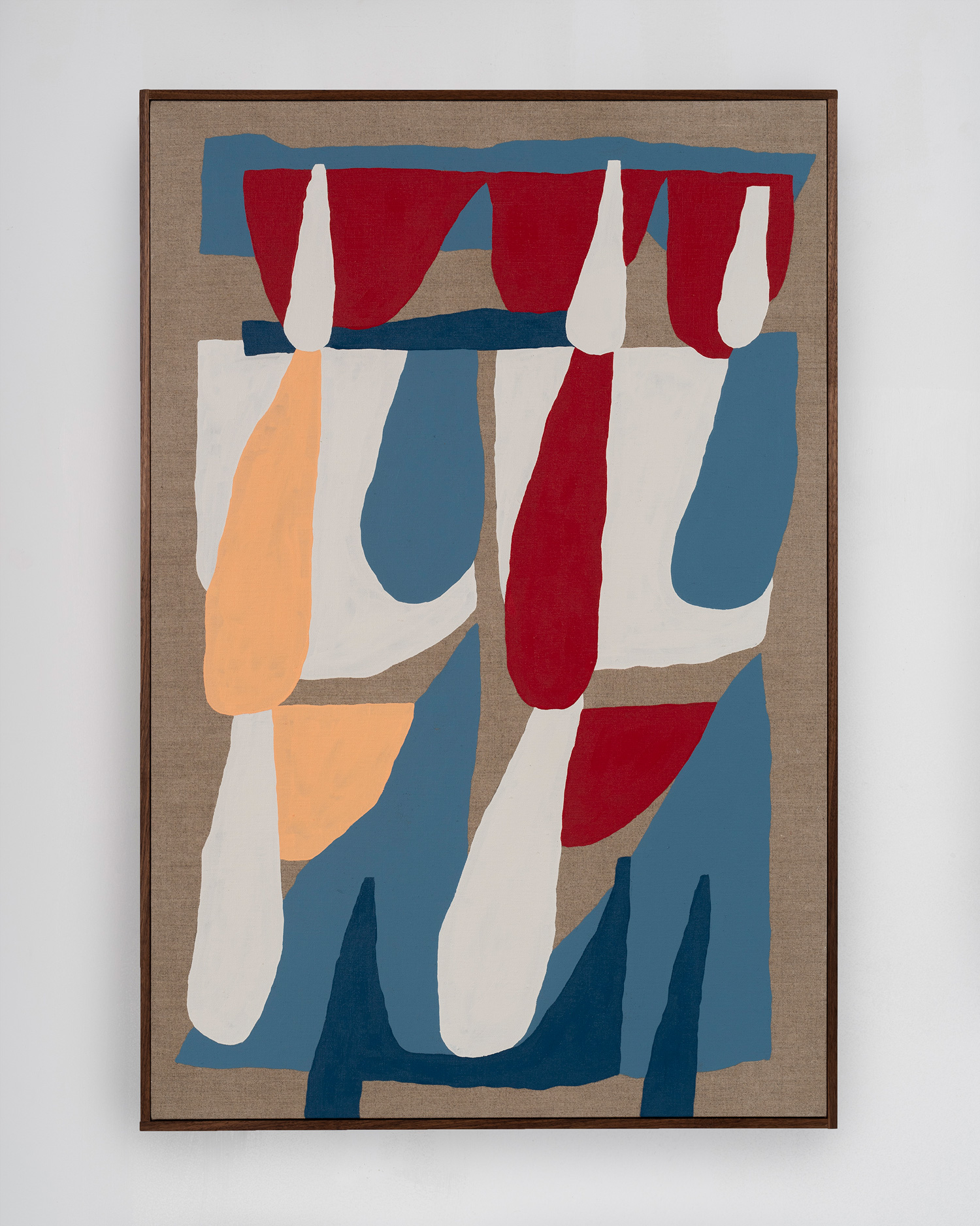 Ellsworth Kelly's iconic colors and shapes stemmed from his memories — from the reflection of the Seine to the back of a military caravan during WWII — as a fellow abstract artist, do you see a through line with the work you've created and are there particular themes or memories you attribute to them?
The titles of my work reference particular moments for me more than I think the paintings themselves do. In some situations though, I'll have a body of work that's very inspired by a specific landscape (like the high desert for example). Sometimes that's based on memory but a lot of times it's also where those sketches or initial studies were made as I like to work from the road, so some works can feel very connected to a place in my head but others are pretty far removed.
Having dabbled in a variety of mediums and collaborated with studios and companies from around the world, what have been some of your favorite projects and why?
I like any project that challenges me or gets me to be able to experience something new. Lately I've been working towards larger and larger public art murals where the scale of it becomes what starts to excite me about the project. I also like projects that really make their way out into the world. I've had some recent commercial projects that ended up all over the globe, so seeing that is always nice.
You recently exhibited at the David B. Smith Gallery in Denver, can you tell us a little more about the formation of this body of work?
This is a series of paintings and sculptures loosely based on what I thought the landscape of Denver would look like. I purposely didn't do any research so they are not real references but a lot of the works in the show for me were meant to be imaginary landscapes that just existed in my head.
Any shows or collaborations you're working on in this new year? 
I've got a big show in April at Andrew Rafacz Gallery. I'll be showing in both spaces as well as painting a large mural on the outside of the gallery. I've got a book of my work coming out this summer with Hat & Beard Press that's been in the works for a minute. The thing I'm probably most looking forward to though is spending some time in the woods with my family this summer and looking for turtles and frogs on the lake in Wisconsin.
For more from Cody Hudson, follow him on Instagram.