Demonstrating that they themselves are far more than just a few energetic beings making dope music, comes the trillest, most badass trio of rhythm makers: LA Qoolside. Living and creating in Los Angeles, Marika Dahlin and twin brothers Michael and Thomas Mauriello, originally crossed paths during an obscure art program at Biola University, where they first began crafting their insatiable beats and choreographing the dance moves that have made their live show so unbelievably fun to watch. Yet the group had somewhat of a rebirth at the start of 2017 after having to change its name from LA Poolside to LA Qoolside. The name change was the impetus for a magnificent "funeral" — a half art installation, half musical and dance performance that they hosted in order to leave behind the territorial alias and close the door on an era. However the "funeral" marked an exciting moment for the upbeat threesome, one where they could take their art and music into whichever direction they pleased; a rebrand of sorts.
Now LA Qoolside embodies much more than the funky pop melodies and punky percussion they make, touting an assortment of talents — dance, performance, art direction, film — and encompassing an overall avant style that cannot be mimicked, but rather is embraced. The reality of Qoolside is that there isn't a silver lining between realism and fantasy; they let us see, feel, and hear the truth behind the simplest abstract concepts. They hint at the surface, yet indulge themselves into the whimsical circumstances of breaking barriers. Their vision and style is spunky, specific, and poignantly calculated, which makes everything from the visual aesthetics associated with their tracks to the videos they self-direct, deliberate and necessary to their overall vibe and goal: to put the fun back into music. Their most recent singles, "Make It Boom," and "Sad Gurl," are an amalgamation of avant effects, rap-sung lyrics, and booming backbeats that possess the ability to have you questioning the seemingly pointlessness of genre. It's through LA Qoolside's desire to poke fun at the dark characteristic of our current zeitgeist that makes their music and art comically existential, outlandish yet sensational, and incredibly entertaining.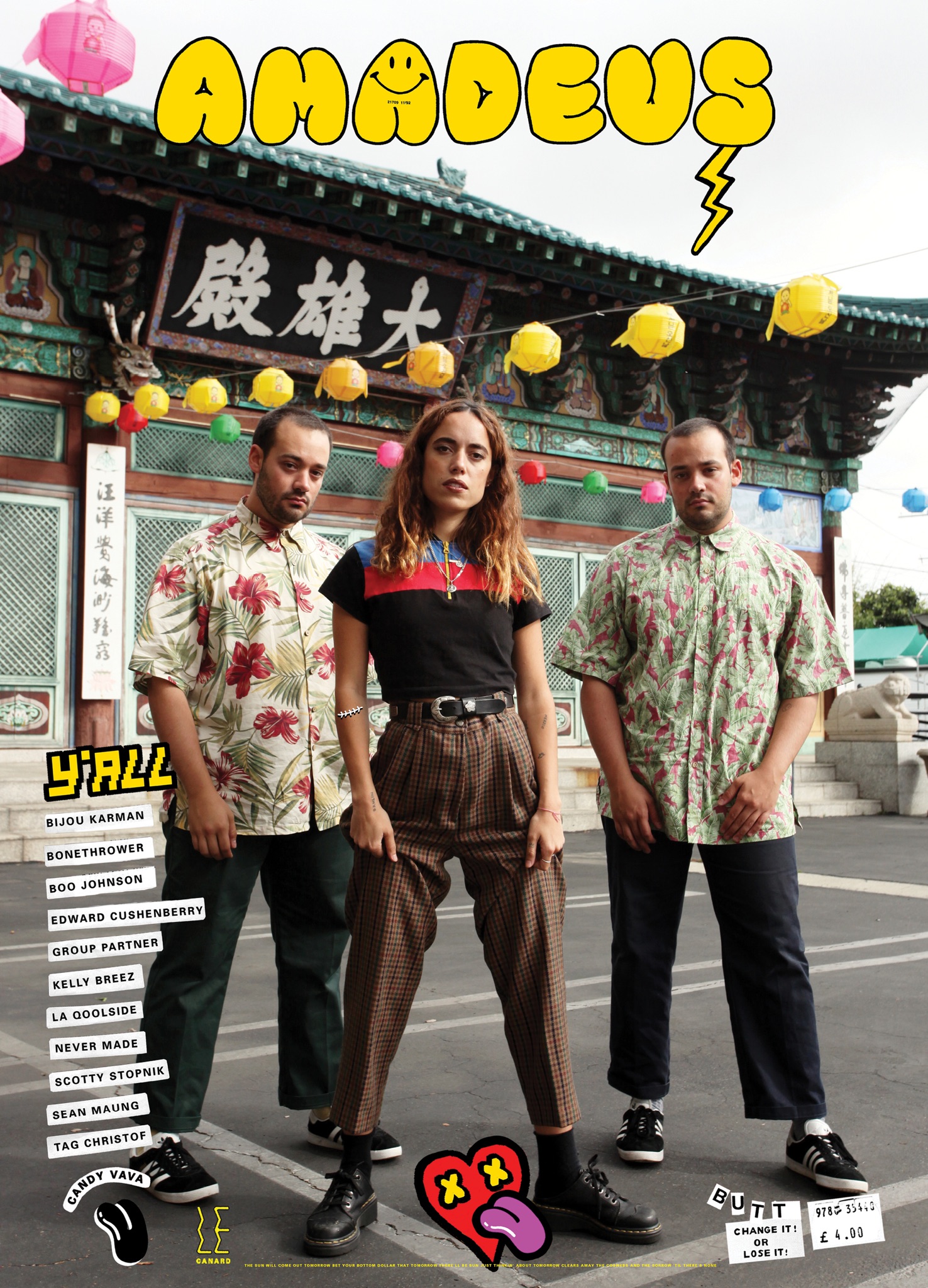 Not only is LA QOOLSIDE a band, but also the three of you have managed to evolve the music and group into more of an artistic statement with performances like the funeral you hosted a few months back — how has this influenced the songs you make?
Thomas: I am totally going to run the risk of sounding highfalutin' and "arty" right now, but it cannot be helped. We all met at art school (yes, we are an art school band), so naturally LA Qoolside is more than just a music project. We think that being an artist is a holistic lifestyle. The way you dress, arrange your room, what you watch, what you post on Instagram, how you pop your popcorn, how you fluff your pillows, the way you pronounce papier-mâché (if you even use the term papier-mâché), all these things should inform and shape the creative process.
Michael: Art should be seen, heard, experienced and lived in. In short, we are musical theater kids, so we know how to put on an experiential production… it's quite a to-do.
Scary Mary: I believe that life informs art and vice versa. I am not even sure if our songs are good; I am too close to them so I can't tell. But I always tell people, even if they don't like the music, they are guaranteed to have a blast at our shows. It's a whole production; it's pretty off-the-wall and unorthodox. Think "Singin' in the Rain" meets Duckie dancing to Otis Redding. Our process begins and ends with experience, which means that we are mindful of our Instagram posts, our props, choreography, music videos, attire, etc. It is all somewhat of a curated experience, in a thrown together, scrappy sort of way. Our experiences help inform our lyrics and beats, our songs give off a vibe, and that vibe directs our visuals. There is a whole "circle of life" thing that we got going on here.
Can the three of you touch on how LA Qoolside began?
Michael: Thomas and I have always taken a humorous approach to art making. We've been into comedy longer than music and visual art for sure. Before we thought of ourselves as "musicians," we started making satirical pop music with our friend Natalie under the moniker 'Naughtalie.' We were making an album called "In My Kitten Heels… Click Clack!" and we were going to just burn it on a bunch of CDs and leave stacks of them in Starbucks bathrooms with a sign that said, "One per person please." Satirizing wanna-be popstars is how we learned how to make beats and concept-based music. I think that's really had a huge effect on what we are doing with Qoolside. It's heavy on the satire for sure. We never finished the Naughtalie album. We lost our muse Natalie (due to her growing up and getting a real job) so we moved onto another project and a new muse, our friend Russell. He's crazy fun, high-energy, kind of a bully, and he's really into hardcore music. That project turned us into a punk/hip-hop/party-boy trio with him called Knuckleheads. It was loud, blown out, high-energy backyard shows. He moved to Chicago, so that fizzled out.
Thomas: When we joined forces with Marika it was our first time working with a real musician and artist. Her talent and creativity are insane. We took what we'd been doing with those last projects and were able to use those old sensibilities to make something more intentional, while using our common art and theater backgrounds.
Scary Mary: When Knuckleheads was no more, "The Twins" came to me with a proposition for a new musical endeavor. I said, "Duh! When?"
Has Los Angeles influenced your writing, creativity, and direction as artists?
Thomas: Absolutely, as a group we have a diverse perspective of Los Angeles. Marika has lived in the LA area her whole life so it's what she knows. Michael and I were transplants of Chicago and bring a different insight; we see the quirks a little more clearly. Or maybe not more clearly, but our Midwestern childhood expectations of LA versus reality left us with feelings of disappointment (I'm not afraid to say I watched The Hills). We've used our "outsider" perspectives of the idea of "LA" to fuel a lot of our concepts for our songs. We definitely like to milk the humor of our old expectations, like that season of "I Love Lucy" when Lucy and Ethel lived in Hollywood. After living here for a while we realized that what dazzled us before was in fact, fabricated by Hollywood. When LA outsiders put this city on a pedestal, things that make it a beautiful place tend to go unnoticed.
Michael: Now that we are older and much wiser we are now dazzled by the multitude of coffee shops, the diversity of this city, the hikes, the ocean, and the yearlong moderate weather. Oh also, we are all people-watchers so it's inevitable that we're going to write about what we are seeing and experiencing. Luckily there is a lot to see and experience in LA. If we move to Prague maybe we will rename the band Prague Qoolside and write about what we see and experience there.
Scary Mary: I was raised in LA, I don't know anything different and I believe that anything I create is somewhat autobiographical or based on my own observations. So, yes, Los Angeles has deeply influenced me as a human being and as an (dare I say it?) artist. I can be a bit of a hater, but for this magazine I am gonna be a lover. I love LA and I will rep it 'till my dying day. Sorry, not sorry New York City. NYC, you have had your moment in the sun. Now step aside and let LA show you how to soak up that vitamin D baby!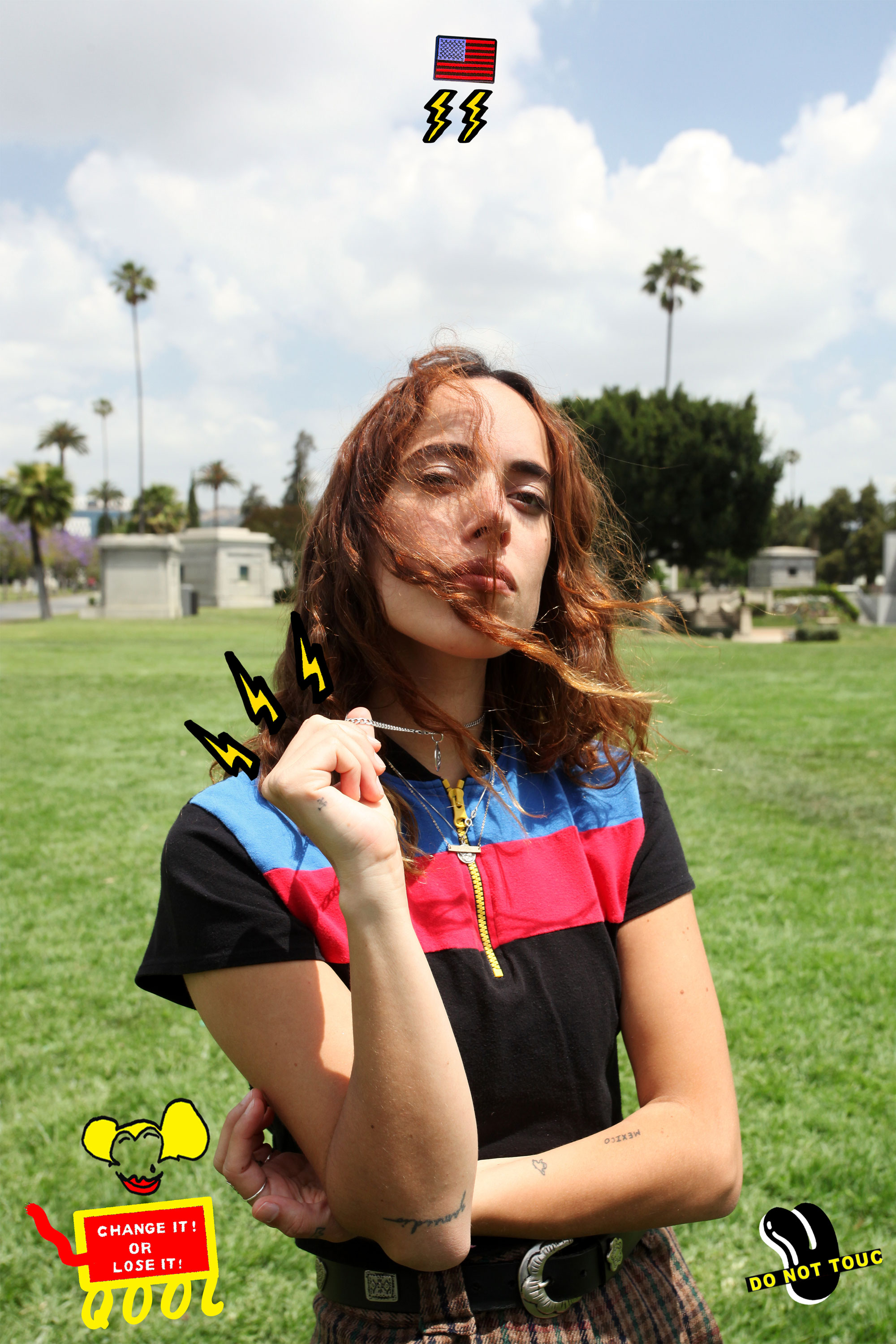 The Qoolside sound has a particular flavor: 90s dream girl meets R&B and punky electronic beats — who are your sonic inspirations while creating?
Scary Mary: There's so much to be said, where do I even begin? I have always been into the vocal stylings of Miley Cyrus, The Shangri-Las and Frankie Lymon. The commonality there is the lack of vibrato, or being mindful of the "vibrato" placement. I've been fascinated by vibrato since age of 11. I couldn't do it, but I knew I needed to learn, and ever since then I have been trying to figure out how to use it to my advantage. I love Shania Twain and the Dixie Chicks, their music is seeped in vibrato. A million hearts to those country gals. I think my two biggest vocal inspirations for Qoolside are RikRok in "It Wasn't Me" and Slick Rick. Their style is so effortless; they literally sound like they are about to fall asleep while standing up. If I could marry Slick Rick's voice, I would. As far as lyricism goes, I am really inspired by Lana Del Rey's "National Anthem."
Thomas: I've always been into music that subverts genre. You guys called us "unclassifiable" when you talked about the "Sad Gurl" music video and I thought that was cool. When I think about my favorite artists or albums that have inspired the Qoolside beats, the first that come to mind would be "Paul's Boutique" by Beastie Boys, "Graceland" by Paul Simon, "Everything That Happens Will Happen Today" by David Byrne and Brian Eno, "Bad Brains" by Bad Brains, "Velvet Rope" by Janet Jackson, "The B-52's" by the B-52's, and musical theater.
Michael: Gotta love the party starters! While making beats, I have been inspired by bands like LCD Soundsystem, Hot Chip and early Missy Elliott. But I love when a musician lets their performance sensibilities and creative personas inform their sound and vice versa. Elvis, Grace Jones, Michael Jackson, Freddy Mercury, Dolly Parton, David Bowie, it all goes hand-in-hand with all of these icons. It's probably what makes them iconic. As far as the 90s vibes you're getting, they come from a deep love for that time and an affinity for VMA performances from the 90s.
When filming music videos, how do you conceive imagery that is authentic, original, and unique?
Thomas: When you're ballin' on a budget like we are, you need to be scrappy, creative and intentional. Our budget is $0.00, so we've kept our videos simple and in the family. We have a talented group of friends who believe in our vision and want to help. We use whatever equipment we can get our hands on and do it ourselves. Shout out to Samuel Pepke who films all of our projects. He makes us look good without any complaints (except he is a little picky with food). For now it makes the most sense to just show off who we are. In the future, if we have the funds, we can probably get more hi-tech with the vids.
Can you touch on the newest track, "Sad Gurl?"
Thomas: I wanted to make a beat that was really dramatic. I mean the intro sounds like the soundtrack to the Jesus film. When I sent it over to Marika to start working out lyrics and a melody, I guess she caught the hint.
Scary Mary: I was trying to write a folk song and jotted down a few lines. They were too choppy and short for folk, then Thomas sent over his beat and it just clicked.
Michael: I wrote Thomas' and my verse to loop in some of that Qoolside humor. I dug deep to find the "Sad Gurl" tendencies within myself. It wasn't very hard (more like finding hay in a haystack.) Fun fact — the three of us had been calling Louis Vuitton, "Louis Vu-too-ee" that week, so I just threw it in there.
Lastly, who are your music crushes at the moment?
Thomas: I'm still loving Kendrick's Damn, and will probably be listening to it for a while. Also, I could listen to "Why" by Carly Simon on repeat all day.
Michael: I've had a LEGIT, like as long as I can remember lifelong music crush on ABBA, especially the hits. ABBA GOLD BABY!
Scary Mary: I only have a few songs on my phone and I lost my aux cord, so the radio and Top 40 is king. My current music crushes are Miley Cyrus, Lady Gaga, Rihanna, Ariana Grande, Adele, and Shania Twain.
For more from LA Qoolside, follow them on Instagram.
Photography by Samantha Grad.