Swarms of people were welcomed by the sound of rapid drums and muffled vocals as they entered the underground venue Non Plus Ultra in anticipation of a night full of angst, blatant F-bombs, and of course, loud music.
The clock struck five till midnight when, all the way from Memphis, NOTS took the stage and were seemingly ready to riot as they prepared to blare their unapologetically punk tracks to the crowd at Non Plus Ultra. With front-woman Natalie Hoffmann alongside bandmates Charlotte Watson, Madison Farmer, and Alexandra Eastburn, the band started in with their newly introduced propulsive synth sound that's pushed the band into spacey new directions. Who would have thought that a synth would set the tone for a punk song? Yet it's NOTS' secret and prominent new weapon. Eastburn's analog synth blurps melodies and nonsense that makes their most recent tracks krauty and more danceable.
The gang began their set with belligerent, repetitive angry phrases and tough riffs, nudging at the fact that they have some shit to say. Though, at times the drums would drown out the vocals, the attitude and energy let us know that they were not kidding around as they blasted us with their wild guitar rock. The backdrop of the stage featured old school Mario and Luigi, but the video game's bouncy aesthetics and happy colors did not visually match the vibe of NOTS' no-nonsense tunes—was there some type of ironic sentiment that we were missing? Or was this just poorly staged visuals? NOTS came out with guns blazing as they quickly jumped right into playing; no warning, no words, just the pounding of drums and keys, and the frenzied and rapid strumming of Hoffman's guitar. With a crowd of Tecate-drinking music mongers—some peering over the top balcony while bunches stood in the open garage-like space—NOTS made sure every eye was focused on them and their stark lyrics.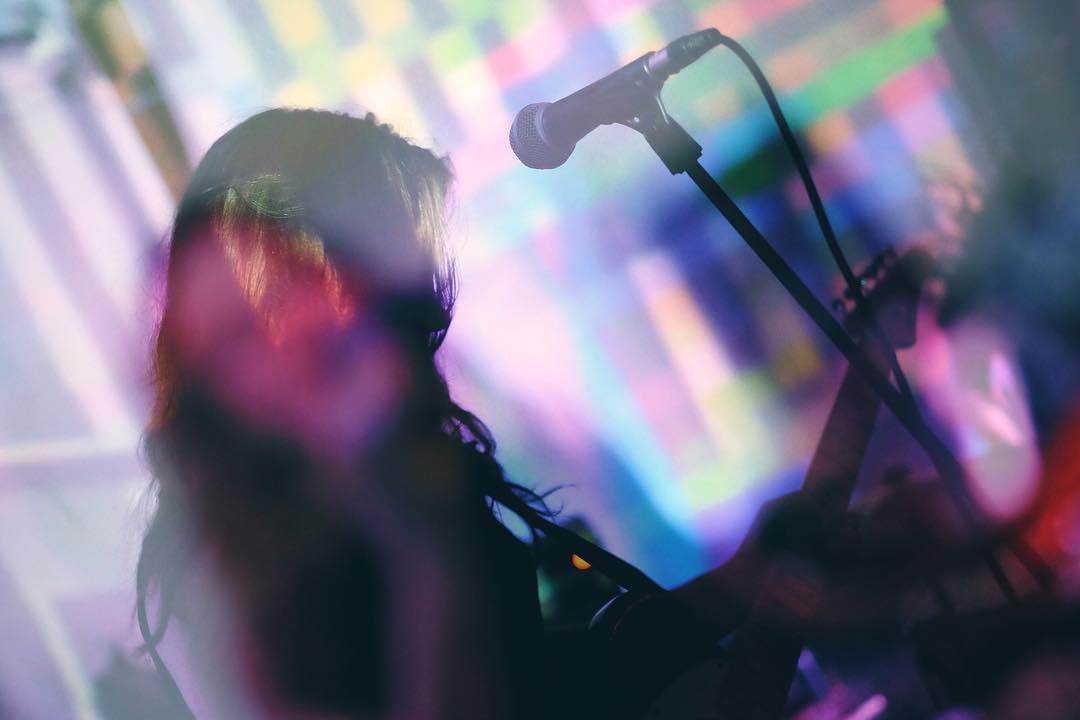 Hoffman's ruthless vocals are those of a dissatisfied being, ready to explode with contempt of complacency. With track titles like, "Rat King," "Televangelist," and "Virgin Mary," NOTS makes you want to listen more deeply, rather than simply eying the band itself and swaying to the music. The set grew even stronger and heavier as if being propelled by frustration that only fueled the band's oncoming onslaught of noise. While Watson bashed and Hoffman maintained an anything but monotone type of voice, the idea of a never-ending set didn't sound so bad; it was a Thursday night and NOTS were seemingly just continuing to gain momentum. Each song seemed to flow into the next, like a free-flowing rant that had been bottled up for too long. NOTS performance reminded us that punk is still alive, and it can be weird, random, and unexpected, and have the ability to coexist in both 70s post-punk and 80s hardcore realms, while owning the grit and attitude of the 90s riot grrl and modern punk era.
As the night came to an end, Hoffman's hypnotic and creepy snarl opened the iconic "Entertain Me" track. Mirrored by the amped, yet fuzzy strum of Hoffman's guitar, she serenaded all of the misfits in the crowd. With Eastburn's textured and rhythmic synthesizer—she truly steals the show with gnarly and hectic-cosmic fusion of vulgarity and rancid emotion—NOTS kicked it into an even higher gear with the closer, adhering only to their own cry for louder playing. Hostile and excessive, the Memphis band left more than a mark on the Los Angeles crowd, quite obviously emphasizing how to make garage-punk sound vital in 2017. Unpolished, creepy, and hellish, with no boundaries, NOTS are not ones to wait it line, it's their turn to speak, so let them.
For more from NOTS follow them on Facebook. 
Photos via Half Stop Sesions.