Last week, for the fifth consecutive year, the Echo so kindly relieved that constant hovering concert FOMO we all have. With a handful of free shows, the venue showcased a few artists each night who are set to take off in 2018. The up-and-coming punk bands Pinky Pinky and the Side Eyes wrapped up the event Saturday night. The two, though drastically different in style, both showed potential in their own respective niches.
Pinky Pinky eased us into the scene, pairing their iconic, dreamy 70s style with complex punk sounds to match. Comprised of a trio of ladies still battling the war grounds of high school, Pinky Pinky's Eva Chambers, Anastasia Sanchez, and Isabelle Fields were just as much a part of the show's feel as their tunes. With Anastasia as the show's focal point, she is not only the drummer, but also their sole vocalist. Audiences become easily tuned into the group's flow by watching the bassist Eva's focused little quirks, and the guitarist Isabelle as she meddled calmly with her pedals.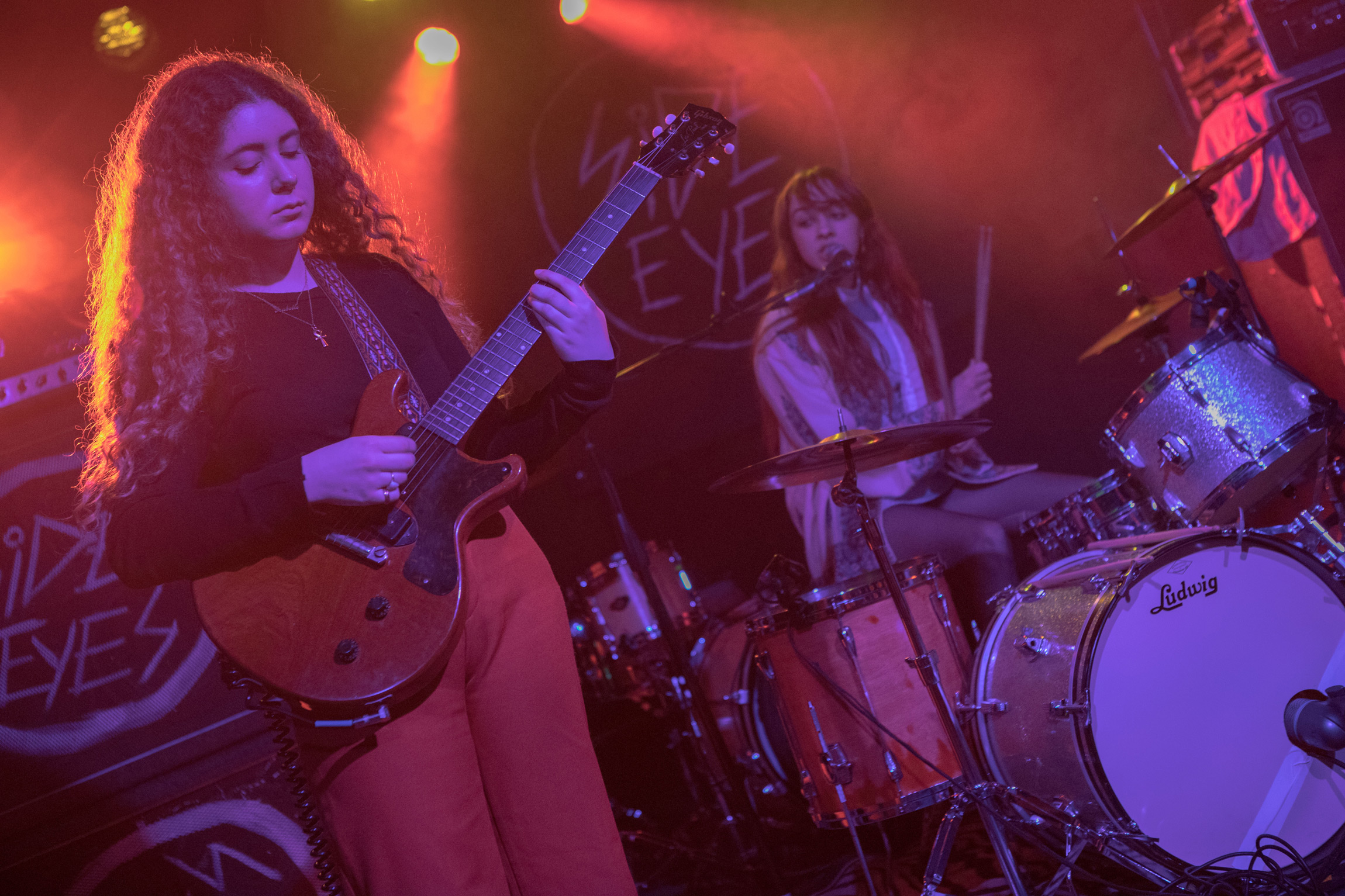 With a host of new songs, the girls were truly able to inspire a sense of awe. Titles such as "Hot Tears" and "Kitty" exemplified the loud, brash take they bring to the feminine identity. Their music is invigorating and empowering, while still giving us that light and dancey feel that makes it so wonderful to listen to. Pinky Pinky's unique sound and look is sure to take them far in the oversaturated sea of indie punk rockers that is Los Angeles.
The Side Eyes stayed a little truer to stereotype—disheveled, messy men with loud instruments, and a skinny, pretty little thing on vocals. With the blaring guitar noise of Kevin Devine and the whining screams of Astrid McDonald, the group's music was reminiscent of how my mind felt in high school. "Teenage Jerk," "Cat Call," and "I Don't Want to Go To School," all expressed a sort of showy frustration that says, "I'm pissed, sad, and damn proud of it."
The show was mostly Astrid's, as she seductively rolled her body, or head banged with flying hair mere inches from the nearest crowd member. The merit found in the Side Eyes' work is its ability to hover directly over the line which separates true, quality music from that of simple noise. Their songs are sheer anger, but in being as such, the audience's own muffled emotion of the same vein is given permission to bubble to the surface.
All in all, the Echo's final FOMO performance was as pleasantly surprising as anticipated—although personally put off by the Side Eyes, I will definitely be looking out for the girls of Pinky Pinky in the future. And, who knows, the Side Eyes had a full house of fans and "ridiculously cheap" merch.
For more from Pinky Pinky head to their website. And for more from the Side Eyes head to their website.
All photos taken by D. Wayne aka Notes From Vivace.