This is a preview of our feature on Rusty Cuts in upcoming issue 14.
California-born fashion designer and self-proclaimed "stitch witch," Judith Rothman-Pierce, knows a thing or two about creating clothing that seduces the senses, leaving you with just one thought: can I get that? Thumbing through her collection of western-meets-glam rock ensembles is like hopping in a time machine to the 70s with David Bowie as your captain and flashy embroidered pantsuits as the uniform of choice.
This type of authentic fashion occurs when a designer isn't afraid to test the boundaries and refuses to shy away from society's judgments of what is too "out there," or too risqué for the runway. Judith's creations accomplish exactly that, commanding your attention with her beautifully wild and purposefully head-turning pieces.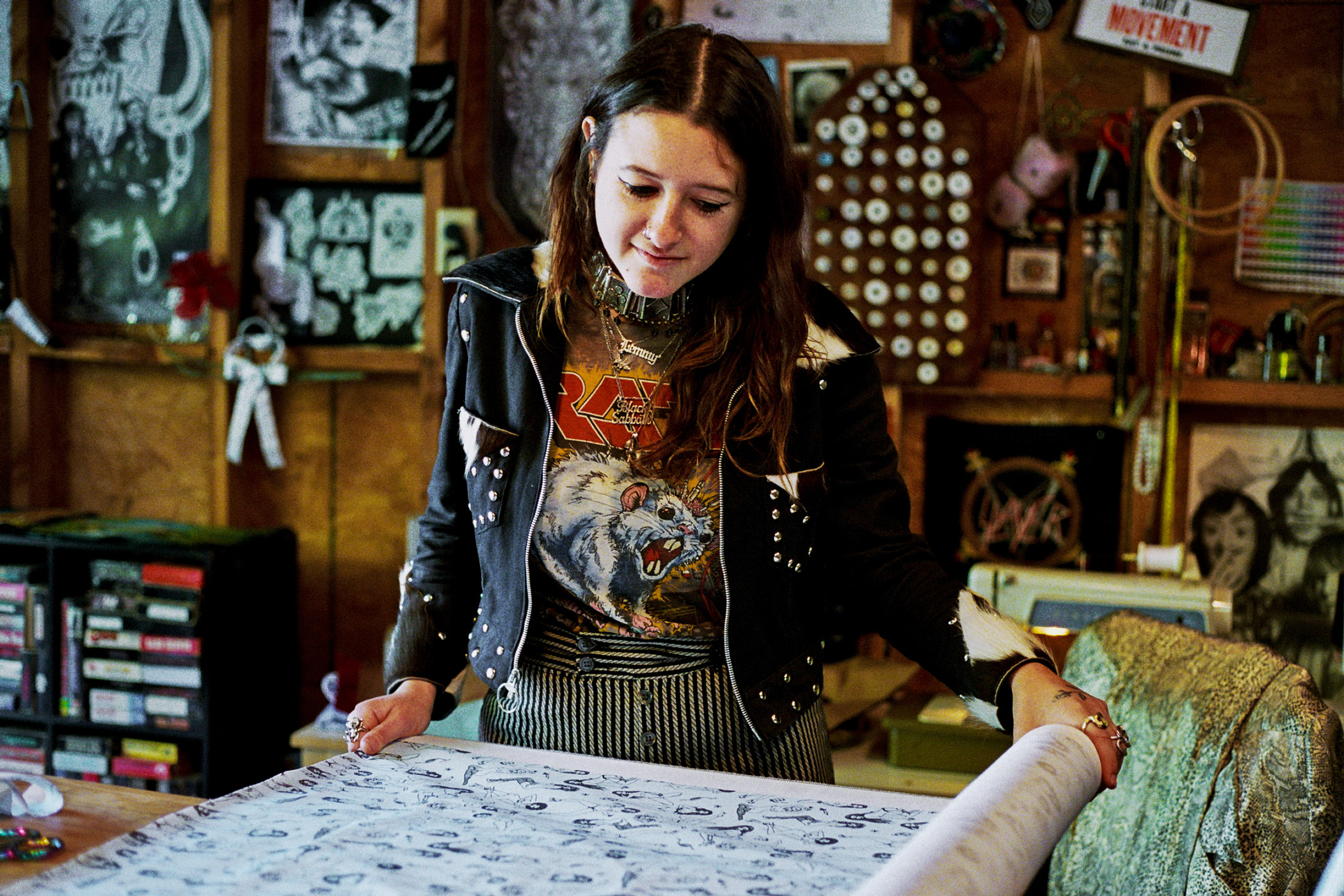 Judith has been making her own custom clothing since she first learned to sew at eight-years-old, making dresses out of retro bed sheets and pillowcases. She is a delightful cross between a shy Penny Lane and a refreshingly humble Sophia Amoruso; except swap a fictional band groupie and stark-and-sassy business owner for a successful sewing master who makes iconic flashy western-wear for those that are lucky enough to get their hands on a one-of-a-kind piece.
She has built a brand all her own, hand-making and selling one-of-a-kind pieces of vintage clothing featuring her free-motion embroidery appliqué designs and patterns under the groovy, occult brand known as Rusty Cuts.
"I basically made a replica of Gram Parsons' Nudie suit with all of the leaves and the pills on it for myself and that was the first real thing that I did, and it came out pretty good. and I was like, "Ok I'm going to keep doing this," Judith says bashfully. 
To wear Judith's threads is to wear a true piece of art. Her eye for the obscure and beautiful translates into a stunning yet playful collection and drips with custom detailing, from her studded pantsuits to her hand-painted undergarments, and everything in between.
For more from Rusty Cuts follow her on Instagram: @rustycuts.
Photography by Tony Accosta.