This interview was originally published in issue 10.
There isn't anyone in Los Angeles who loves R&B music more than Samantha Duenas, better known as DJ SOSUPERSAM. Growing up in Los Angeles in the 90s, Sam found a love for the slow jams, love songs, and classic R&B music we know and love. The juxtaposition of soulful bravado, sparse bass, and smooth sensitivity became the working blueprint for some of the greatest moments in R&B music and the formula for SOSUPERSAM's career as one of the most sought-after DJs around town and abroad.
After graduating from the University of California, San Diego with a degree in Economics, Sam decided to give up a career in finance and tour with some of yesterday's hottest pop stars. After backup dancing for a few years, Sam discovered she didn't need permission to do what she loved most and refocused her efforts in an attempt to pursue the career she always dreamed of—music.
After living about three different lives throughout the course of her teens and early twenties, today, SOSUPERSAM not only maintains her hustle as a DJ, but also one of the most respected influencers and entertainers around. The LA mixtress and Soulection signee has successfully mastered the innate ability to not only curate music, but also seamlessly blend all her creative interests into her practice. We visited SOSUPERSAM at her apartment in Los Angeles to talk about her monthly 143 party, her latest solo project, Garden, and her love for all things R&B. 
How was DJing first introduced to you?
I guess I always kind of knew how because I grew up watching my cousins. Back then, the overhead to start DJing was really pricey. After my dance career was over, I got a job in advertising, was making great money, and also singing in a band on the side. The guitarist in my band was selling all his DJ equipment for cheap. At that point, I could afford to get the equipment, so I did. It never crossed my mind that it would turn into a career. It really happened accidentally. 
Explain to me in layman's terms what you're actually doing behind the table.
First, you're playing a song that hopefully everyone really likes, while looking for the next song. Then you are beat matching them and looking for a song to play next. You wait for that perfect moment where it makes sense to play both songs at the same time, and then you're usually cuing an effect or something so that the transition from one song to the next has a little sparkle or blends out seamlessly. You just do that back and forth.
What is your opinion on the whole vinyl vs. digital debate? Should new DJs start playing vinyl first? Is one more authentic than the other?
I learned on vinyl. I chose to learn on vinyl simply because I didn't have enough money to buy Serato. Eventually I moved on to Serato, then turntables, and now I play on CDJs and USB sticks. There is definitely a debate to which is more proper. I think for this day and age it doesn't makes sense for me personally to bring a laptop to the club. RIP to all the laptops I've lost in the name of DJing. But, if you know how to rock a party it doesn't really matter what you use. I do think that if you're going to call yourself a DJ, it's important to start at the beginning and know the fundamentals. Understand the touch, feel, and sensation of digging for a record, the weight of a bag of records on your back, being mobile. It's important to try every circumstance and understand where your predecessors came from, and what they felt.
Tell me about your monthly 143 party and its evolution from Footsies to Los Globos to Echoplex.
143 is an R&B party I started with two of my friends almost four years ago. I had a residency at this venue that didn't want me to play anything with a strong bass or distinct hip hop influence, among other restrictions. I remember scratching my head thinking, 'What am I going to play?' I thought, 'Maybe Slow Jams, maybe we could do that.' I knew that would make the venue happy. So that's how it started. We came up with the name because 143 means 'I Love You' in pager code. Just an homage to growing up in the 90s, listening to slow jam mixtapes, and pager culture. I remember singing on voice mail pagers, that's how I fell in love with R&B music.
It was much to our surprise that it was an instant hit. It still blows my mind every time. It's grown a lot. We moved because our audience started getting larger and larger. We totally underestimated the draw of our party. We started at Footsies, which I still adore, and we still try to draw that audience and keep our parties intimate. We can definitely afford to expand bigger than the Echoplex, but I don't think I want it to be bigger than it is because you lose some of that magic. We've been offered to do it weekly, but we want to keep it special and once a month. This is the year we'll hopefully take it to Asia and Europe. Every DJ hero I've ever had has come through and played with us. It's everything I've ever wanted.
Do you feel like 143 is a success because it's R&B focused?
There is definitely a specificity there, but it's not too niche. When we started 143, we discussed whether we should define it as a genre party, or decade focused—what's the best way we can get our message across, but allow the sound to evolve? We decided to make it just about R&B so that we could evolve with the genre over time. I think that's added to the lifespan of the party. The magic is that we didn't want to make a party for money, when we started it. I think never having that pressure on the party has allowed it to be what it is. We feel really free. We can afford to take risks and do weird shit and keep it really loose. I think that's why there is that magic and that's why people have stayed loyal. We literally do it because it's fun for us. Sure it's stressful to throw a party, but when it's pure fun, it's pure fun. The second it's not fun is the second we quit. Using that as our compass has been the formula for our success.
Was the East Side a strategic choice?
Absolutely. Most of us live on the East Side of town. I was living in Eagle Rock, Atwater, and Silverlake for the last five years. We definitely wanted to keep our parties alternative and indie and definitely keep it as far away from Hollywood as possible. I don't know about you, but I don't even go out west of La Cienega.
Let's talk about your development and progression from dancer to DJ to now solo artist. You recently dropped your first EP called Garden. Congratulations. Tell me about that project and how you feel it's been received so far.
I just made an EP. I've been singing my whole life so it's funny that it's so shocking to everyone. I know I can sing, but a lot of people didn't know that. I think the reception has been really warm, positive, and encouraging, but mostly shocking that I made something that has almost nothing to do with DJing. Most people asked me why I haven't been singing this whole time.
Well that's a great question. Since you have been singing for so long, why did you decide to share that side of you with the world now?
I think it's because I never—maybe it's because I'm not imaginative enough, maybe it's an Asian upbringing—but I never thought that you could blend things. It took me a really long time to realize I could do whatever the fuck I want. That I didn't need permission to do whatever the fuck I wanted. I am by the book, a very Type A personality. I play by the rules, I am a good citizen, and I look to do a good job and do what people ask me to do. So Asian. But here we are now, I have arrived, and I'm just starting to figure out how to put it all together. I think I made a really good project, there's amazing people involved, and I feel extremely accomplished for completing it and putting it out there. I still don't really know what I'm doing I just know I want to share.
But that's sort of the romance of it, isn't it? 
Yeah, maybe that's the romance of my entire life. I always wonder why people are interested in me because I'm pretty much a fuck up that makes mistakes every day. I really have no idea what I'm doing, but maybe that's the beauty of it.
Do you consider yourself a brand?
Not really, I try not to think about that at all. I just think about what feels right and authentic to me. I don't want to say that this was a case of blind luck, but for me, it's been about constantly being in tune with what I want at any given time. I've led a bunch of different lives and they've naturally informed one another. I didn't think of any of this strategically, but I think my PR, marketing, and advertising background did play a part in my ability to have my own business. So I guess I'm my own brand.
How do you go into each party's curation and what are some things you think about before you prepare for a show?
It depends on the show. For instance, if I'm going to play at Boiler Room, I have a set picked out ahead of time. I think that's because you're being filmed. That part is kind of nerve-racking. For the most part, I DJ pretty frequently so I know what my audience is waiting to hear. I have an evolving set list that is always in my head, songs I always go to. One day I'm playing Shanghai, the next day I'm playing Jakarta; you don't really know what the vibe is or who your audience is so you really have to leave yourself open to improvise and read the crowd.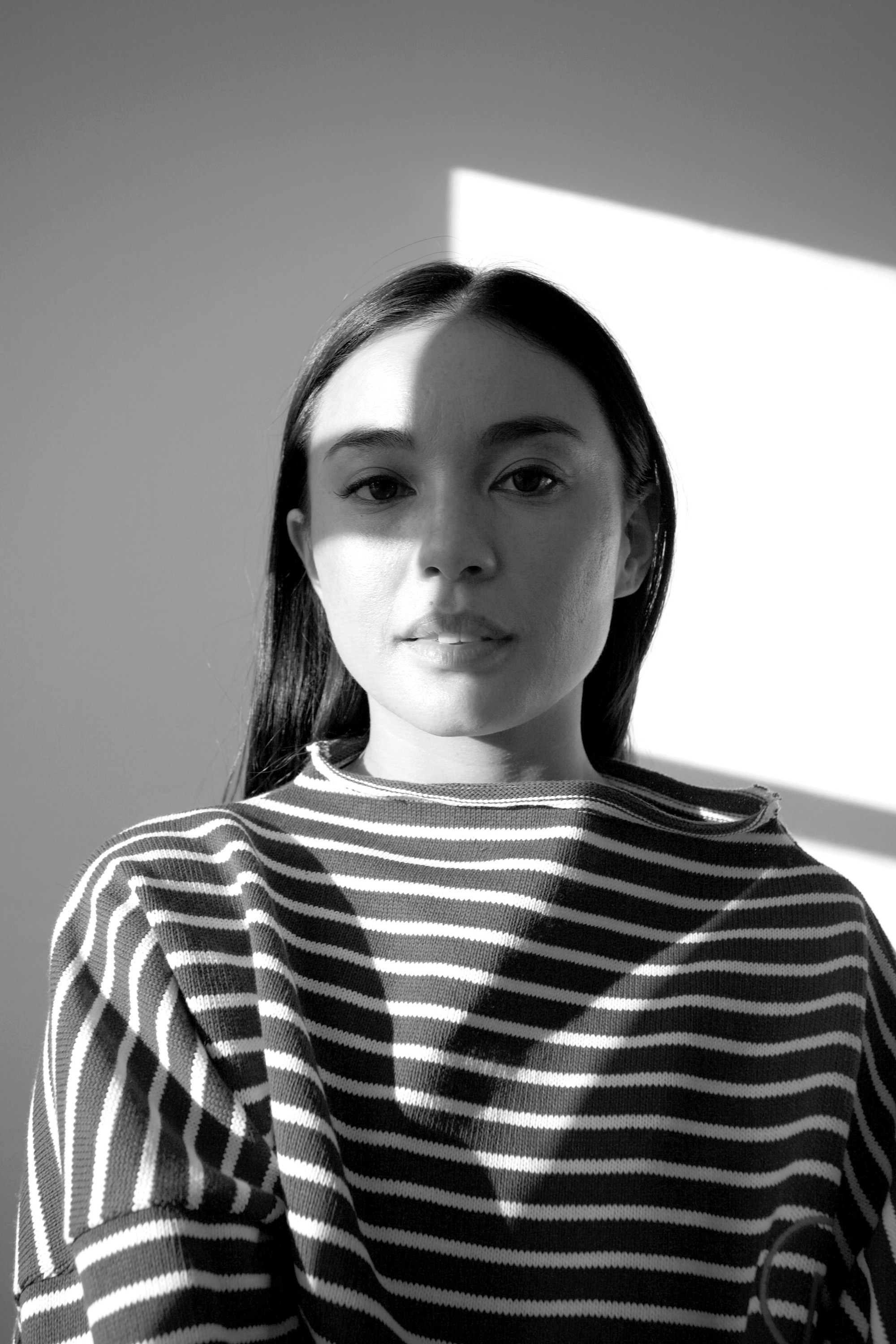 I recently watched a Hollywood Reporter interview with the cinematographer Bradford Young who shot Selma and Arrival. He spoke about his practice and said he looked at his work as community building. He sees filmmaking as an opportunity to associate and share resources with other like-minded artists who are interested in the collaborative nature of filmmaking. Amadeus similarly seeks the same thing. For us, the community building aspect of what we do comes from this desire to collaborate. Do you feel the same way about your practice as a DJ? Is the art of collaboration important to you and what you do?
Definitely. Music is a universal language and being a part of it in any capacity is a huge privilege. But that's interesting because again, I didn't have that in mind when I started DJing. I actually flew solo for a while, for the first years of my DJ career. Starting 143 and joining Soulection has built me a network of friends around the world who are like-minded. Those relationships allowed me to see the beauty in the collaborative experience. To go from country to country and connect people through music is very beautiful and special to me. Now, I see how awesome that is. I didn't have the foresight when I started.
Top 5 artists you play on repeat?
Kaytranada, Jarreau Vandal edits, Justin Timberlake, Usher, and Rihanna. 
If you were on a deserted island and could only bring the complete repertoire of three artists to listen to for the rest of your life, who would they be?
Stevie Wonder, Frank Ocean, and Kanye West.
What artist do you think best represents our generation and the direction of music right now?
Lil Yachty.
Airplane must haves?
Jeremih's album Late Nights, the Internet's album Ego Death, and Rihanna's latest album ANTI.
What song reminds you of your first love?
"All My Life" – K-Ci & JoJo
What song reminds you of your first heartbreak?
"Breakdown" – Mariah Carey
What song makes you feel sexy?
"Needed Me" – Rihanna
What song simply brings you back?
"Weak" – SWV