Every so often I meet someone, who after talking and spending some time with them, I think to myself, damn I wish I was that positive and zen. I'm not by any means a negative person, but when you're introduced to ceramicist Angela Chvarak — joyous smile on her face, welcoming demeanor, and overall gracious sentiment — you can't help but want to latch onto the positivity that she exudes.
Angela will be the first one to tell you that she is by no means perfect. However she's actively worked to manifest the life she has always envisioned for herself. While her twenties were filled with countless days sitting on the floor of her room painting canvases, weekends hanging out in the stands of outdoor stadiums and open fields watching Phish and Widespread Panic, and years of tirelessly working in her Charleston, South Carolina community to gain a foothold in the art world, it wasn't until Angela turned thirty that she took a hard look at her life and decided to make a change. Her early thirties fostered a new inward-looking perspective, with Angela consciously removing the things that were clouding her headspace and preventing her from hearing the voice within. She made room for self-reflection, self-love, and the clarity to clearly see where her passions lie. 
Angela spent nearly fifteen years focused on her painting practice. She earned a Master's Degree in Public Administration with an Arts Management focus that allowed for a number of creative admin career opportunities along the way. However it wasn't until she moved from Charleston to Los Angeles that she was able to carve out the physical space and headspace to become reacquainted with a medium that she fell in love with in college but lost sight of over the years: clay. Sitting on her couch one random day, Angela got the sudden urge to join a pottery studio and make ceramics again. At first scared to put herself out there, Angela became obsessed. On the day I go to her studio she describes the feeling of jumping back on the wheel as the quintessential 'aha' moment that only some are so lucky to discover.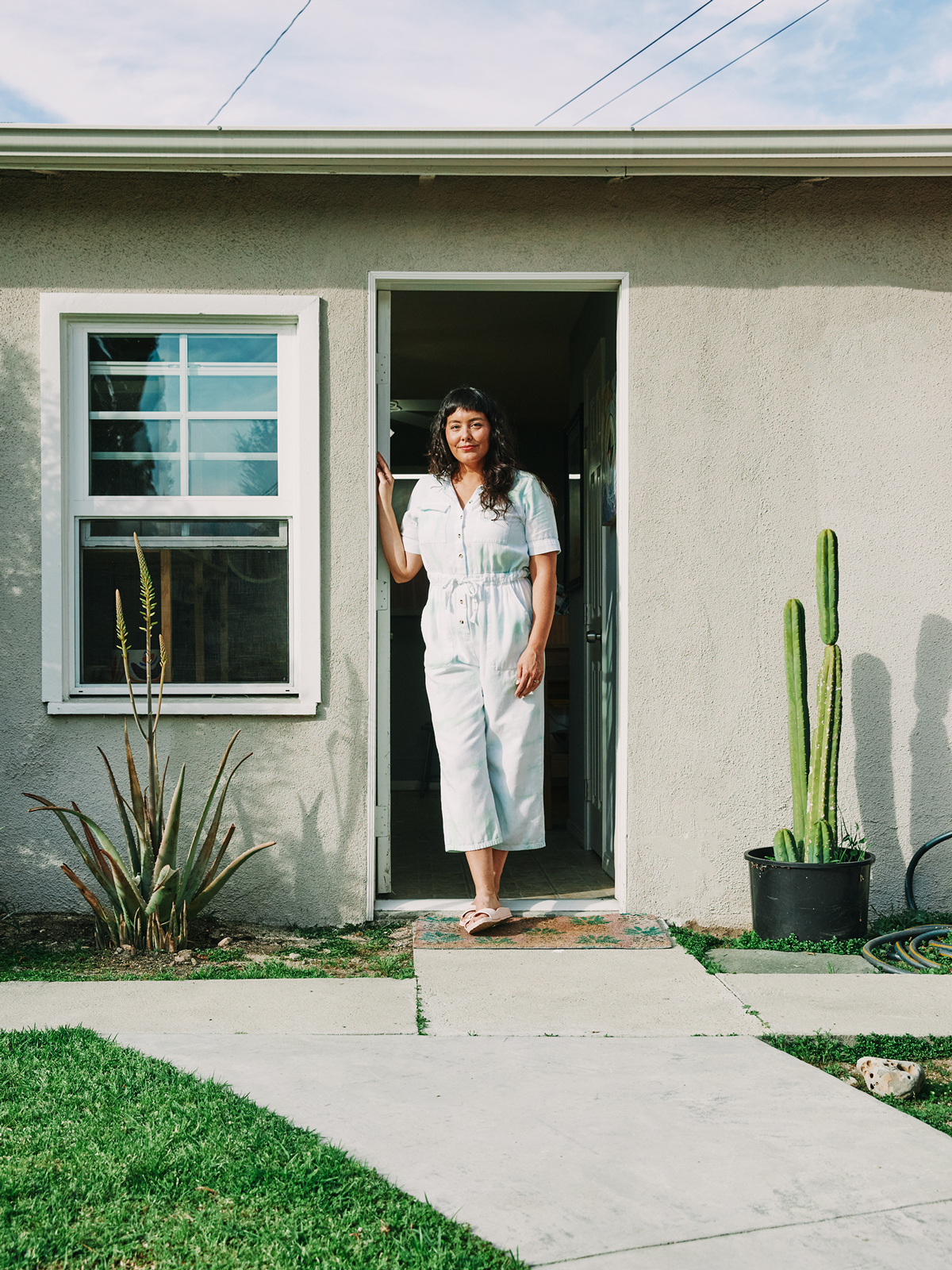 You're from South Carolina. Tell me about what it was like to grow up in the South?
Growing up in the South was actually really lovely, despite what you might think an experience as an Asian person in the South might be. My sister and I really had a great upbringing. There were definitely times when we felt like we were different, but we grew up with a tight-knit, predominately female Korean family all around us.
Myrtle Beach was really great. At that point, it wasn't really known as the Dyrtle Myrtle. People like to talk shit about it, but it's only because they don't know it and didn't grow up there. They only see it from an outside perspective. It's very much a tourist trap place. It's tacky, it's kitschy, but it wasn't so explosively tacky when I was kid. We had a forest behind our house, so I played outside and rode my bike everywhere. We weren't even allowed to play inside that much anyway. Living with a Korean grandma, if we did come inside, she was sponging off our feet.
It was nice and slow in the sense that people are laid back and friendly there. I feel like I was really able to immerse myself and hang with different people from different backgrounds. I didn't fit one type of stereotype. I think most people would say I was a hippy, maybe still now.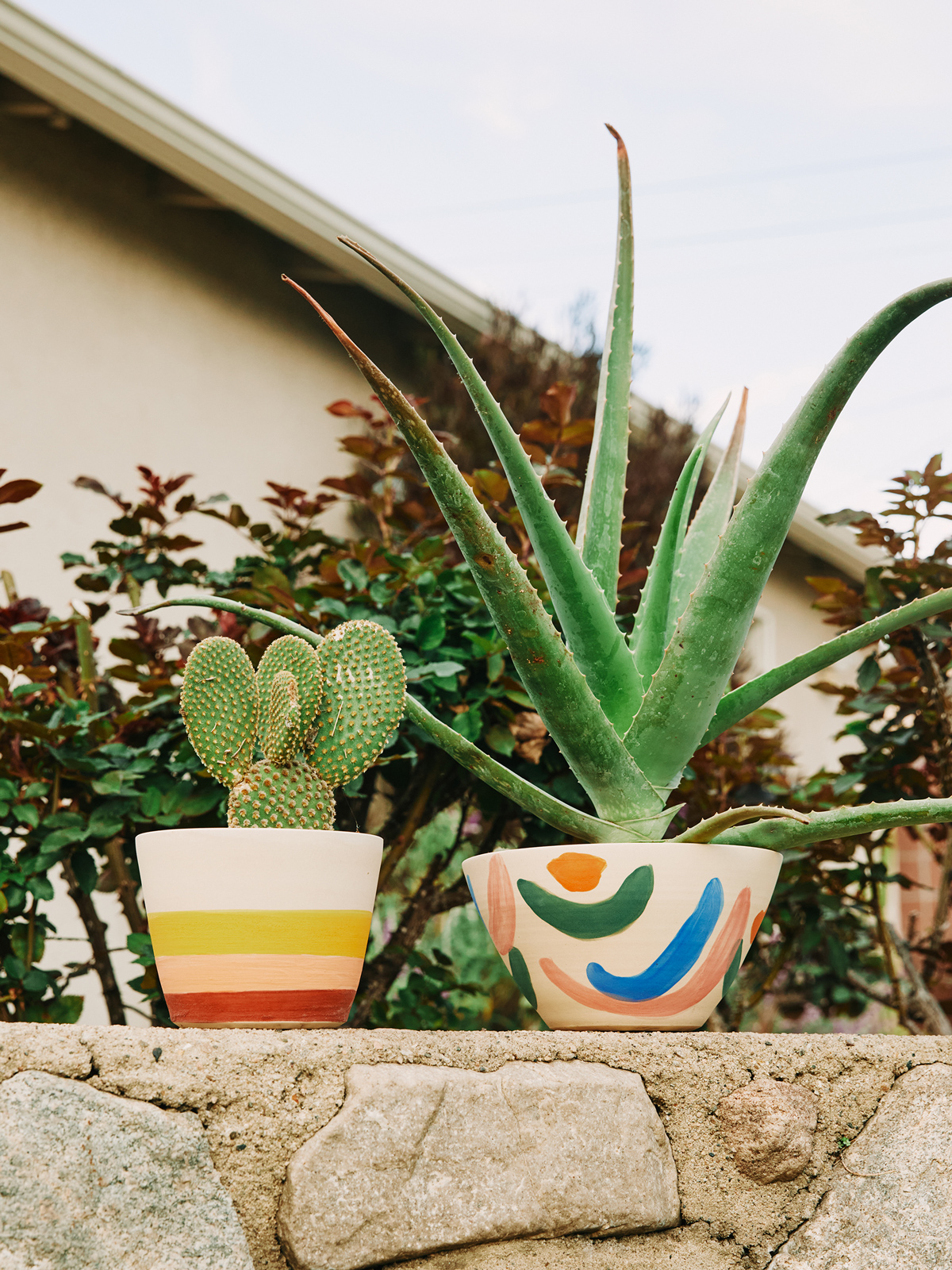 Why did your family originally move from Korea to South Carolina?
My dad was stationed in Korea in the Air Force and he met my mom there. He was head over heels in love, and they got married in Tampa, Florida where he was stationed in the US. They moved to Louisiana, where he was later stationed, and that is where I was born. They've had Southern roots since before I was born. When I was two years old, we moved to Myrtle Beach where he had been stationed, until he retired.
When do you think you first started tapping into some type of creative energy?
From a very young age. I would play outside a lot. One of the fun parts of having to play outside all the time was riding my bike, going into the woods, digging holes, and making forts, and building bridges. I was always working with my hands and being productive and creative. There was a lot of independence in that too.
When I went to college at Clemson University, I remember I was at a Widespread Panic show during the spring of my freshman year and I was undeclared psychology. During the show, I started talking to my friend who was in the art program at school and I asked him, "How do I get into the art program?" He was like, "Talk to Gail Ponder." In my head, I was like why is this even a conversation we're having right now while we're all at a show partying. I remembered her name, reached out, changed my major to art, and got hooked on painting and ceramics. Painting was something that was a lot easier for me to continue doing after school. All you need is a canvas, paint, and some paintbrushes and you can sit on your floor and paint. And that's kind of what I did for the first few years after college.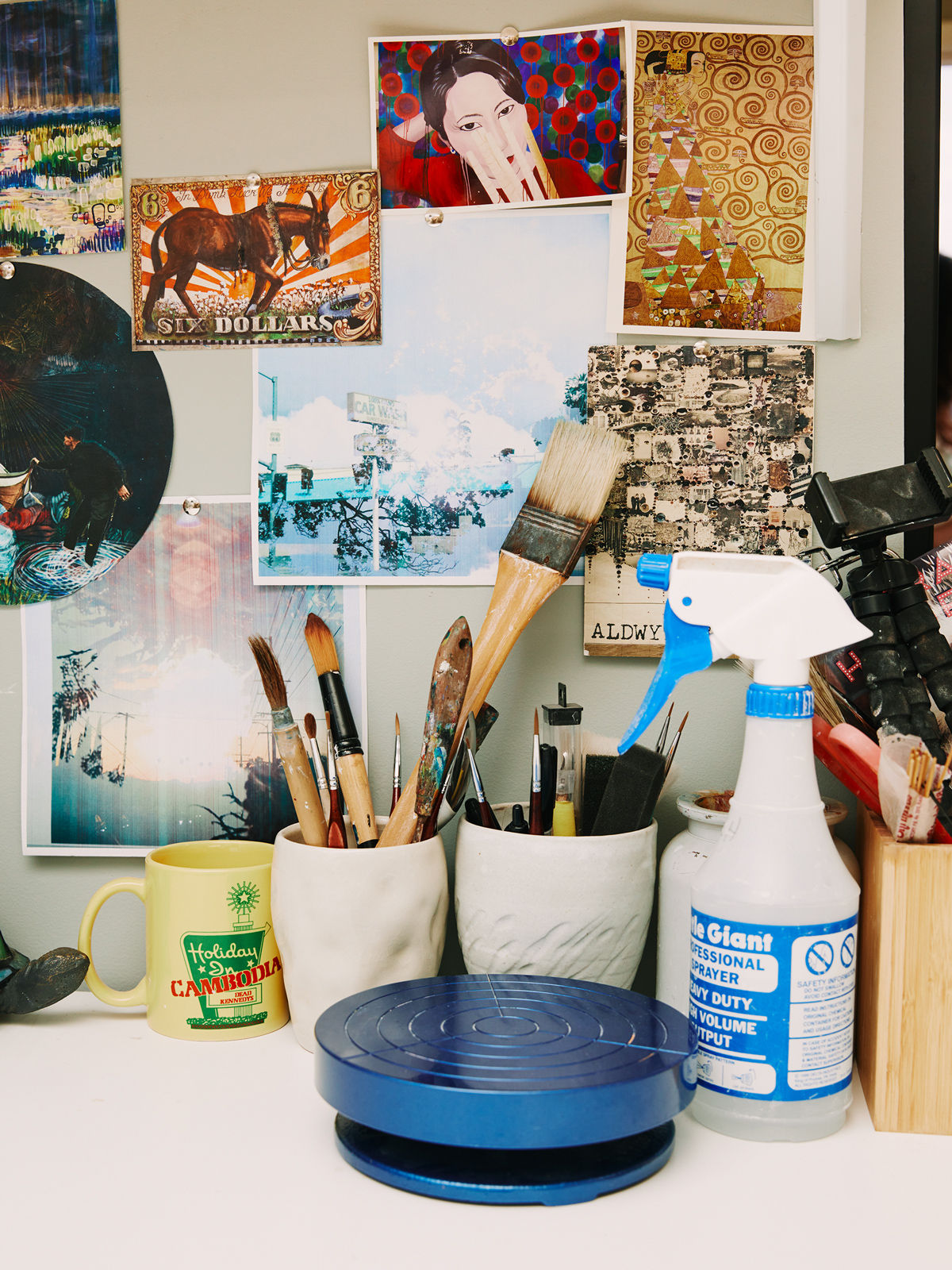 Tell me about some of the work you were doing after college in Charleston.
I was painting for a number of years in Charleston, doing live painting for different bands, events, fundraisers, and also coordinating shows. I worked at a non-profit for four years and did a lot of administrative work for them, but also a lot of event planning. They were awesome and helped me flourish in the art scene there too. They gave me projects that I was able to own and grow into something. I curated a state-wide juried exhibition with the city of Charleston called Vanishing Landscapes. It featured people who wanted to submit work about the South Carolina landscape. That project proved an invaluable experience.
Meanwhile I continued to paint and take part in different artist collectives. I showed in exhibitions and it was mostly just painting. I didn't think about ceramics at that point because it seemed so difficult to carry out that practice. For ceramics you need a pottery wheel, glazes, access to a kiln. I wasn't thinking about spending extra money on that. I only painted and it felt like the right thing to do at the time.
When did things start to shift away from painting?
I got my master's degree and that really took me away from making. It was more about being an arts manager and focusing on the management side of things rather than making things for myself. I originally thought I would work at a museum. I interned at the Denver Art Museum as a teacher for their summer camps. That was an amazing summer, it was so magical and spiritually fulfilling. I did a lot of yoga and surrounded myself by art all the time. I was practicing sobriety too.
When I was thirty and in grad school, I went through a break up. I was like, "I can't go through a break up and just party through it anymore. I need to figure out something else." That's when I met my mentor, David Michael. He really encouraged me to look into the ways that I make choices and how that impacts my life. He helped me to become more empowered in knowing that I make these choices and I am accountable and responsible to myself, so I can make the life I want. He's an amazing mentor of mine. I continue to keep in touch with him. He tells it like it is. It's always a little scary to talk to him because you're wondering what kind of truth bombs he's going to reveal.
In what ways did this new outlook redirect your path?
My mentor challenged me to look at my life. He asked me if I would ever consider giving up drinking. I drank as much as any other twenty-something, but I never considered what my life would be like without alcohol. I didn't go stone cold sober; I would test it out for several months at a time. The more and more I did that, the more beautiful things kept opening up for me. It made me question that relationship. I quit drinking a little over a year ago and I feel great.
I think I can attribute a lot of the opening up of the creative juices and realizing who I want to be and shaping my life the way I want it to be, to having that type of clarity and being able to remove any clouds that would prevent me from seeing the magic in the world and in life.
When did you start creating for yourself again?
A couple years ago, I was thinking to myself, why am I not making art myself? I had gone so far down this route to commit my practice to being an arts manager, have stable income, and get the jobs I wanted, but it still felt like something was missing. One of my friends was diagnosed with brain cancer and I think that really helped me reflect on the short life we have and what to do with the time we have on this earth. One night and it dawned on me that I needed to start looking for ceramic studios to work out of. I wasn't painting much and the studio I became a member of allowed twenty-four seven access; I became obsessed. I had a lot to relearn after years of not actually doing anything on the wheel.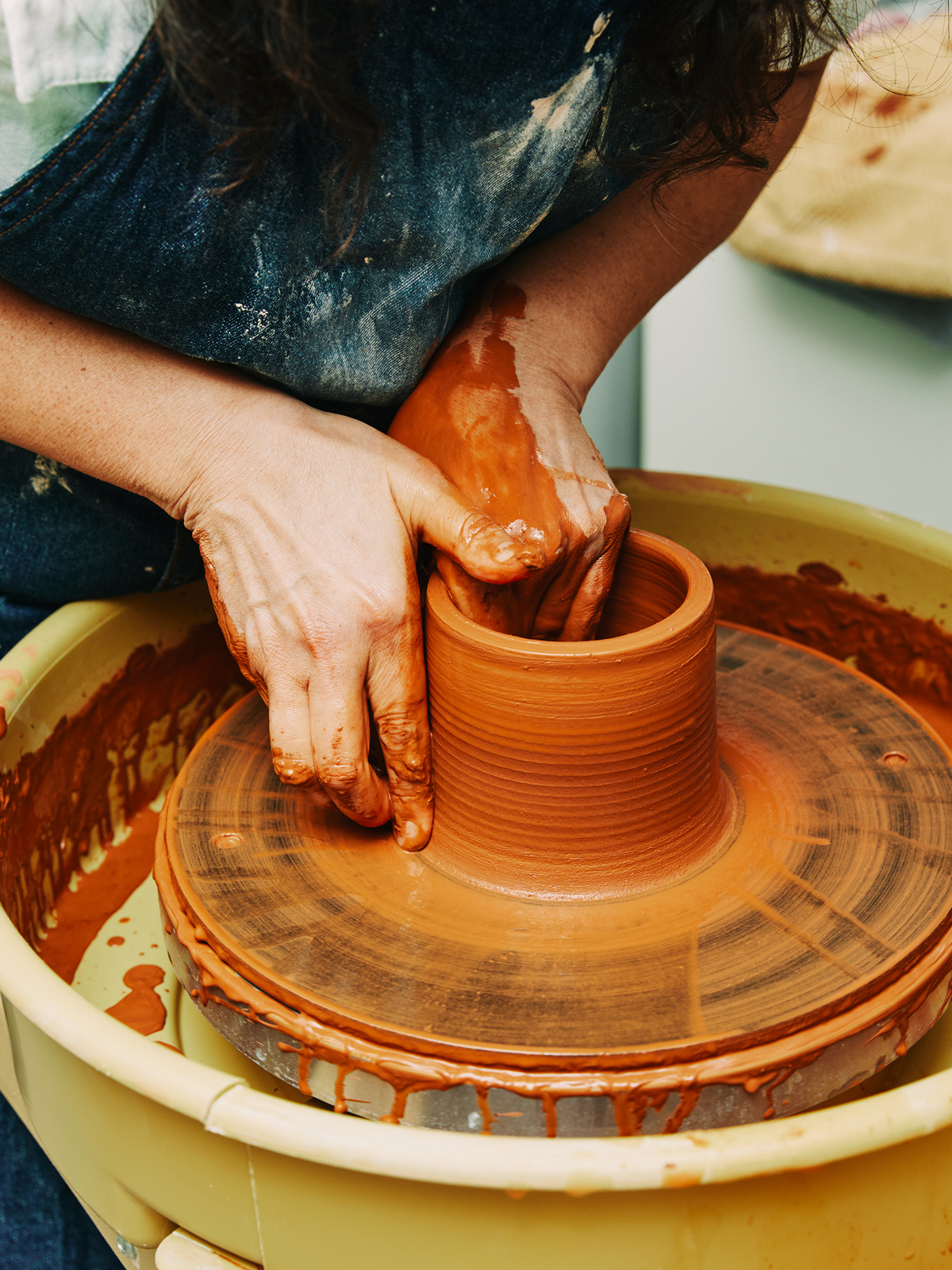 What was the transition like moving from South Carolina to Los Angeles? And how did it affect your creativity?
For a while it was just me trying to figure out my bearings. I was preparing myself mentally before finishing grad school for knowing I'm going to be making a big move somewhere. I just knew that I wasn't going to live in South Carolina. If I'm going to pursue an art career it's going to be in a big city. I think mentally and spiritually I was already really open to anything that came my way knowing that I manifested that and understanding that these are the things that are going to happen and it's ok because these are the things I want in my life.
When I was offered a job in Los Angeles and wrapped up my life in South Carolina, I knew it was an adventure. It was really inspiring to move here without having visited before. I was in this mindset of creating a life and wasn't ready to dive into making my art. At the same time, I was really lonely. I've only recently realized that I have been creating a lot of art since moving here. During this period I was able to tap into who I am and who I am as an artist. I asked myself why I was holding back on my art and rediscovered that creating is who I am deep down inside and that's who I need to help flourish.
For a number of years you were primarily painting. When you finally did reintroduce yourself back to clay what was that like?
Reintroducing myself to clay was this weird bittersweet situation where I felt really sad that I had taken a thirteen year break from it. It was also very exciting. It was like, "Oh my god, this is what I'm meant to do." It was an 'aha' moment that I never had before. I am so consumed by it, excited by it, and inspired by it. It's all I want to do. I also know why it took me this process to get back to clay. I am obsessed now, and am happy I have reignited my passion.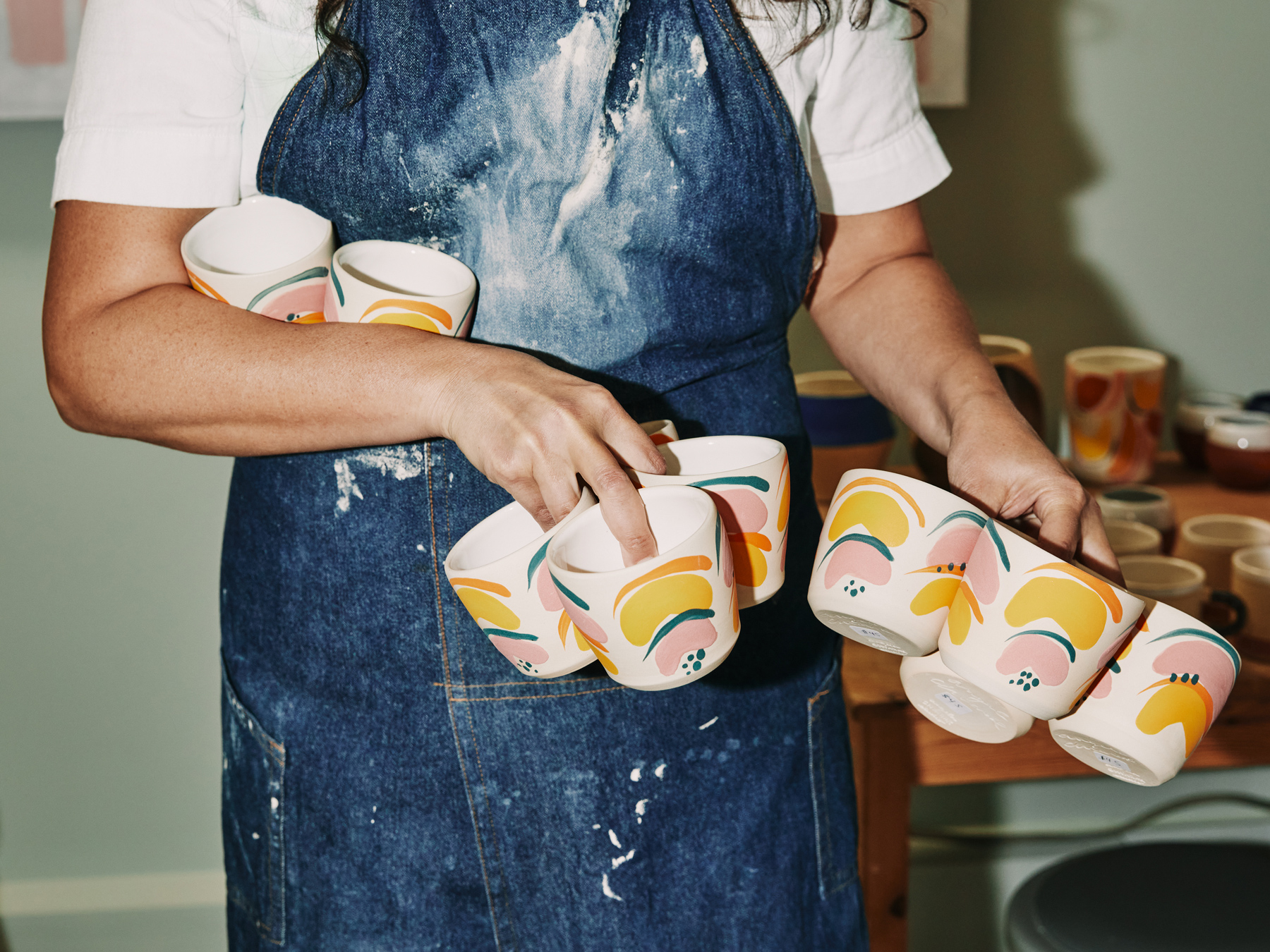 In what ways are the colors and the forms that you're creating a reflection of you?
I think people say that overall I'm a happy, positive, and outgoing person. I think my colors might exude that. When I make my art, I feel like it's this energetic movement. If you look at my paintings there is a lot of movement in my arms having to do the brush strokes and small details that are kind of rhythmic and bounce around. Even when you look at my ceramics, specifically the more minimal forms, they have repetitive rings painted on them and all of that feels very energetic in a way.
The movement of the clay as you center it and the energy that I put into it is very centering. You're centering clay and you're centering yourself. My work is very rhythmic and meditative. I am naturally drawn to finding ways to be more centered and grounded. Touching and feeling wet clay helps me get in tune with the earth as well. So there's that earthy element that I think people would describe me as. I think I am lighthearted, so my artwork has an airy feel to it. People tell me that the work is cheerful and positive. I try to be those things. I am not perfect, nor am I always happy. But for the most part, I am pretty excited about life.
What are the things, people, or places that keep your emotions aligned and help you maintain your practice?
I've always liked being productive. So when I can create something and show that it came from a ball of dirt or clay that then formed into a functional mug, planter, or bowl, keeps me super fulfilled and excited. I love seeing the evolution of the material and committing myself to something. It's important for me to prioritize things and have an objective and a goal. That's what clay demands of me, that discipline. I always have to come back to it. You can't just throw something and leave it. The medium is very process-based. The clay itself just has me inspired to keep coming back. 
Are there any personal relationships that inspire or push you to create?
Having good relationships with my family, husband, and friends — they all are really supportive and understand me and my art and truly share their love — is so important. If everything is going well in my relationships, it makes me feel really inspired and happy about life and motivates me to keep making.
I love to spend time outside as well. We used to do a lot of backpacking and camping. It's important to step away from the work and just enjoy the company of your loved ones.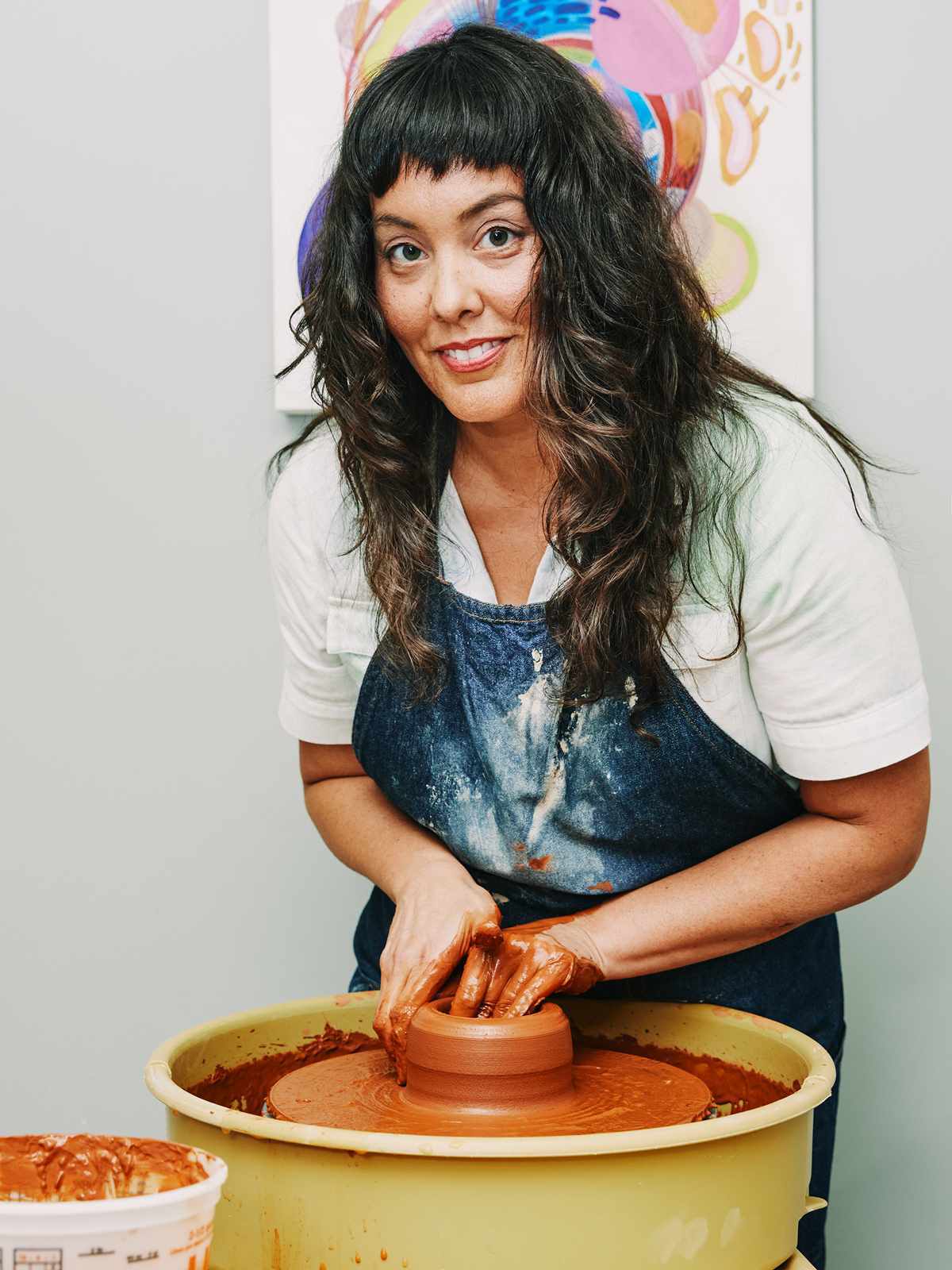 How has manifestation played itself out in your life?
Do we have a few hours? [Laughs] The power of positivity is a thing that is always helpful for me. I think that helps me to deal with the things that come my way that I don't necessarily want. My whole life I have always had that attitude, and I think my grandfather ingrained it in me. He always encouraged me to be positive and that people would remember me that way. I was super social in my twenties, but I didn't really know where to focus that energy. When I went to grad school, I realized I wanted more direction out of my life. My mentor helped me by giving me ideas on how to tap into the truth within myself and conscious focus on the decisions I make. He taught me that I have the ability to create my life in the way that I want to. You can't always get everything you want, but there were a lot of things that prevented me from seeing the things I truly wanted for myself.
I realized that clearing out those things that were clouding my thoughts and thinking, helped me become more conscious about manifesting things and really dreaming up my goals.
For more from Angela Chvarak, follow her on Instagram.
Photography by Adam Amengual.