The first thing anyone was able to notice as they began to flock towards the Hi-Hat's tiny stage was the duo of disco balls, dangling from the high beams. As they streamed glittering rays of light in every direction, an air of wonder and elation descended upon the dimly lit room, even before Cobra Man struck their first chord.
The duo, comprised of Andy Harry and Sarah Rayne, hosted a record release party in Highland Park this past Thursday night, to unveil their debut album New Driveway. Saturated with high energy and synth-electronic sounds that bounce to unusual time signatures, Cobra Man's lo-fi, post-punk vibe keeps us guessing. The loss of inhibition that the disco genre inspired for years is now one of the brightest components in Cobra Man's melodies. Combining this classic vibe with the rough and tumble fun of skate culture, they have created their own unique corner of the musical world, one mesmerizing enough to draw a hell of a crowd. With their emotionally charged beats, the duo fills listeners to the brim with the same feeling so many young kids of the Thrasher generation experienced in discovering an escape—a place to play and pretend just like they used to as kids—on the driveways of their childhood homes.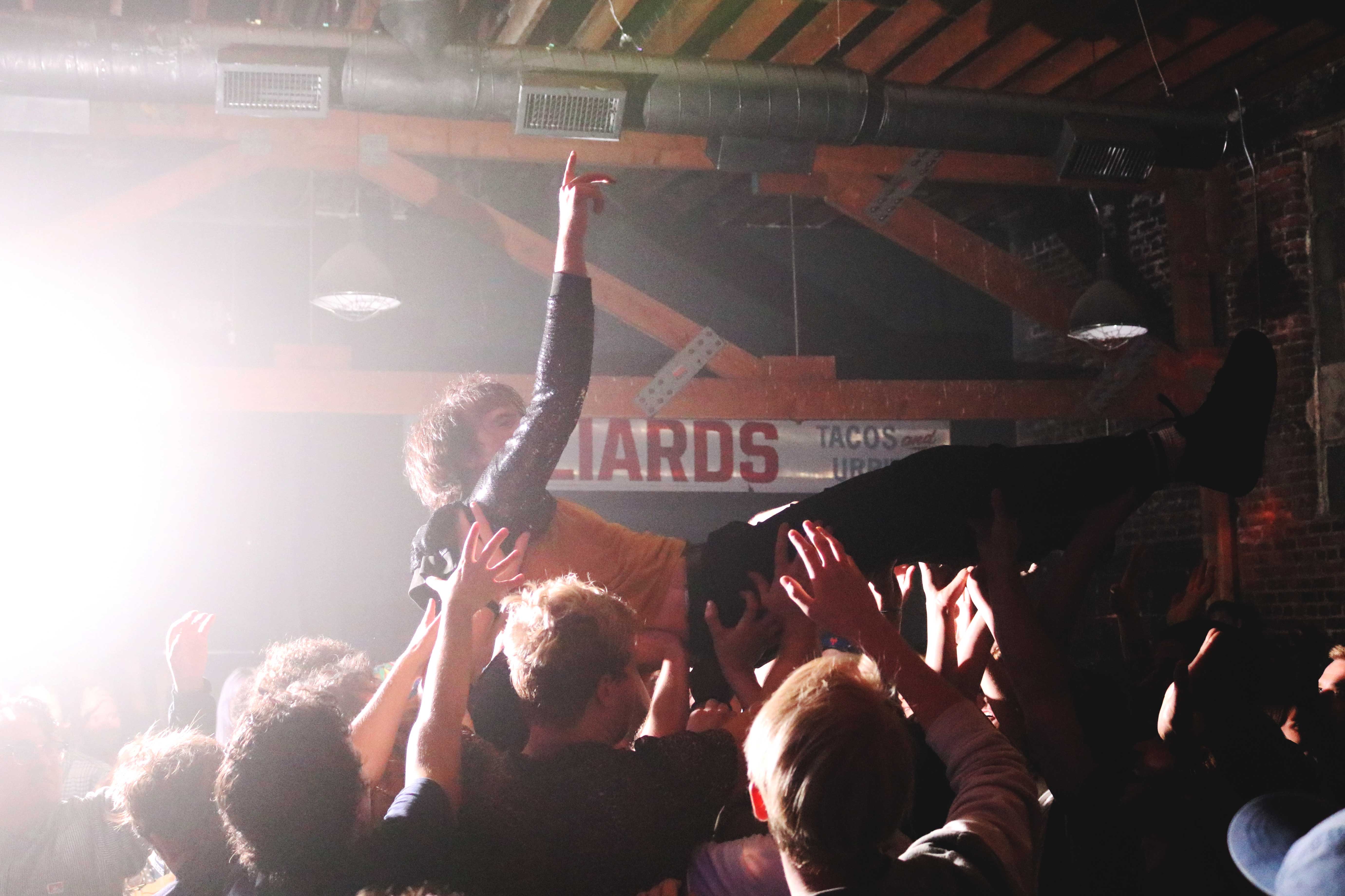 Not only is their recorded sound able to infatuate, the two brought their A-game to the stage, with a performance demonstrative beyond our expectations. Once the disco balls were in position, the multicolored lights were drowning the brick wall background, and the floor was packed, the two made their entrance. Adorned with a glimmering jacket almost as captivating as the disco balls, Andy took the stage, microphone in hand. Sarah followed in suit with a flowing black and silver cardigan, and platform boots to match. And suddenly, layered over a few slow, smooth arpeggios of synth, we hear Andy's voice, booming and nostalgic:
"In my old driveway, I was me. I was free. I would make believe, and I didn't care if the neighbors could see. I grew up, and moved away. I had to work, and I had to pay. But then, I found a new driveway…"
And the spark caught fire—the duo began their set with heavy, rolling electronic beats that have a sense of anticipation to them. Both began to bark sharp vocals, in a chanting fashion, into their respective mics, and soon we were being immersed by "Weekend Special," a fantastical ride of a song suggestive of a video game intro. As the music intensifies an almost ever present crowd surfer of some kind or another remains, and a shot of multicolored confetti flies from the ceiling. This isn't just a show anymore, it's a party amongst close friends.
The set experiences highs and lows, some with the simple buzz of feedback and guitar hum; others, with wild vocals like a modern day Devo. With every peak in the energy, we're introduced to a new bizarre, yet perfectly-suited prop. More confetti, a giant star piñata, and brightly colored rubber balls all flying through the maddened, beer-imbibing crowd. Next up, an abnormal crowd surfer garbed in a construction hat and bug-eyed glasses poses on the stage. He hands off a large wooden plank to the pool of hands swimming in front of him. He clambers on, and is passed a skateboard. Behold, from Cobra Man's electrifying tunes, crowd skating has been born. He pops an ollie to the 1/16 beat of "Manramp". After we hear a little disco diddy of "Warbole Jamboree," there comes a brief intermission to introduce the Trojan Horse, which is rolled into the center of what was once a mosh pit. Out of the ten-foot tall wooden beast clambers a gold clad man, dancing to the head rolling punk vibes of "Lazyman." The oddities continued, but they were more than welcome. We were all far too deep into this journey to emerge anywhere but the other side.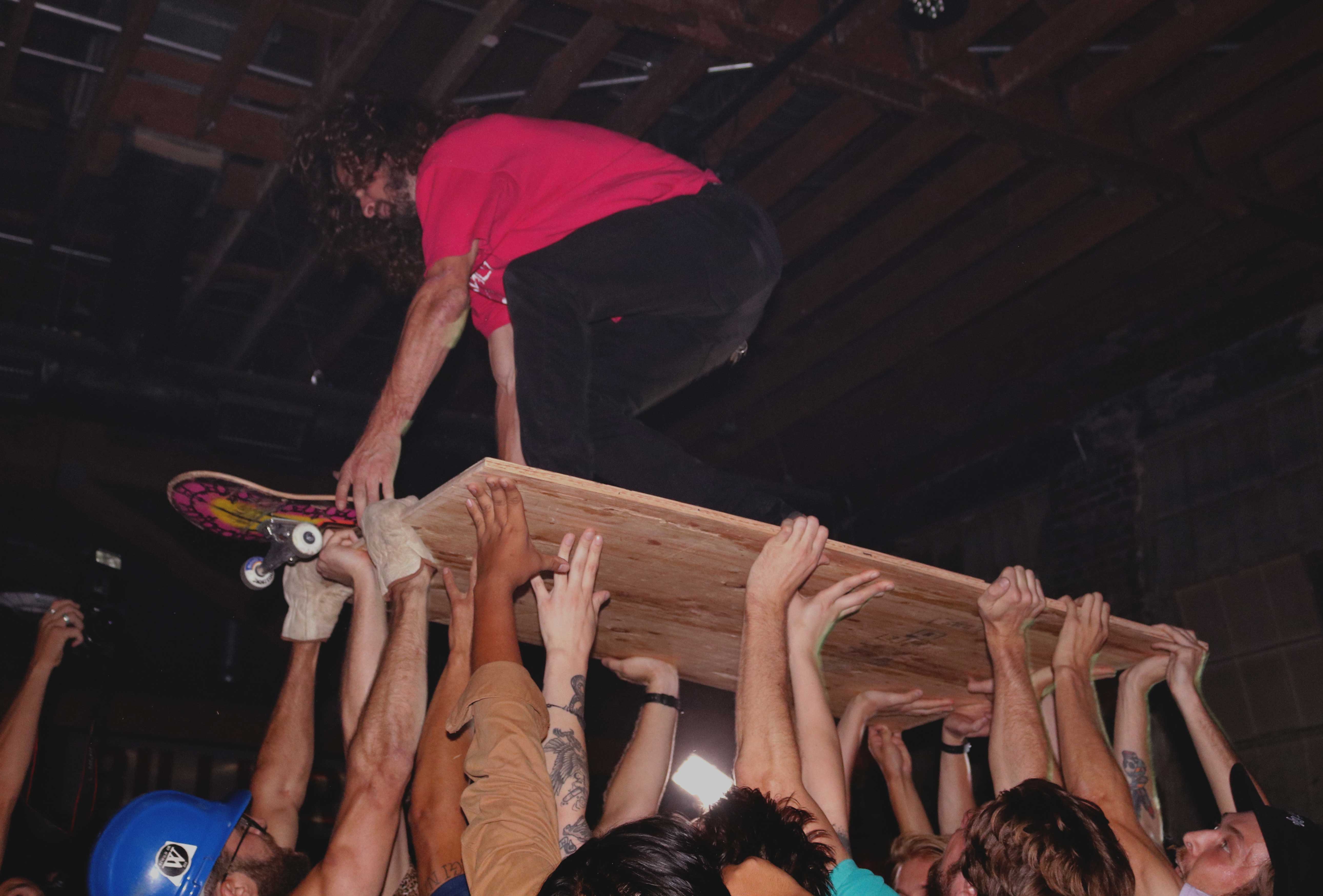 As the night came to a close, the camaraderie in the room only grew. By the last song, there was a line of friends and fans along the stage, all somehow adding to the perfect, comparatively gentler noise of "Ociffer." Sarah's high, floating voice next to Andy's deep and warbling, created a perfect symphony. Cobra Man proved their ability to truly embody and impart the jovial, all-consuming fun from which their music finds its roots.
Get Cobra Man's new album via Goner Records.
Photos taken by Lindsey Pannor.