This interview was originally published in issue 09.
With over 200,000 Instagram followers, illustrator, entrepreneur, and social media sensation Natasha Lillipore, is an all-around badass and megababe. If you've lurked her Instagram or her latest venture, Rose & Thorn as many times as I have, you'll probably agree that she's unlike anyone you've ever followed. Lillipore's success is proof that social media is transforming our industry and granting artists a platform to develop, share, and promote their ideas. Not only is her profile strategically curated, Lillipore's sheer authenticity flows throughout her art and her image. She's found fresh and innovative ways to seamlessly blend all her creative disciplines and use her influence to promote female positivity and self-love.
Natasha Lillipore is somewhat of an enigma. She oozes a kind of ultra-femininity, sex appeal, and confidence that most girls only dream of, but it hasn't always been this way. What's Lillipore's secret? She says, falling in love. Lillipore's definition of love has been defined, redefined, marginalized, challenged, misunderstood, denied and accepted throughout the course of her life, but at 24, she's finally found a certain kind of love that's elevated her optimism about her life, career, and future. She's entirely dedicated to her independence and career, but recognizes her relationship as the constant inspiration in her life. We caught up with Natasha Lillipore at her home in Orange County to discuss her multidisciplinary career, thoughts on social media, beauty, race, and love.
Where are you from and when did you move to Orange County?
I was born and raised in Boulder, Colorado but lived in Denver as a teenager. When I was 18, my boyfriend Javier and I moved to Hollywood. We lived off of Argyle and Franklin so we were right by Hollywood Boulevard. It was cool for the first six months and then we were like, "This is just too much, we don't like it here at all." We stayed in Hollywood for three-and-a-half years and then he got a job at Classic Tattoo in Fullerton and we decided to move to Orange County.
It seems like you do a bit of everything, you're a jack-of-all-trades. Would you say illustration is what ties it all together?
I've dabbled in so many things creatively, but I'd definitely categorize myself as an illustrator.
Do you consider yourself an artist?
To be honest, that's a title that sometimes I didn't feel like I deserved. Now that I'm actually able to make money, I feel like I can call myself an artist.
The women in your pieces, who are they? Where do you draw inspiration for them? 
I've always been sort of an escapist and I've always tried to put out the idea that if you don't like the world you live in, just create your own. I think the women in my pieces are these dreamy alien women, but they're still women. I try to make sure they're very diverse because I think it's very important for everyone to have someone that they can relate to.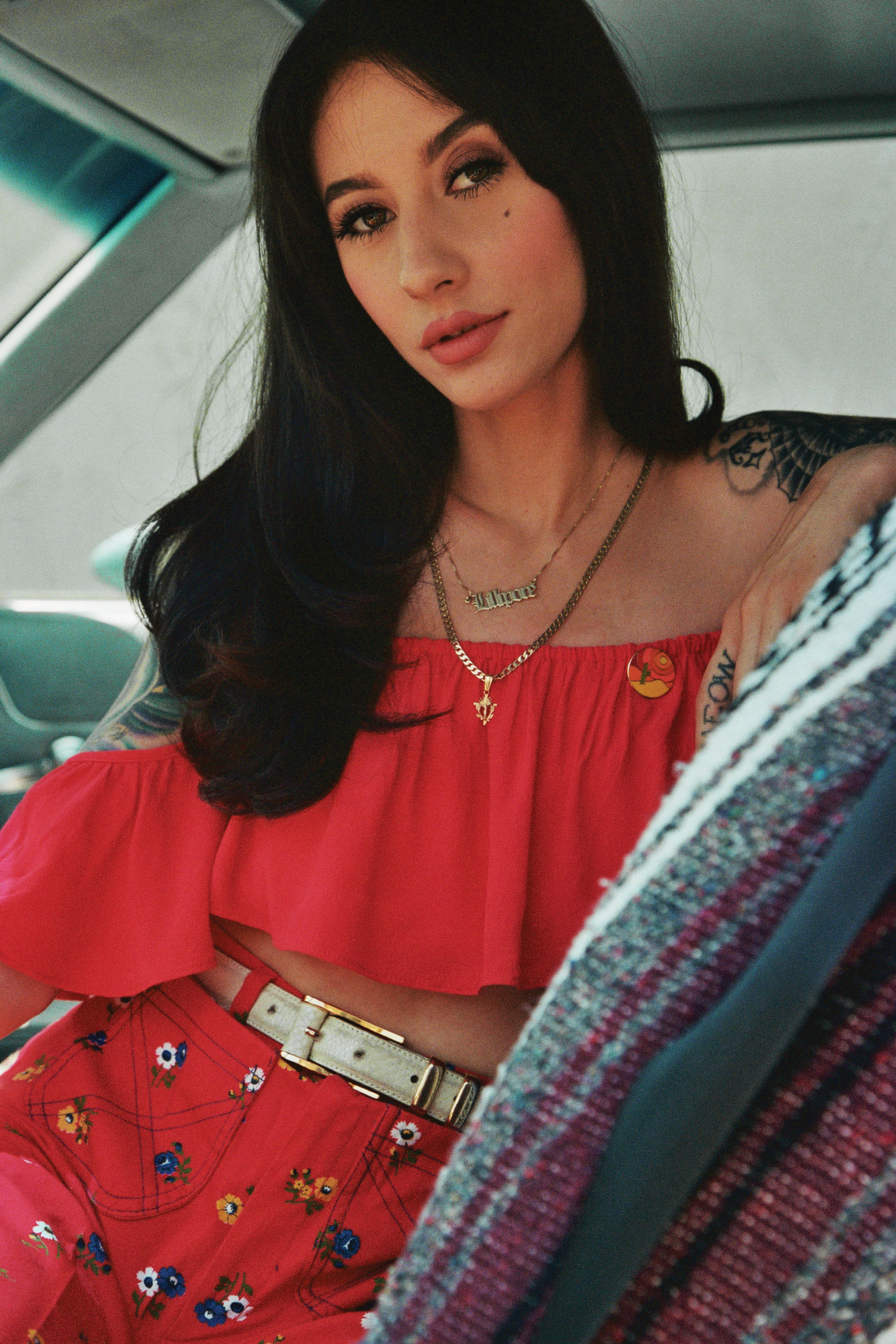 They are racially ambiguous, as are you.
My dad is Mexican, Apache, and Sioux Indian. My mom is Irish and French.
So we're both a couple of mixed ladies.
My mom calls it blended. I'm like, "Shut up mom!"
That's sick. I'm going to start calling myself blended. Tell me about Rose & Thorn. What's your relationship to fashion?
Rose & Thorn is a website I recently launched. Basically, I sell vintage clothes on my website. It's fun. I get to thrift, try on beautiful clothes, take pictures, and sell them.
When we moved to Los Angeles, I worked at Buffalo Exchange. It was absolute torture. After a year, I quit and started selling vintage clothing on Etsy. I'm not a fashionista whatsoever, I like clothes but they don't really mean anything to me.
I feel like your audience would completely disagree with that statement. In my eyes, you're such a fashion maven.
It pays the bills. Ever since I started selling clothes online, it's granted me more time to work on my illustrations.
Talk to me about Javier. How long have you guys been together?
We've been together almost five-and-a-half years. That's the thing with relationships; it's a constant work in progress. He's a part of me; we're a package deal. If you get one of us, you get both of us.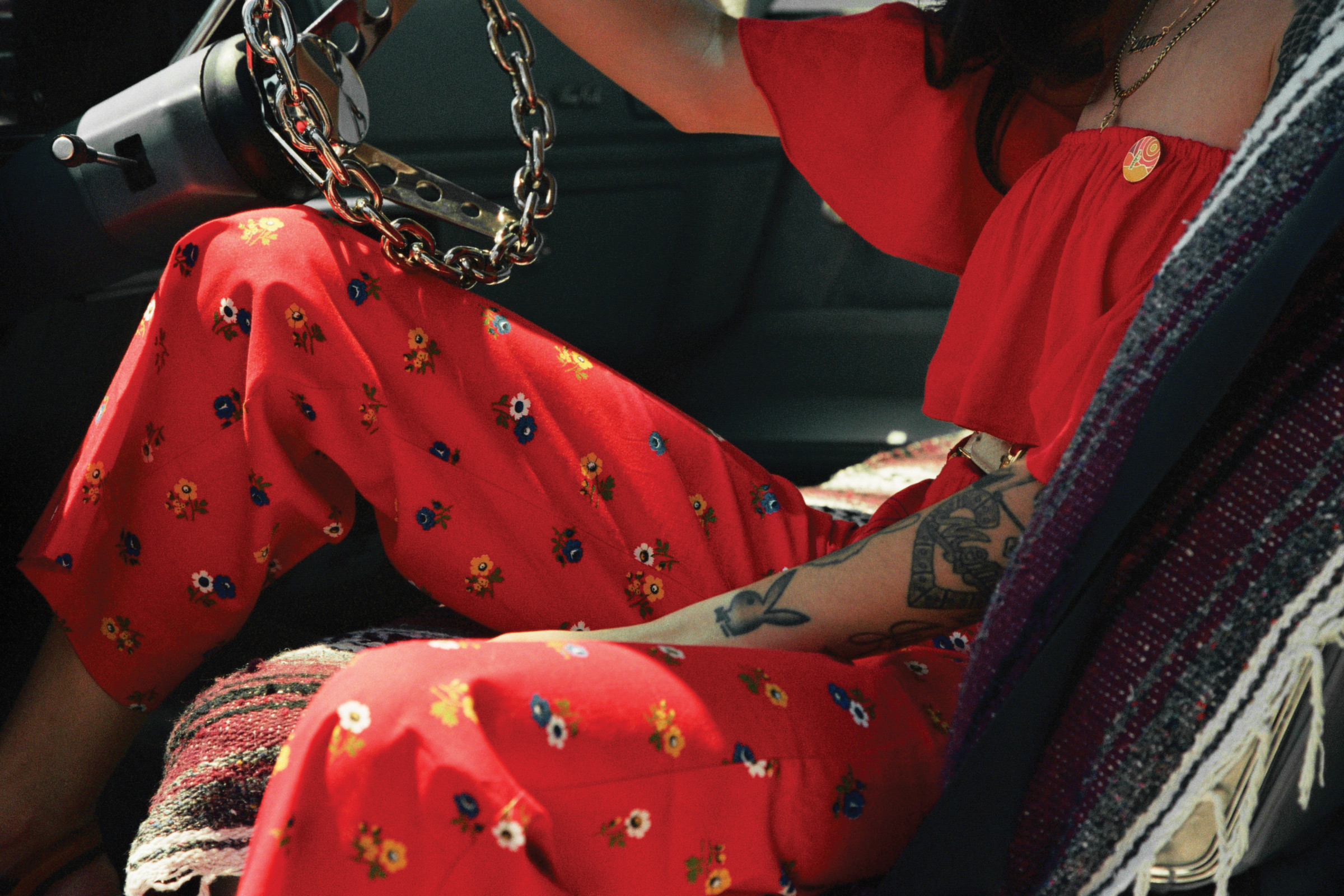 Your boyfriend is a tattoo artist. Do the two of you ever collaborate? 
Yes and no. We don't actually collaborate on pieces very often. We always throw ideas off each other. We inspire one another more than anything.
Does his approval and opinion mean a lot to you?
His opinion matters the most. Love is the one thing I'm most inspired by. Not the concept, but the feeling and what it is.
Sounds like you love being in love. It's refreshing to hear a 24-year-old female admit that. These days, there are so many women who are embarrassed to admit they want a man to take care of them. 
I think for some time now women have been shamed into thinking it's wrong to fall crazy in love with someone. We're very romantic. I think that's because we're simple people; the things that we want in life are simple. I just want to make art, be with my dude, and be in love. I don't want anything else.
I was in a thrift store the other day and this girl was talking to her friend about her relationship. She said, "It's just so comfortable I think I'm going to break up with him." I was thinking to myself, "Since when is comfortable a bad thing?"
Would you like to get married?
Definitely. In my opinion, if you have a great relationship, nothing should change. You just have a ring and your taxes are a little different. Maybe I'm old-fashioned, but I don't think the dynamics of our relationship will change if we get married. We don't need to rush into having kids or buying a house, but I'd love to get married and share my life with him.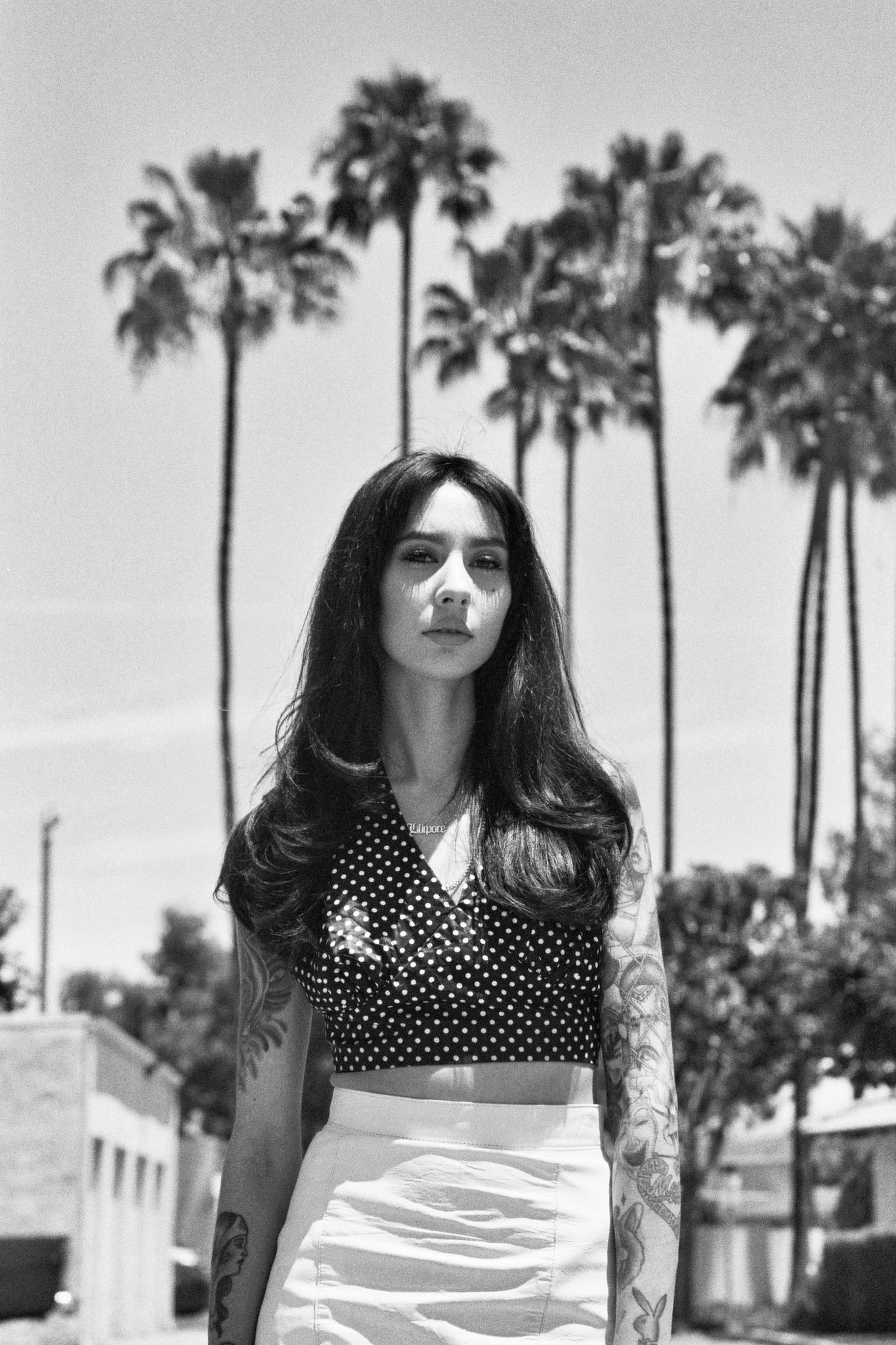 Tell us the truth. What are your thoughts on social media?
If I didn't have to use it, I wouldn't. I'm super thankful that I've been able to get the opportunities that I have from it, but I've always tried to use it as a business tool and just take advantage of it from that angle. It's a really powerful tool, but I can't wait until I can delete it, go live on a farm, and not deal with it anymore. 
If someone glanced at your Instagram profile, they'd assume you are pretty comfortable self-promoting. Are you?
Yes and no. I feel like it's necessary and I have to.
Your Instagram is very well curated. There are a lot of different elements going on. Do you think that the brand you're promoting is synonymous with who you are?
Absolutely. It's weird for me to think that there are a lot of people who are like, "This is my brand," but then they go home and they're a totally different person. I am who I am, and I try to be as authentic to myself as possible. I try to encourage girls to be that for themselves. Social media is damaging to so many young girls. I try to encourage my followers to just be themselves.
Do you consider yourself beautiful?
I think so, yeah. It's taken me a long time to have that self-love because I think everybody goes through a phase where they're awkward and don't like themselves. Being in love has been a great self-esteem booster. My relationship definitely makes me feel beautiful and happy.
There are tons of female artists making an impact in the LA art scene right now. Some of these ladies are even friends of yours.   
It's a really cool time to be a female artist. In Denver, the art scene was definitely male-dominated. Out here, it's really great. I feel like I finally met this cool community of young female illustrators who are doing big things. We're getting the big jobs, we're able to put our voice and our vision out there, and have it be respected. I feel like the playing field is a little more equal out here.
I want to ask you about your relationship with your Mom. Are the two of you close?
We're super, super close. My mom is my mom, my mentor, and my best friend. My dad was pretty abusive growing up so my mom, little sister, and I left him when I was 11-years-old. She sacrificed so much for me to be able to do what I love doing and she's always so encouraging. My ultimate goal is just to be able to take care of her.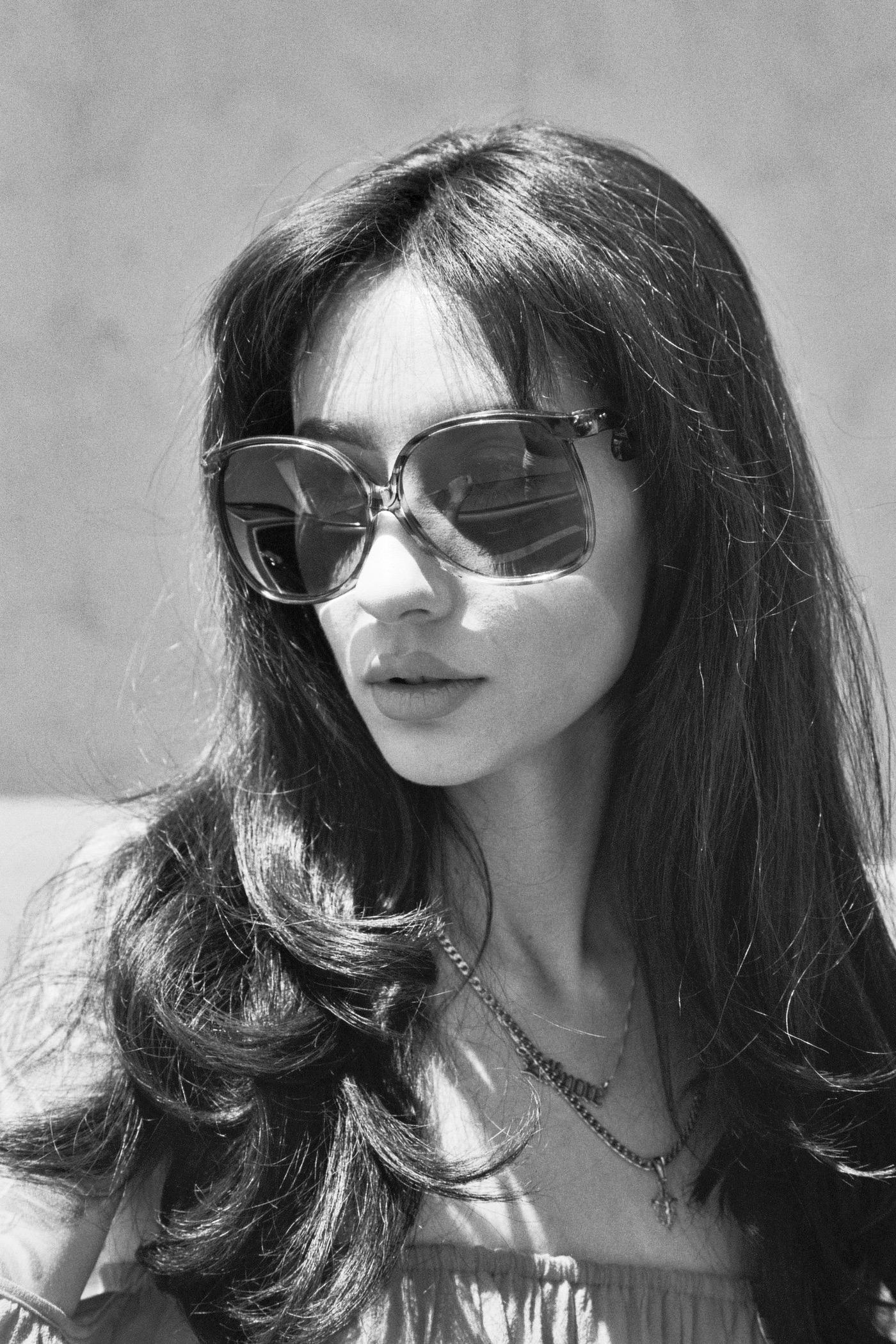 It sounds like family is very important to you.
I think family is the most important.   
What has your mom taught you about being a woman?
I see so many women who become mothers and push aside their interests. Meanwhile, their husbands are out there thriving and doing what they love. I think that's something a lot of women deal with. I wish there was more of an emphasis on women pursuing their interests. In our society, women grow up and then all of a sudden they go from being a girl, to a woman, to a wife, and then to a mother. Most women don't see any other option. My mom put her entire life on hold for my little sister and I. Now that we're adults, I think it's time for her to find that thing she likes to do.
What message would you like to pass on to other women?
It's important for women to know there are options for them and that it's never too late.
For more from Natasha Lillipore,  follow her on Instagram. 
Photography by Samantha Grad.