There's something to be said about picking up and moving to pursue your passion. Few actually do it, most simply romanticize about it. But the ones who set themselves in motion, do it because there's simply no other way, no alternate route. It eats away at them; follows, haunts, and hunts them, and possesses them until their passion can't go unrecognized any longer. Oakland-based artist, musician, and all around handyman Roy G Biv, embraced his possession and took it in stride.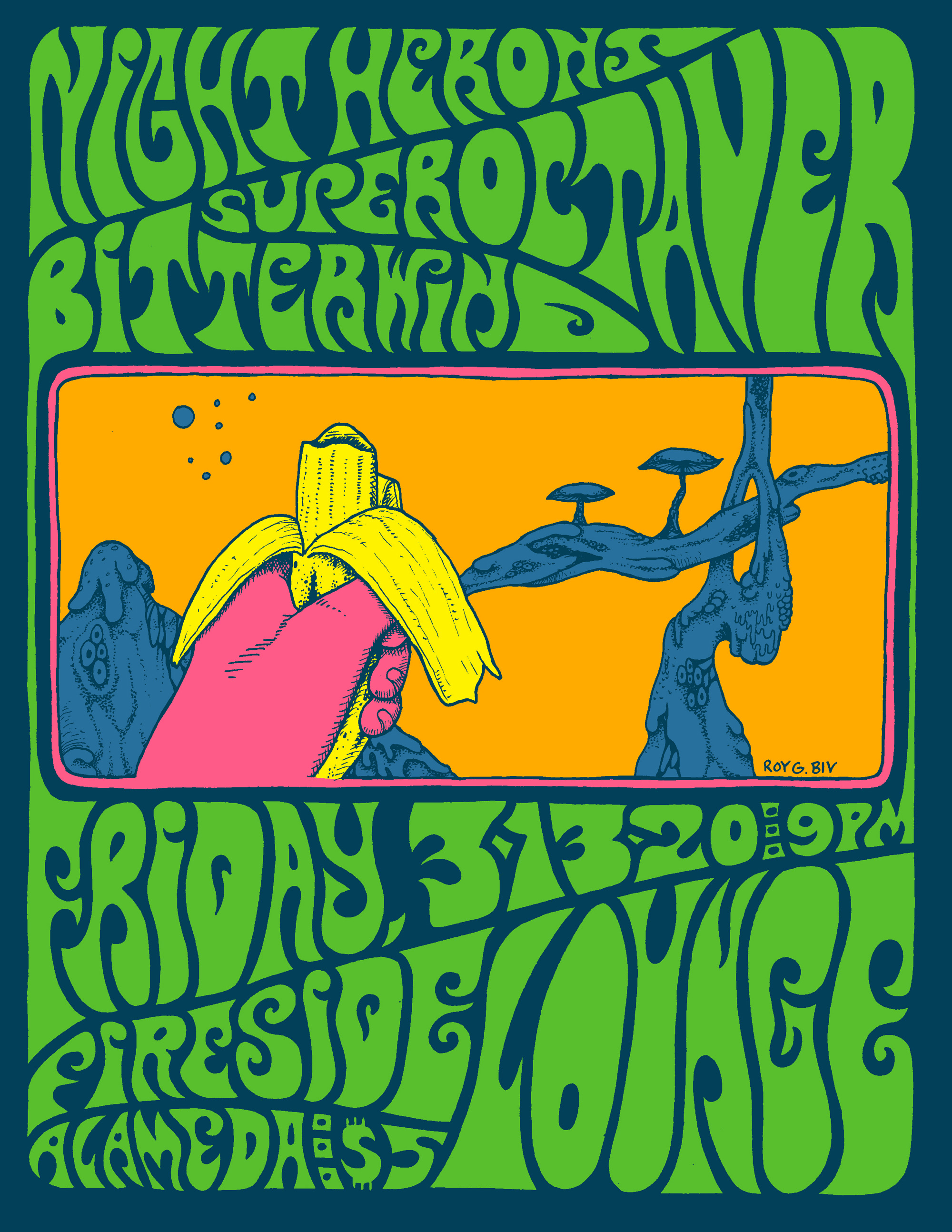 Roy grew up in a small farming town in central Illinois, raised by Mormon parents with a "very sheltered upbringing," as he describes. But this didn't shelter his artistic ambition one bit. "I've been drawing for as long as I can remember," says Biv. "As I got older, I would spend hours filling spiral notebooks with crappy little comics."
By the time Roy was in his early twenties he had become fully immersed in illustration. Those hours spent doodling in his notebook, turned into days and countless, densely filled pages. He realized it was time to move on from the Illinois farm town that bred him and set out to California, landing in Santa Cruz. The hippy surf town, rich in art and music, opened the door to a new form of art and medium that was unfamiliar but enticingly intriguing to the Illinoian—poster art. Immediately, he fell in love with the swirling typography and graphics.
"Santa Cruz had a great underground music scene at the time and artists like Stacie Willoughby and Darwin Rodriguez were churning out these rad posters for local shows," remembers Biv. "I wanted to get in on the action so I approached a local venue and talked my way into becoming their resident poster artist. It didn't pay for shit, but I was able to build my chops and got to do art for rad musicians like Blue Cheer, Jonathan Richman, Blowfly, and Zolar X!"
Now based in Oakland, Roy continues to primarily churn out killer illustrations, yet has eagerly branched out to other mediums, including music, where he plays in Glitter Wizard and The Ugly. "My bread and butter is poster art and comics, but those two things don't usually pay that well, so I've pursued other creative outlets in order to make a career out of my art."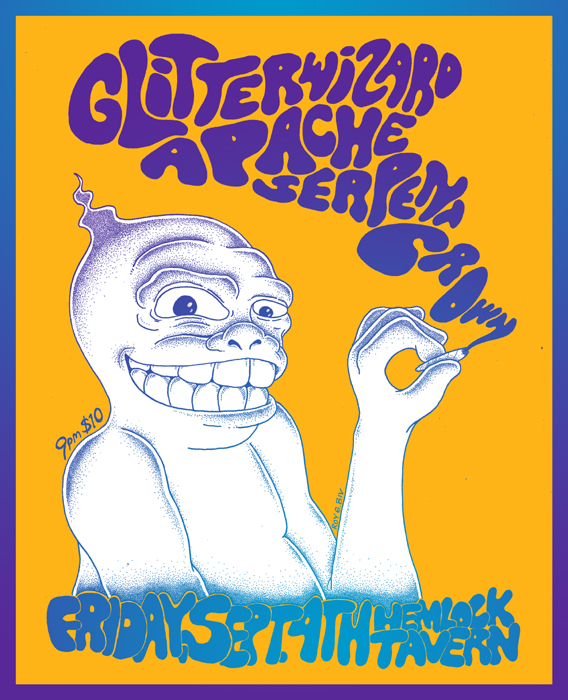 For Roy G Biv, ideas for new pieces come from everything around him—a hike in the woods, a certain lyric from a song, something he read in a book. He draws inspiration from sixties poster art, cartoons, underground comix, science fiction, and the creative community that he's surrounded by in the ever-artistic Bay Area. Though he gets ideas and inspiration for his projects spontaneously, from just about anything he comes in contact with, his creative space perpetuates routine and order.
"For years, I just sat on the couch, hunched over a drawing board and it wreaked havoc on my spine," says Biv. "I now have a small office with a proper drawing table and it really helps me get in the zone. Usually I will have records or stand up comedy playing in the background. I know some artists who put junk TV on when they work, but I find that to be uninspiring and distracting."
One of the most challenging aspects of his practice manifests in his pursuit to continuously improve his craft and push his skills into new territory. Like most artists, Biv gets bored with monotony and simply maintaining drives him mad. That feeling of being stuck in third gear, whether it be in creating or just living, gives him angst. "I've gone through long periods where I kind of plateau and that can be really frustrating," says Biv. "But eventually I'll have a breakthrough and it's always a really exciting and creative period. Lately I have been studying my favorite artists, exploring their techniques in order to incorporate that into my own work."
When not working on a project, playing with his band, watching bad movies, or eating ice cream with a fork, Roy is a handyman, and a damn good one at that. Biv is a jack of all trades; no matter what project he's working on, he approaches it with the utmost attention to detail. His current focus, an upcoming collaboration project. "It's with some of my favorite artists for a group comic book modeled after Zap and Heavy Metal. I'm not going to spoil any of the details, but it's gonna be great!" 
For more from Roy G Biv, follow him on Instagram.