This is a preview of our feature on Staci in upcoming issue 19, out March 28th. Available for preorder here.
I remember the day I met Staci Helms. It was six years ago and my first day on the job working at a fast-paced screen-printing shop in Denver. There was a hard majority male staff that were all seasoned and weathered by experience—one guy had even lost part of his finger to a guillotine bulk paper cutter. Amidst the sea of tough exteriors shouting obscenities to each other across the warehouse, Staci was quietly the most intimidating presence there. I was terrified of making mistakes, but Staci carried herself as if she was born in that environment. The shop was constantly trying to achieve impossible deadlines, and one by one people would give in to the unmanageable stress they were under through boisterous rants, outward grunts, hostility, tears disguised as sweat (maybe just me), and lots of cursing. Where others lost composure, Staci was unfazed. It was clear to me then, what is even more true to me now. In time-sensitive, high pressure, heavy workload conditions, you'll find Staci in her element.
Today, she is operating at the same speed or faster, never staying in one place for too long, and applying the same too-strong work ethic to traditional sign painting and hand lettering.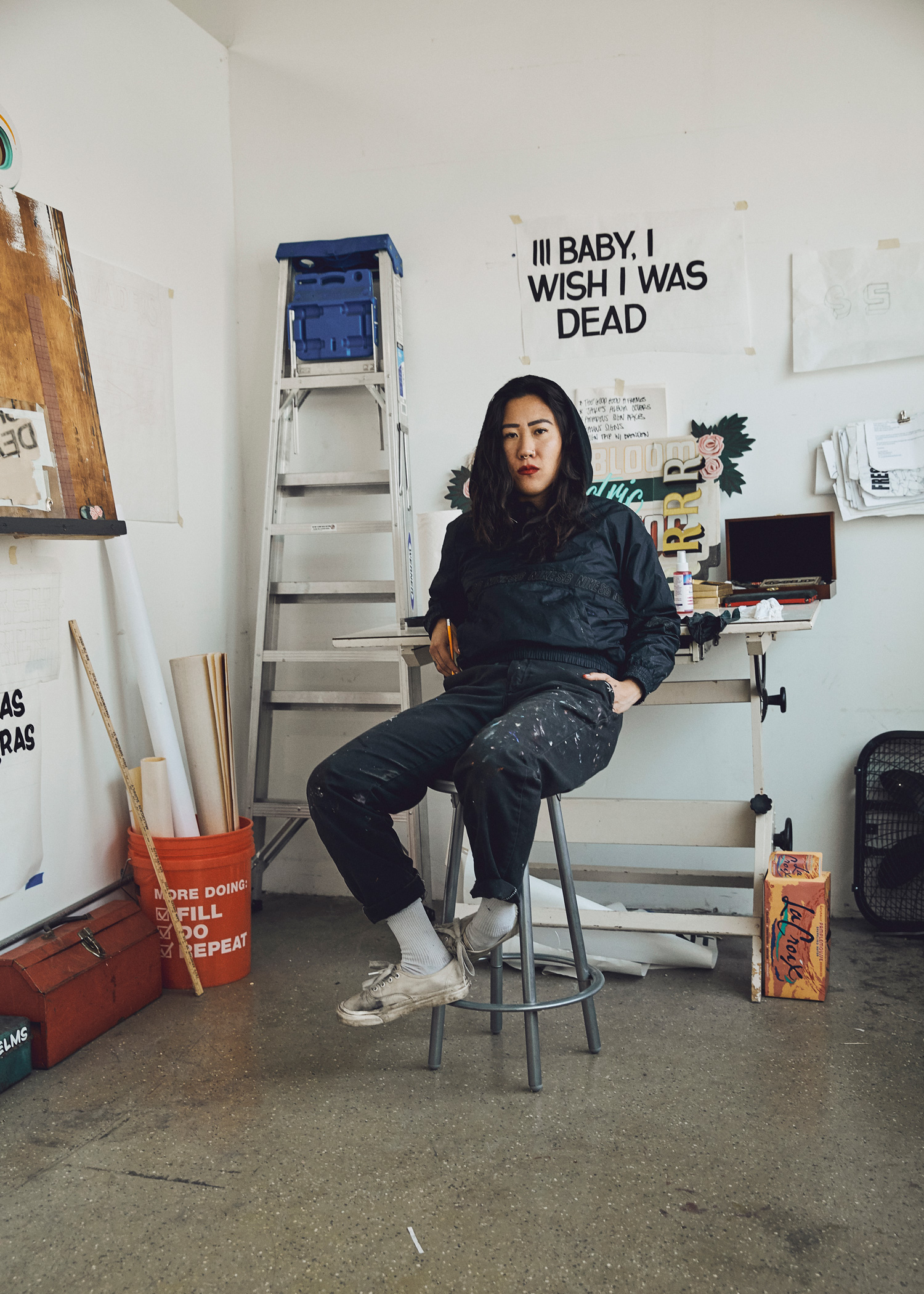 How did you get into sign painting?
I've always loved to be on the road or in transit. When I was a teenager, I got into hopping freight, taking road trips, and hitchhiking. I would end up staying in friends' or friends of friends' punk houses in whatever city I ended up in. I was kind of exposed to folk art, letters, and lettering through that. And of course, things like show fliers, DIY spaces, tattoo stuff, punks, writers, freaks, etc. One of my first signs was in my hometown of Denver for a DIY space in the homies' punk house, called Backspace (originally called Lonely House). That place meant so much to me and my friends and it no longer exists. Punk really provided space for me to believe I could do anything I wanted—I just had to figure out how—even if I couldn't do it well, because fuck it, right? Looking back the signs really looked like shit.
How important is the idea of home when it comes to your art practice?
I can always feel where I came from, the friends who supported me and my past experiences coming through in my current work, giving me the strength to move forward. And I often think of the people who initially believed in me, encouraged me, or gave me a chance to letter the first signs I painted: The menu board at Europa (no longer exists), which was truly a home and gathering space for me and my friends; Jeff Childress (RIP) and Aly Two Eagles gave me my first art show when I was still a bike messenger and let me letter the title of the show on the wall at their beautiful store called Ironwood (which also no longer exists); Colin Ward (RIP) who was a down ass dude and freaky good artist, and who worked at the liquor store next to my house and gave me ten dollars and a soda to do the chalkboard signs whenever I wanted.
What excites and inspires you in your lettering and art?
I like making signs that the viewer can see a human on the other side of. I'm just exhausted of living in this technology made world. It's boring and lifeless. I'm upset and fed up with most everything going on around me. I've always kind of been that way. I try to stay as separate as I can from all that. I guess that's not really inspiration.
Well, that viewpoint correlates well with your practice. Sign painting seems to be one of the few traditional art forms that isn't centered around changing or updating the methods by which it's done.
I try to do things the best I can, the most quality way, and often times that's the traditional way. I try not to cut corners if it means cutting integrity because that's all we have as humans. I try to give credit to those who came before me. I'm sure I mess it up constantly.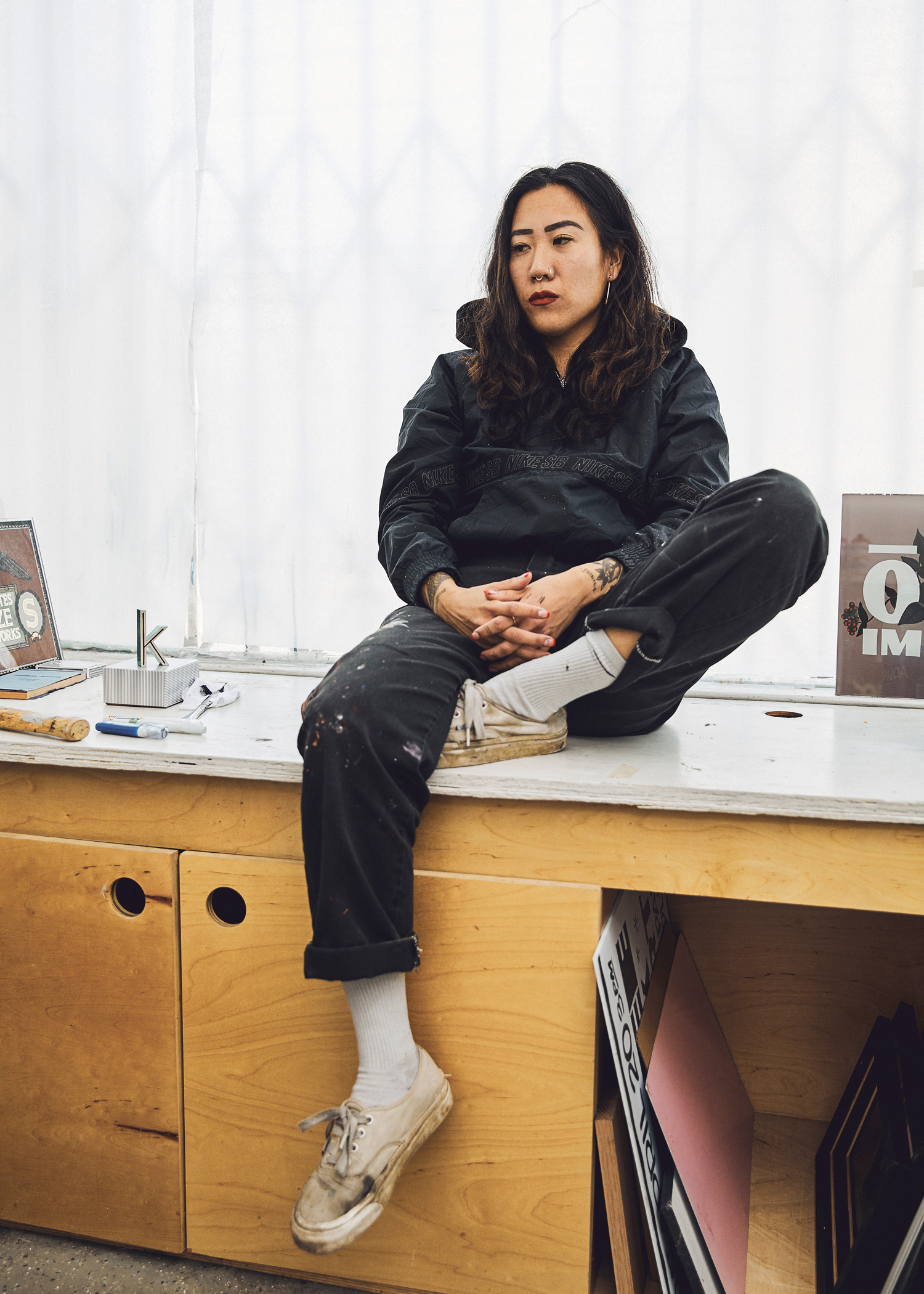 What part of the process do you enjoy most? What's your least favorite part?
I really love drawing and designing. I also love painting and lettering. I don't know what I enjoy most but I know I hate emails and communication. I suck at both, but I'm also working on it.
For more from Staci, follow @stacixhelms on Instagram.
Photography by Brian Overend.