Secluded atop a small mountain side overlooking Los Angeles, resides Adam Baz, his two Harris's hawks named Jasper and Fox, his Augur Buzzard named Kanoni, a couple baby goats, his pup, and his girlfriend Samantha. Baz is a modern day Falconer. Yeah, we're talking about the ancient, very demanding art of training and flying birds of prey. However Baz's falconry practice largely differs from the traditional hunting sport. Baz and his family of raptors specialize in falcon based bird abatement, that is, providing an eco-friendly way of dealing with problem birds in all sorts of environments.
While bird abatement services are typically needed to deter nuisance birds at vineyards or crop fields, where birds can inflict huge damage, Baz and his falcons navigate the noisy, clamoring, power line-infested urban environment of LA. Most falconers wouldn't choose to fly their majestic falcons in a stressful urban landscape where police sirens blare and huge glass windows and flashing lights act as constant distractions, however Baz gets a sense of satisfaction out of the juxtaposition between the bustling cityscape, the serene, soaring nature of these wild animals, and the unflinching relationship between falconer and falcon.
Although Baz's practice is primarily centered on bird abatement, he's equally interested in providing an educational aspect to make falconry and its history more accessible to the public. Whether it's through his interactive falconry experiences where he provides history on the raptors and teaches people how to hold and fly a hawk, or through his Instagram where he shares tidbits about molting (a yearly process when bird's shed and replace their feathers) or beautiful imagery of his birds' plumage, Baz hopes he can provide a platform for learning about such a beautiful practice.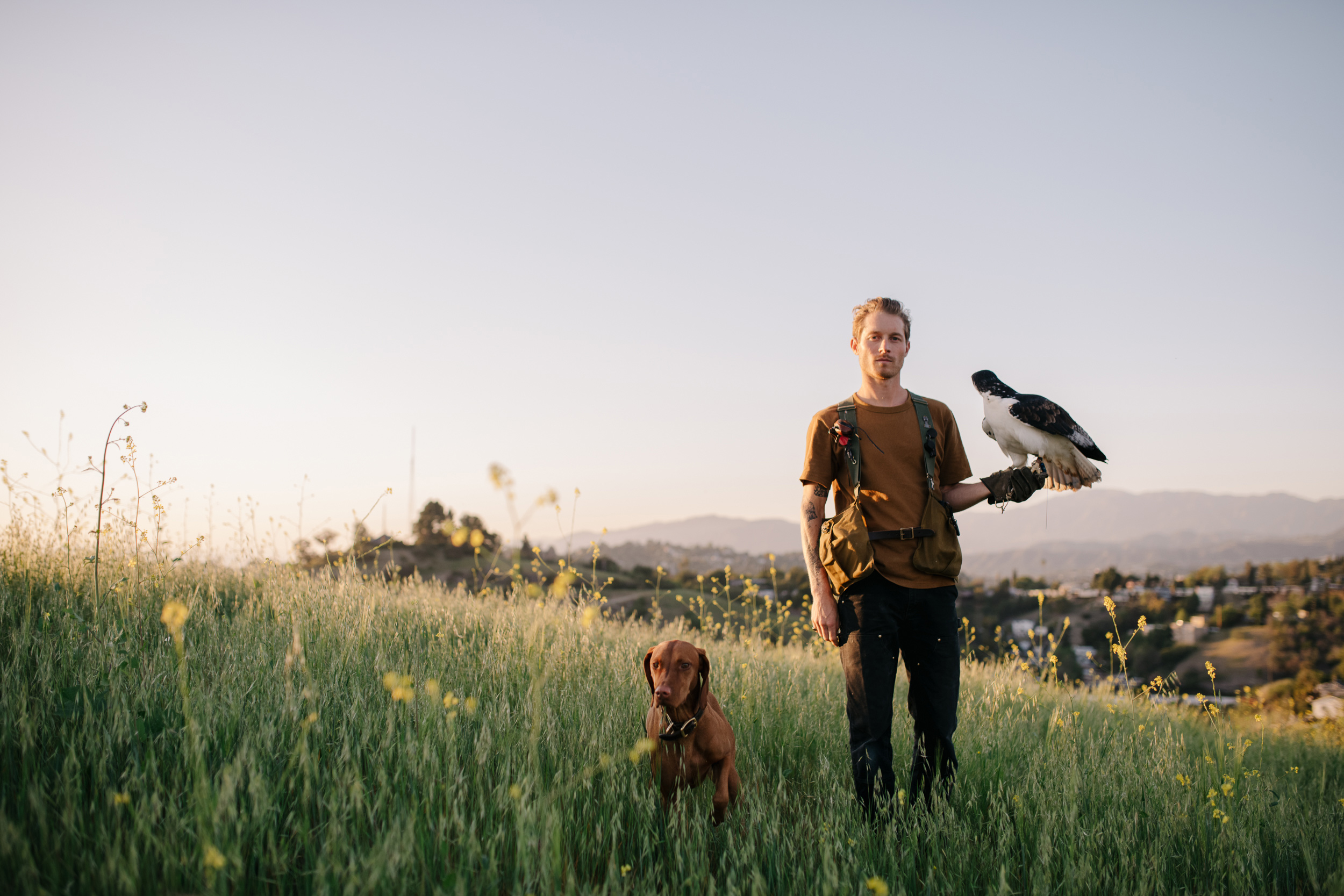 I'm not going to lie, I didn't know falconry was a contemporary practice. I'm not even sure how one would begin to get involved with falconry. Tell me a bit about your background and what led you to working with falcons.
I lived in Portland for about twelve years and was in a lot of bands; the main one we probably toured for about six years. I had a great time and the experience was amazing, but it didn't quite pay the bills so in the back of my mind I was always trying to set up a safety net of some sort if the music plan didn't work out. Of course, it didn't. During that time, I got more into bird watching as a hobby, but that very quickly turned into a line of work. I worked for about ten years as a bird biologist — watching, studying, and tracking wild bird populations around the Western United States. I did a lot of field work, backpacking and doing a lot of remote bird surveys. Between that and playing music the rest of the time, I could hodge podge together a pretty modest existence. It was great, but at a certain point I just wanted to turn up the dial a little bit with regard to my career path. I started doing bird biology work full-time that kind of led into falconry as a logical extension of the bird surveys I was doing.
Is remote bird biology as romantic as it seems, out there with a backpack, sitting in nature all alone, and watching birds?
Yeah it is pretty romantic work. It can be very beautiful and exciting, unique work. I spent three years consecutively backpacking through the meadows in the High Sierra Nevada Mountains. I had some incredible wildlife experiences out there, but it is really hard work. It entails a lot of difficult terrain and adverse conditions and really early wake up times. There's kind of a feeling you hit as a field biologist in terms of that being a stable career because so much of it is seasonal and changing. Funding for the sciences, at least nationally through the federal system, is limited. So it's hard to have a stable career as a field biologist. The work is really fun but I never knew what was six months ahead and so that kind of became stressful; I wanted something more stable.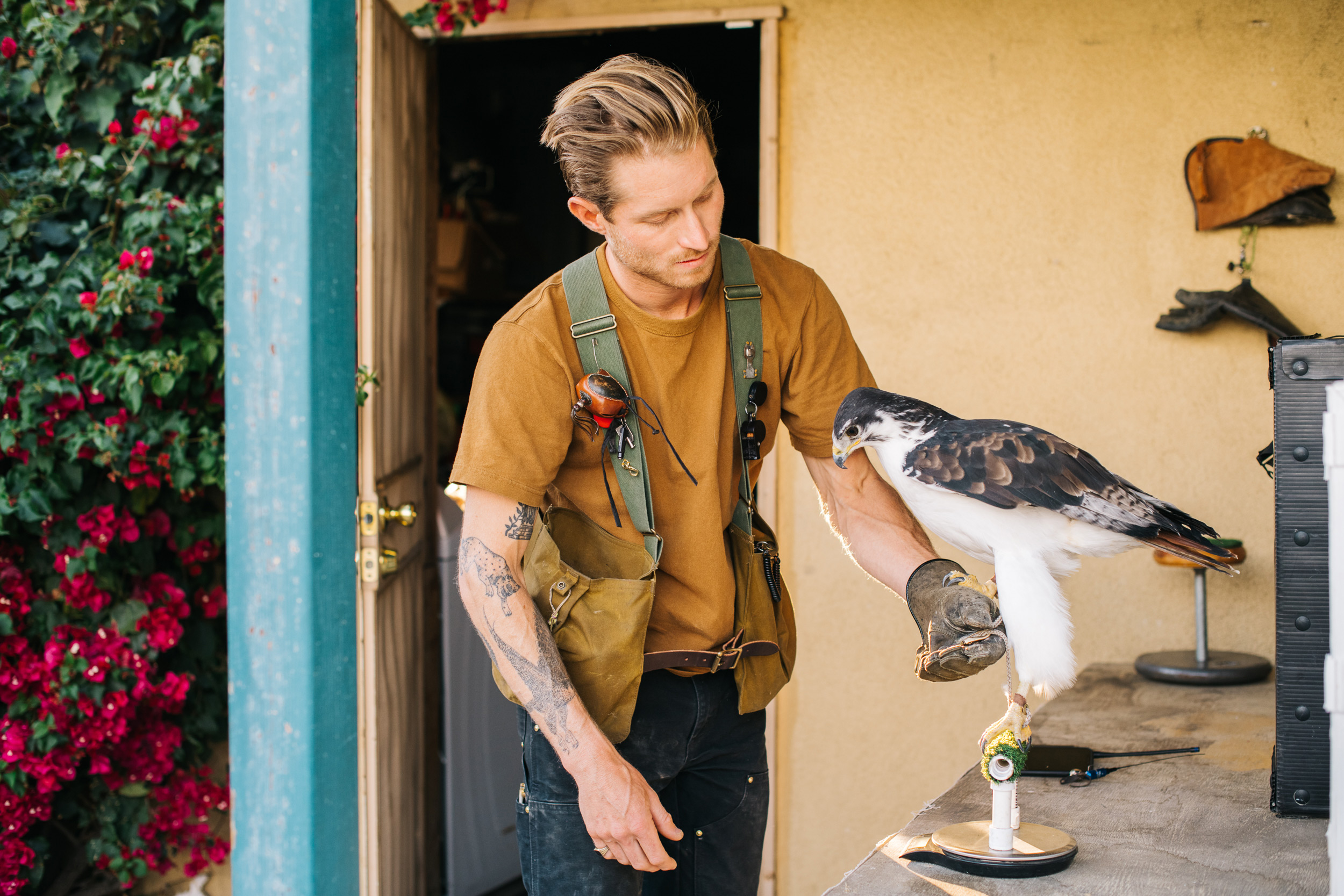 So the next step towards stability for you, was moving into falconry?
Oddly enough, what actually happened was I knew I wanted to work as a bird biologist so I went to grad school and got a Masters of Ornithology, which is the study of birds. While pursuing my masters, which I thought would lead to a career path in ornithological work, I met a falconer who also studied biology and had a conservation background and was someone who was uniquely making a living as a falconer. Light bulbs started going off in my head. I also heard a story on NPR about a falconer who had commercialized his work and had made a living defending vineyards from pesky birds that were coming in and eating the grapes. I had no idea that falconry was still practiced and had a viable career path. I love training animals and I love raptors and birds of prey, and being able to live and work so closely with them. I also love freelancing and working outside, so being a professional falconer was a perfect fit for me.
Sounds like it checks all the boxes. Freelance falconry, I love that term. For those of us who are not aware that was a thing, tell us what that entails.
There are a few different facets to my business. Most falconers don't make a living as a falconer. It's a hunting sport. It's a hobby, passion, or lifestyle, and it's not usually monetized. Most falconers hunt with their birds and that's kind of the truest, purest form of falconry. A small percentage of falconers, which is a small community in and of itself, actually make a living as a falconer and generally what you do is called falconry based bird abatement, which I call glorified pest control. You basically bring trained hawks or falcons to a property or job site where a business is suffering from some sort of nuisance or bird problem and you use your team of trained raptors to intimidate those birds off the property. For instance, on vineyards where thousands of small song birds will eat very expensive wine grapes resulting in huge economic impacts on the farmer, the falcon will protect the crops. What I do is urban falconry work, which is generally more like chasing flocks of pigeons, crows, and seagulls away from apartment complexes, outdoor shopping centers, commercial buildings, and things like that. That's falconry-based bird control. I also split my time offering interactive falconry experiences and lessons — families or groups of friends will come and meet the birds and fly the birds and take pictures.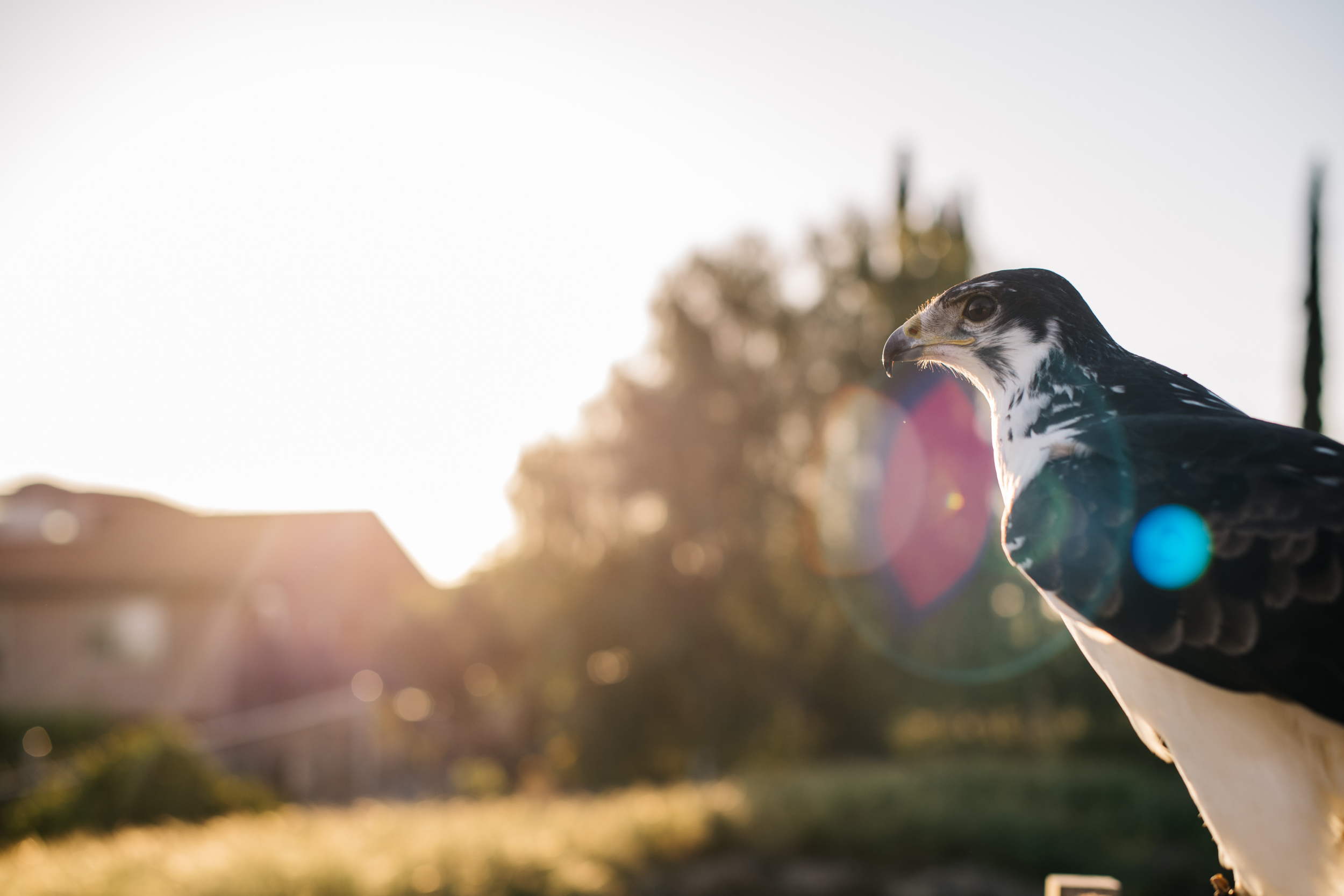 Let's say that there weren't falconers like you that were doing this type of bird abatement and protecting public spaces. What would happen?
There are other deterrents for bird control methods that have been used historically, like covering vineyards and buildings with nets to prevent birds from coming; I'm sure you've seen pigeon spikes or owl decoys, but they're just physical deterrents, none of them at the end of the day really work, nor are they cost effective because birds are really smart and determined animals. If there's a will there's a way and no amount of pigeon spikes or nets or noise makers will prevent the birds from getting what they want, like food, water, or a place to nest.
But the sight of a free flying raptor, like a hawk or a falcon, that's actively pursuing or hunting those birds, is genetically or evolutionary instilled in those birds and it's effective. To answer your question, we can basically save more crops or have a more efficient effect on a building than all of the other methods. It's totally ethical and sustainable, you're just taking advantage of naturally occurring predator and prey dynamics. You're bringing a highly trained top predator into an environment where there might not be a lot of top predators and you're just using the presence of that predator to deter the birds from being at that given property. 99% of the time my birds don't make contact with the smaller birds they're chasing nor are they even sometimes interested in hunting the birds. Sometimes they're just flying around half heartedly chasing them but their presence is a really effective deterrent.
I can't imagine how hectic it must be training and flying your hawk or falcon in such a dense urban environment like Los Angeles. What are some of the biggest challenges?
Flying these birds in urban environments can be incredibly stressful and dangerous. There's never a dull moment nor is there any room for error. It really requires a heightened level of involvement from the falconer both in terms of keeping an eye on the environment and the bird's behavior and all of the possible dangers to the bird, but also in terms of having a really well-trained reliable bird that does exactly what you need it to do, nothing more, nothing less. That's the biggest challenge. It's a dangerous place to fly these birds. I think a lot of falconers would never in a million years want to fly their birds in a city. For whatever reason, I get a strange sense of satisfaction out of it. I'm really drawn to the interface between humans and wildlife. For me, bringing this kind of ancient, natural hunting sport into an urban environment is just a really compelling dynamic even though it seems a little incongruous.
Let's talk about the birds themselves. You're training one right now. Is this a bird you own that you're training and adding to your family?
Yeah, it's a new bird that I acquired within the last year and she's still kind of learning the process. There's really a range. Some birds take three weeks to train, then you can free fly them, but this bird is taking months so it varies a lot from bird to bird.
What's the typical amount of time training them to do this kind of work?
I feel like I'm always training the birds. I have a hawk that's ten years old, but I'm constantly reinforcing the training and trying to hone the behaviors that I want out of him. It's a little hard to answer the question, but what a lot of people might consider the training period, like how quickly can you convert a wild bird to a bird that will reliably fly free and come back to you, that can be as little as three weeks if you're an experienced falconer and have a good training methodology. Two of the birds I own are called Harris Hawks and they're a really intelligent bird that's typically very easy to work with and so I can reliably have them free flying in three to four weeks, but on the other end of the spectrum I have a pretty nervous, exotic hawk from Eastern Africa called an Augur Buzzard and she's taken months to train.
Three to four weeks seems so quick!
Yeah totally. These are intensely food-motivated animals. Aside from breeding, their primary motivation is eating. They are highly food-motivated for survival because their meals are few and far between in the wild. So when an opportunity to get food arises they will take advantage of it with pretty impressive vigor and determination. So if you become that food opportunity by providing them food reliably, they're gonna learn very quickly. They're gonna apply that same food drive towards you and it makes for a pretty easy training dynamic. That same food motivation certainly can be applied to training dogs and horses and that's usually a component to training those types of pack animals, but there's another aspect to training those animals which is a bond between the trainer and the animal and the pack dynamic because they are social animals and they want to be in a pack. They want to know where they land in that pack hierarchy, but that's not really the case with hawks or falcons. They're not social animals, it's just food motivation. That's really the tool you have in your kit, weight management and food motivation.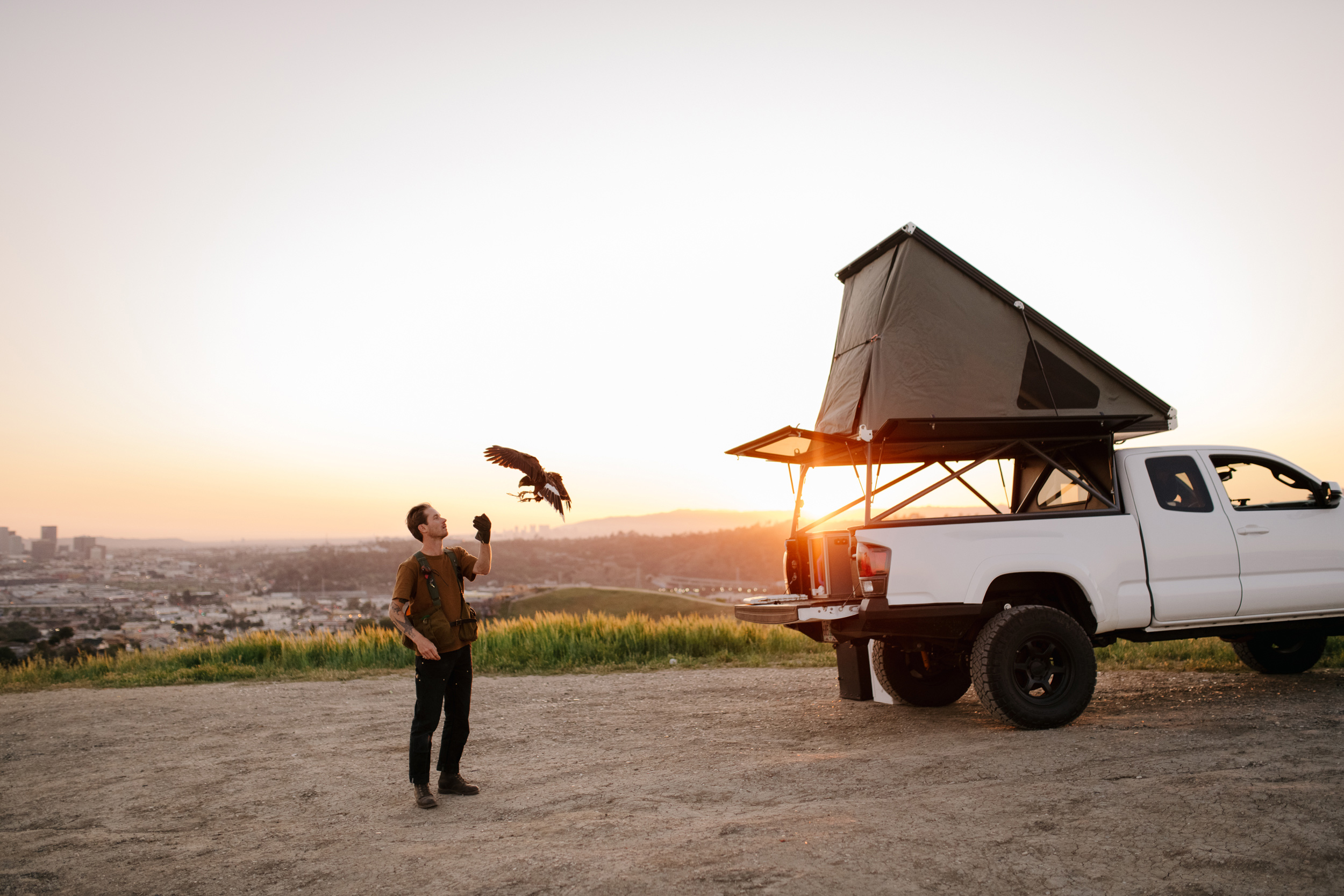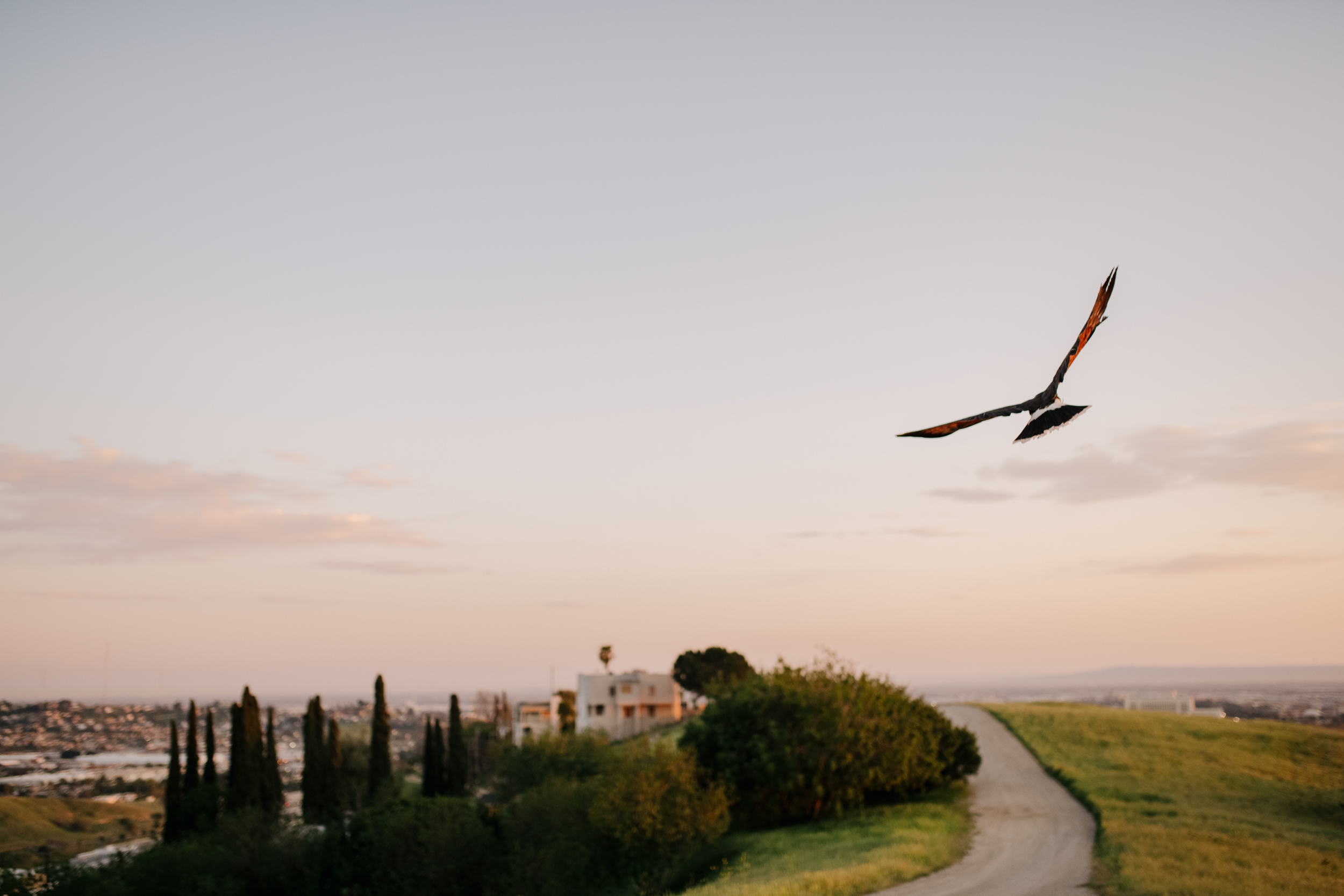 So food motivation is critical to training.
Yeah it's critical. You couldn't do it without it. People ask me all the time "do these birds love you? You must have such a strong and spiritual connection with the birds!" I hate to chop down the romantic notion. It's just no. They are opportunistic creatures and I'm a reliable food source. They're comfortable around me and they trust me, and maybe to a certain extent they kind of like my presence here and there, but it doesn't go any deeper than that.
It's more of a symbiotic relationship, rather than the kind of romanticized idea of it being a pet. Why do you think so little people know that falconry is a thing and that this kind of work actually goes on?
Part of it is just that very few people do it. It's such a small percentage and such an obscure sport, let alone profession, that a very small percentage of the population does falconry so it just doesn't have a very high level of exposure. I think people are often surprised that this is something humans still practice. They think of it as something that was limited to the Middle Ages. Part of it is just that, from a business standpoint, some it is still an emerging market, so it really is new. People only started making a living as a falconer about fifteen to twenty years ago. So part of it is just getting the word out there that this is a viable option for getting rid of your pest bird problems.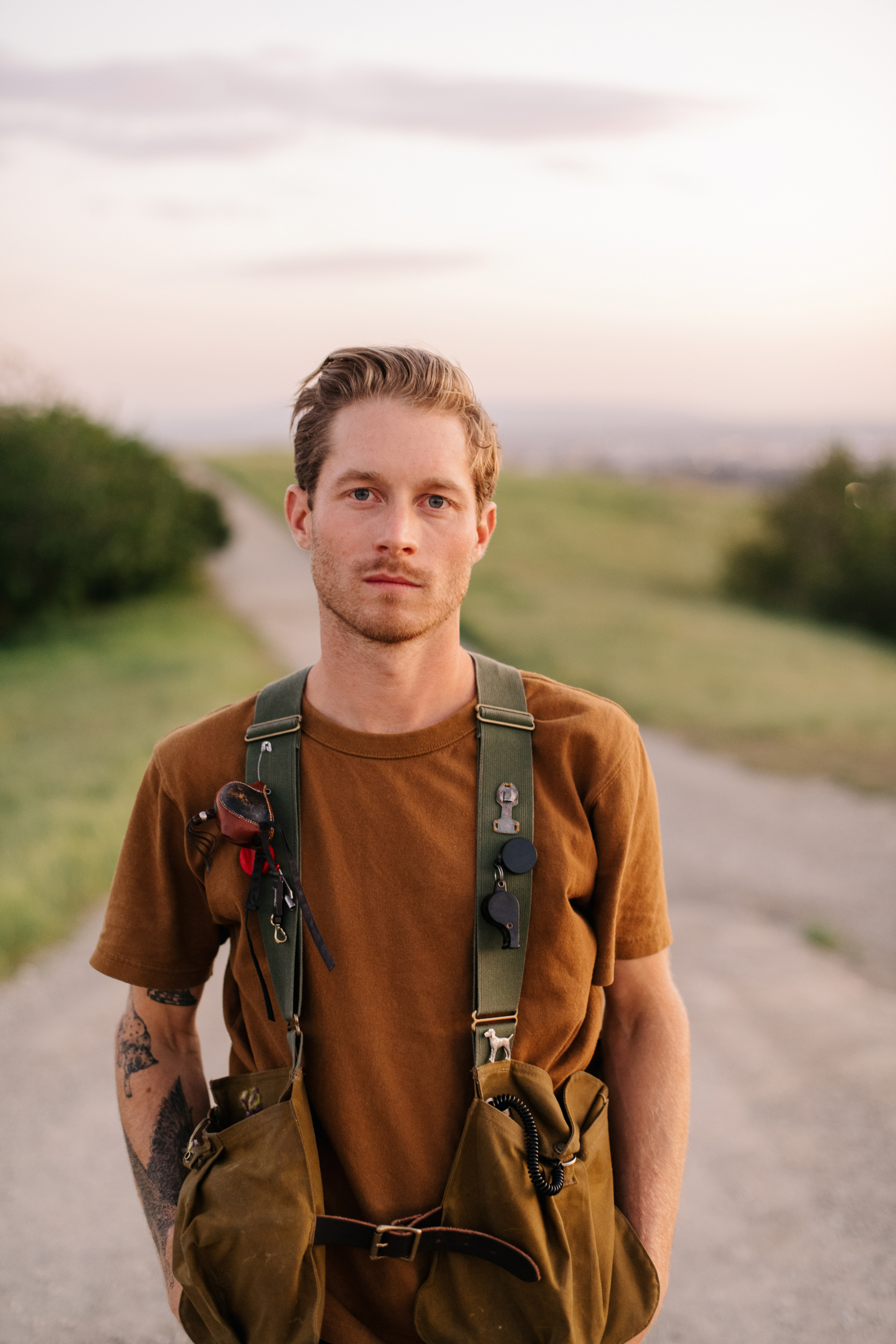 You keep saying that the community of falconers is quite small. Can you tell us a little bit about that community? How do you connect with people that are doing the same type of work that you're doing?
It's a small, but supportive community. It's a small world and most falconers know each other or know of each other, at least locally. There's some falconry Facebook groups and community clubs that have events where people will get together and hunt together or share training techniques. Honestly, Facebook and social media have been huge. That's probably how I connect the most. Most of the falconers I know have been through social media.
You have quite a following on instagram. Do you feel like that's an important platform to use to make falconry more accessible?
Yeah for sure. Another aspect of the falconry community — and I don't want to generalize — but I found it to be a somewhat of an inaccessible practice. Falconers tend to be a little bit guarded about their sport because it requires such an immense amount of time commitment and involvement and I think a lot of people see it from afar and think that it's a cool, quirky thing to try. It's really not a sport you can just dip your toe into. It requires years and years of commitment and so much time and energy.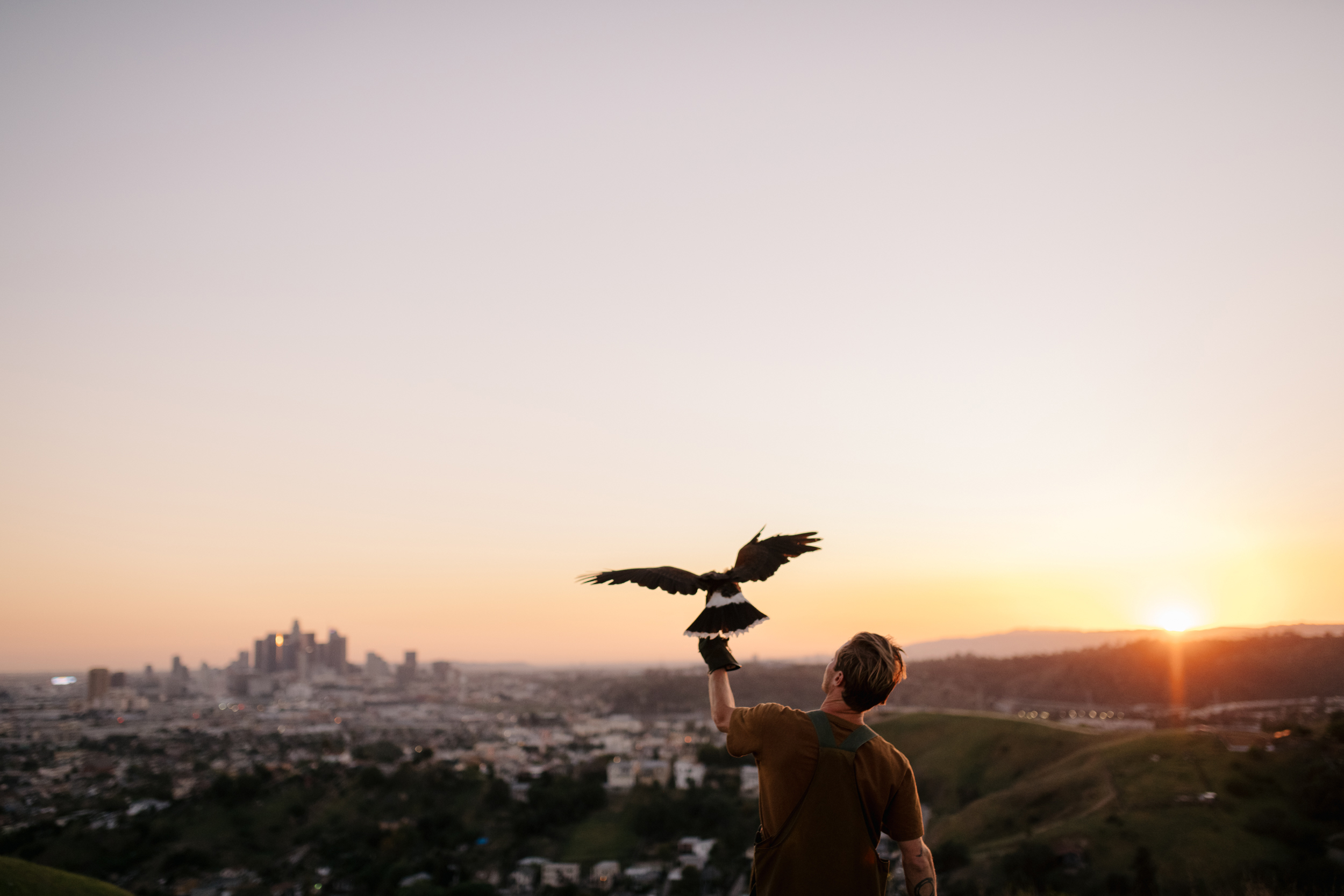 I think falconers want to keep it a little bit guarded so that the people that do gravitate towards it really mean it. That's not to say that falconers aren't welcoming of new people, it's actually the opposite, but you really have to know you want to become a falconer to really find your way into this world. Once you have, people will welcome you with open arms. For me, I wanted to start an Instagram account to provide education and exposure. It's such an amazing sport and has so many incredible applications commercially. People don't know about it, or worse, people have total misconceptions about falconry because they've seen one isolated image of a falcon with a leather hood on its head. From afar, I could see how that might seem a little troubling, but I dont think birds should be kept in cages or tethered or forced to wear leather garments, but that image is decontextualized and I think that's when it becomes dangerous. I think if anybody got the opportunity to actually see the quality of life these birds have with their falconer, they would be more than impressed. A lot of it is just about being able to give people a glimpse into this world.
For more from Adam Baz, follow @hawkonhand on Instagram.
Photography by Cara Robbins.