For illustrator, tattoo artist, and gallery partner Austin England, it's always been about the hustle. Born in Colorado, and raised in Tampa, Florida, England moved to Los Angeles in hopes of meeting like-minded individuals who were down to skate and make art. Over the last six years, Austin has hustled hard to progress his career as an artist, curator, and creative innovator. These days, you can find him tattooing at Kingswell in Los Feliz, drawing and drinking brews with artist Bonethrower at Bill's Bar, and skating up and down Sunset Boulevard with his ride-or-die Siberian Husky, Lolita. His sense of self-awareness is unique, but like many artists living in Los Angeles, England sees no separation between work and play. From acrylic to ink to neon, England seeks out creative challenges and attempts to find ways to translate what he does best through an array of interchangeable mediums. His style, attitude, and creative approach are synonymous with his greatest influences including artists like Michael Sieben and Travis Millard.
Catering to the artistic side of East Los Angeles, England is currently positioned at the forefront of both personal and creative discovery. Whether he's illustrating, tattooing, or bending neon, England never shies away from a challenge. This artist is never lost, always searching to find new and innovative arenas to refine his craft and express his personal and creative ideas.
We caught up with Austin England at his new workspace Bill's Bar in Silverlake and got the lowdown on the inspiration behind his latest solo show "See You Later, Sweetie." A few nights later, we sat in on a session with him at Kingswell. From what we've seen, England's work is heading towards the light and this is a look at his new discoveries. With a legendary name like Austin England, who knows what the future holds for this artist.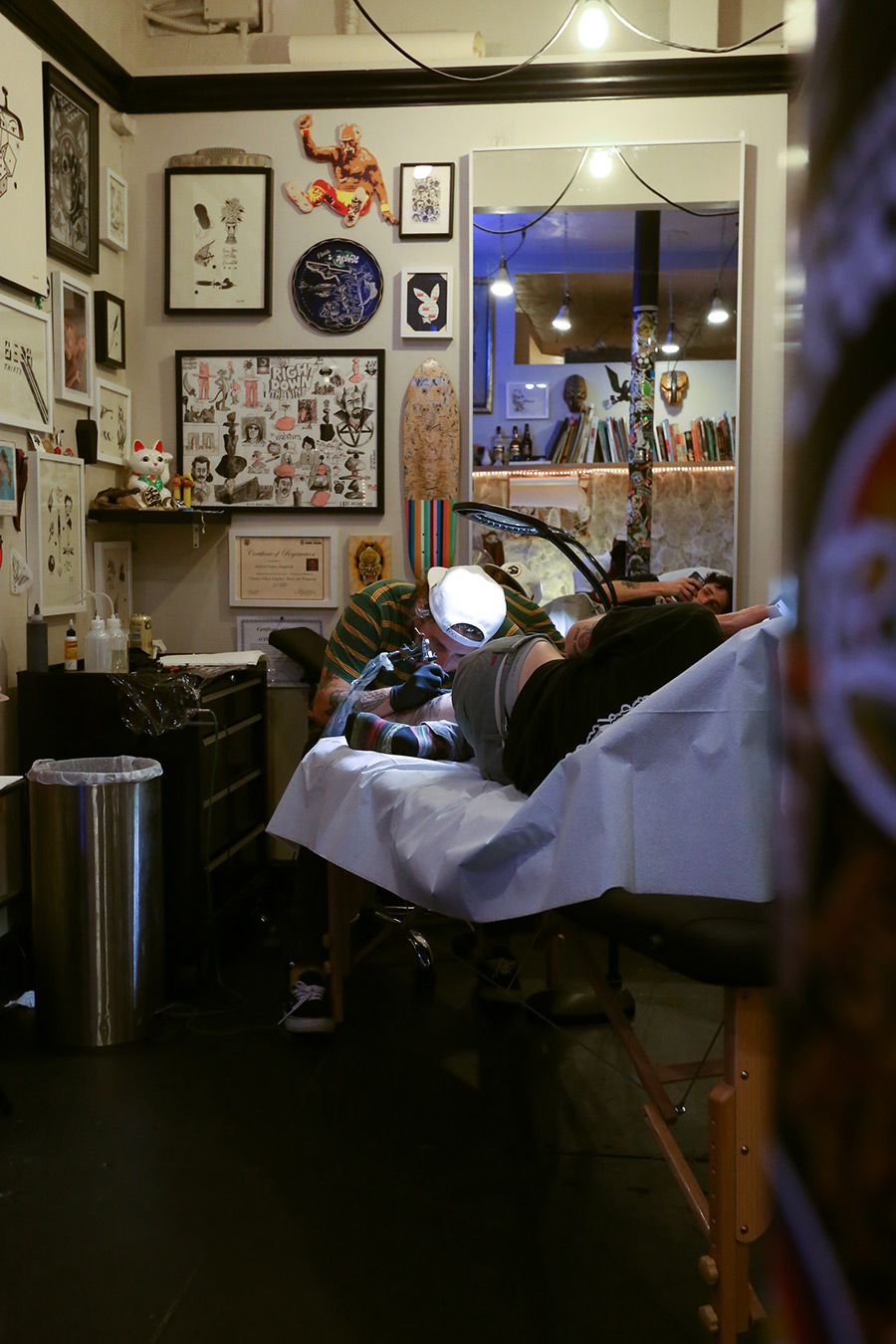 Let's just jump right into this; I believe we met a few years ago in Chicago when you co-curated a show with a few of my college mates at Co-Prosperity Sphere in Pilsen. You were pretty much focused in illustration and painting, but you've recently transitioned into tattooing.
I've always had an interest in tattooing. I've been getting tattooed since I was fourteen; I just never really thought I could personally do it. Earlier on, I wasn't too comfortable with the idea of putting my work on people just yet, but after experimenting with my drawings and all that stuff, it just kind of fell into place. I gave it a try and it worked itself out.
How did you overcome those insecurities?
It's a gnarly thing to do. You are giving something permanent to someone. It could be someone totally random or your best friend. Either way, you don't want to fuck it up. It's super intimidating. But fuck it, you just have to drop in and do it.
So did you start apprenticing at a shop? How did it all start?
I came out here about six years ago from Florida and was just here to skate and try the art thing. I was just skating around and eventually just started meeting people who were like-minded. From there, I met DJ Chavez who owns Kingswell. For a year, I apprenticed under Roger Seliner, who now tattoos at Thunder Bird Tattoo.
Do you remember the first appointment you had?
The first person I tattooed was Daniel Schimizu and I totally fucked it up, but in a good way. I did a dagger on his arm, but it was shaky because I was so nervous. I looked up to his skating for so long. We later became friends, but at the time I remember thinking, "Shit, this guy is so gnarly and I'm about to give him my first tattoo." Over time you build confidence and you learn what to do and what not to do. You learn how to arrange those discomforts.
How long have you been drawing?
I fully committed to making art and trying to do it as a living in 2009, right out of high school. I was working shitty pizza jobs, working late, drawing when I got home, skating in the morning. I started grinding, getting comfortable with my style. It's a non-stop evolution.
So it really just started as a hobby?
Definitely. I used to work for the Skatepark of Tampa and did graphics and murals for them. They really encouraged me to push that. Those dudes are business heads, but creative at the same time. I got the best of both worlds.
I feel like skating and art go hand and hand. Most of the dudes I know that skate, also make art. There is such a creative element to skating. Why do you think there is such a crossover?
It's that rebellious attitude. It's like, "Fuck it, I want to do what I want." You can take it or leave it, like it or not. Whether it's making art or skating, you make your own rules. You can create the world you live in, in a sense.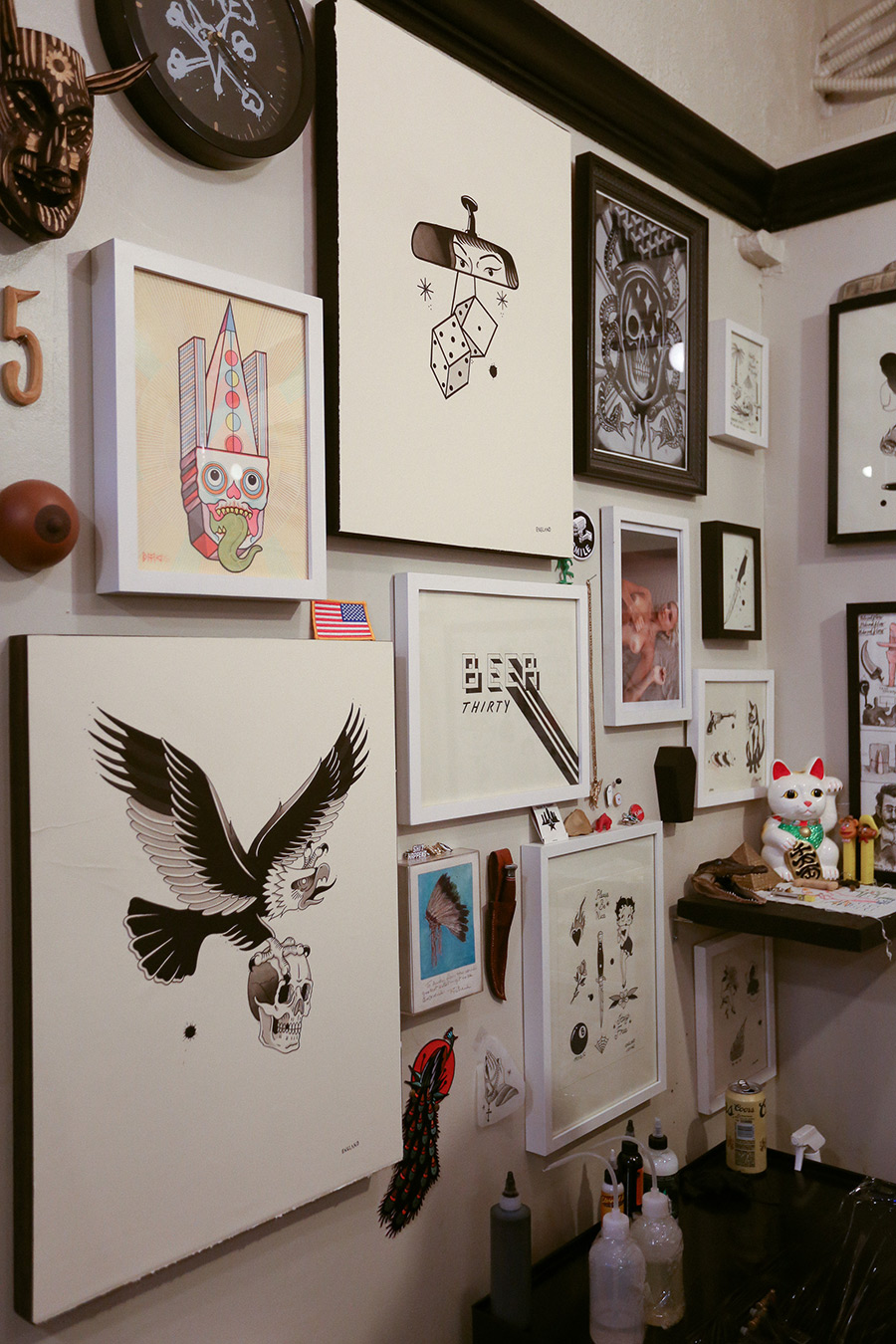 Los Angeles is a very collaborative arena for artists to get together and support one another. This leads me to Bill's Bar. What is the space all about?
Bill's Bar was just an idea before it was called Bill's Bar. I met Dave Cook (Bonethrower) when he first moved out here and he's been a huge influence on me ever since. Last November, he was like, "Dude we should get a workspace together." A couple months later, he hit me up and told me that this spot opened up behind American Electric. Our friends Clark, Camille, and Tonya wanted to go in on it with us. There's a lot of creativity and everyone is on a good hustle here.
How did ya'll come up with the name Bill's Bar?
When we first moved in here, there was this thing on the wall that said Bill's Bar in this old grandma, yarn-knitting style sign. We were trying to come up with a name and it just stuck. The owner of the building's name is Bill so it worked.
Let's talk about the solo show had at Bill's Bar. Your color palette is typically monochromatic, but it looks like your new neon exploration has invited a new conversation and tonality.
I've always been interested in signage. That stuff is really cool and I've always wondered how it was made. One night, I was chatting with my homie and he mentioned there was this course you could take to learn neon. I thought it was machine made, but it's all hand-manufactured. I was in a relationship at the time and it went sour. This work is an evolution out of a gnarly breakup to a good thing. Don't lose yourself in a person because it's so easy to do. See you later sweetie, I got to stay focused.
So this show was really inspired by the end of your last relationship?
Or just relationships in general. People are cool and it sucks to let someone go that you care about. But you have to bite the bullet and keep working and make the best out of it.
I feel that in more ways than one. So, you've moved from illustration to tattooing to neon to gallery partner. What's next and are you someone who needs to constantly be doing something new?
I'm just evolving. I'm just seeing if I can even work with any of this.
Are you afraid to fail?
I've failed at doing all these things. Just like skateboarding, you fall and then you get back up. You want to do the gnarliest trick, but you know you're going to eat so much shit before you can nail it. It's the same with drawing.
Is she your partner-in-crime these days (pointing to Austin's dog, Lolita)?
She has been. I've had her for three years. But I had a panic attack the first couple months I had her. It's a huge responsibility. I brought her everywhere I could: skateparks, parties, bars, all that.
Let's end with this. What motivates you to get up everyday and create?
I've got nothing else. This is me.
Well dude, continue doing what you do and keep up the hustle!
For more from Austin England, follow him on Instagram. 
Photography by Kris Evans.