This is a preview of our feature on Frankie Harrer in Issue 17, out May 11. 
Professional surfer Frankie Harrer has a posse. At home in Malibu, she is rarely seen alone and is loved by all. "The Boys," as she calls them, are a close group of Point Dume surfers that act as her bodyguards. Frankie is extremely special, but she's not someone who needs to be watched over: she oozes confidence and is wise beyond her years. "The Boys" follow her around because she's fucking awesome and is twice as good at surfing (than any of them). 
What's your first memory of surfing?
Surfing in Kauai when I was seven. My mom told me to try it. I cried, and then a few minutes later I gave in and loved it from the first second on my board.
How has growing up in Malibu shaped your surfing? Why aren't you a longboarder?
I grew up at Zuma Beach as a goofy foot, so surfing really crowded First Point never really interested me. Zuma gets heavier than most places around home and when I started surfing the older boys from Malibu would force me to go out with them and push me in. That made me learn how to get frontside barrels and surf quicker, heavier waves from a younger age. I owe a lot to that wave and the boys that made me surf it young.
What are your favorite boards to surf?
I love riding lots of different kinds of boards, depending on conditions and my mood that day. In my hard rotation are standard DHD shortboards, twin fins, and finless soft tops. 
How has the time you spent traveling the world influenced your life?
I stopped going to regular school and switched to online in the middle of 5th grade, and started traveling heavily for surfing soon after that with people that were usually a lot older, so traveling kind of became the way I grew up and learned about things.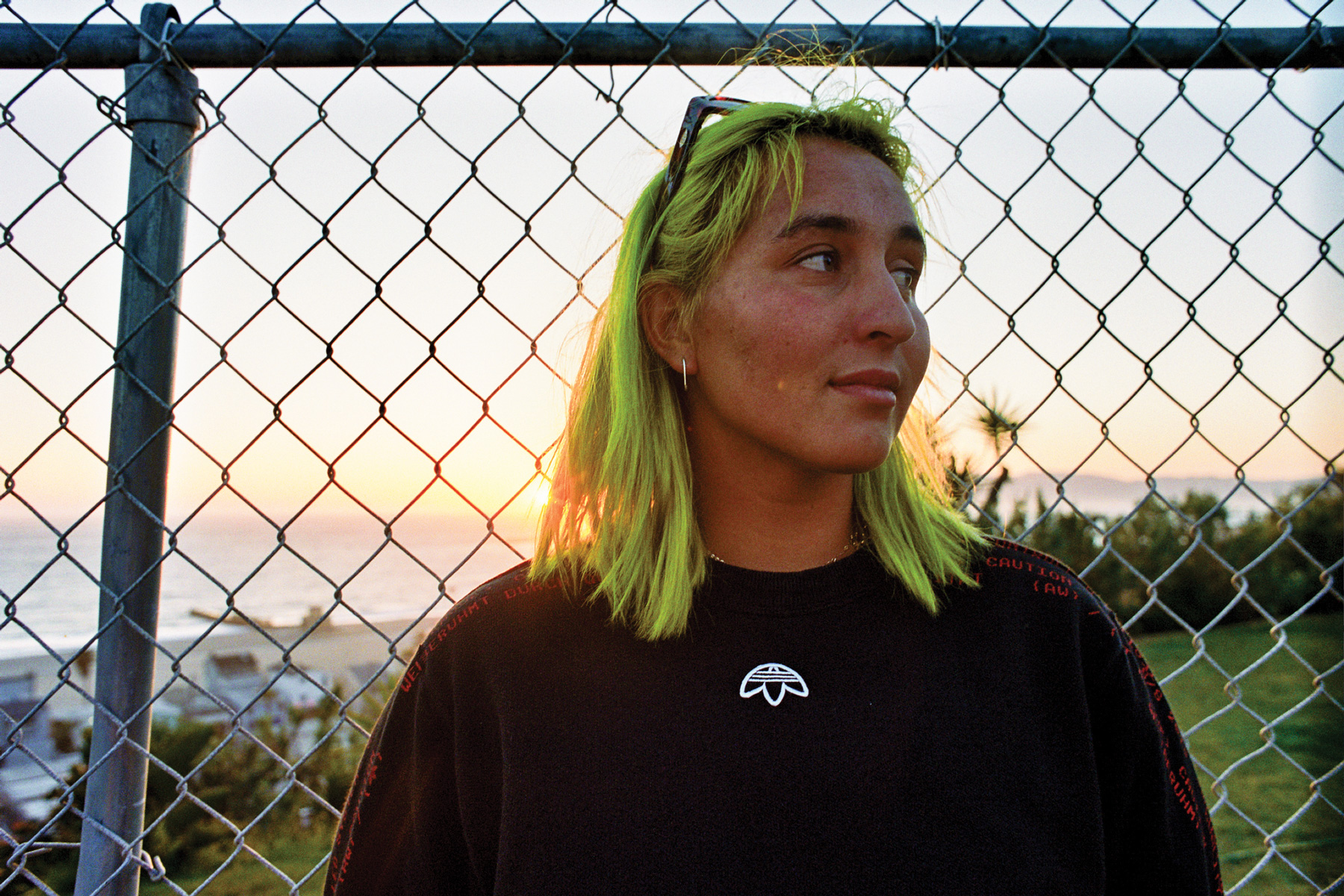 What do you think about when you are alone in your car?
Mostly block out thoughts with blaring music and singing along.
What's your go-to Karaoke song?
"#1 Crush" by Garbage or "Lotion" by The Greenskeepers.
Where's your happy place?
Hanging on the beach and surfing with my good friends (and a few Aperol spritzes).
Where's your favorite beach?
Point Dume.
What's the best piece of advice you've received?
Freak what you feel.
For more from Frankie Harrer, follow her on Instagram. 

Photos by Tony Accosta.