Communicating with imagery is ubiquitous nowadays. Everyone does it. "Oh, look at this thing." Shoot a photo to your friend. They send something back, "Yo, look at this thing." And it goes on from there. Photos have become a kind of shorthand language in our everyday lives. Photographer and skateboarder, Jerry Hsu has been using photos as a means of communication for many years. His new book, The Beautiful Flower is the World, published by Anthology Editions, is a curated "feed" of cell phone photos — shot only with his Blackberry phone — documenting absurdities, unplanned snapshots of friends and strangers, skate culture, roadside curiosities, and anything else that Hsu deemed sharable.
In 2007, Hsu was introduced to the infamous Blackberry Pearl. It was the first smartphone that he ever had, and it housed the best camera that was ever in a cell phone at the time. "I'm a more traditional 35mm film photographer, but, when this technology came around I kind of fell in love with it because it was fun to be able to have a camera in my phone that I could also use to take notes with. For example, if there was a book I wanted to read, but I couldn't buy it at that moment, I could take a photo of it."
The photos you'll encounter in The Beautiful Flower is the World, are very simple, don't look photographic, and are meant to represent simple messages sent to friends from Hsu's past. "The book is basically about communication with imagery and this is kind of the way that I used it," explains Hsu. "Humor is the baseline of me and my friends' communication. And while humor is something that everyone understands, these fall under a specific type of humor, kind of like 'Look how sad this thing is, that's hilarious,' kind of thing. If something was intentionally funny, I probably didn't take a photo of it, if that makes sense."
In Hsu's other work, he's concentrated on making things more photographic — focusing on composition, color, etc. However, this series reveals a new level of authenticity because it's truly photography about his daily life. The low quality of these phone-based images, often dismissed by photographers and artists, reminds us it's a friendly art form, and exudes a certain accessibility that anyone who once owned a camera phone, or now owns a smartphone, can connect to. Hsu paid a lot of attention in archiving these photos — "Before the cloud or anything like that, every week I would dump my phone and make sure I had all these photo. There's thousands and thousands of them," says Hsu. "I like that these photos that only existed digitally, are now in print, in a physical book, because these kinds of photos were never meant to exist in a physical form. With most photography once it's a print, then it becomes a photograph and so it's nice that these have reached that point and are now photographs."
Hsu took some time to walk me through a handful of photos plucked directly from the new book and shed light on the who, what, where, and altogether random nature of each photo.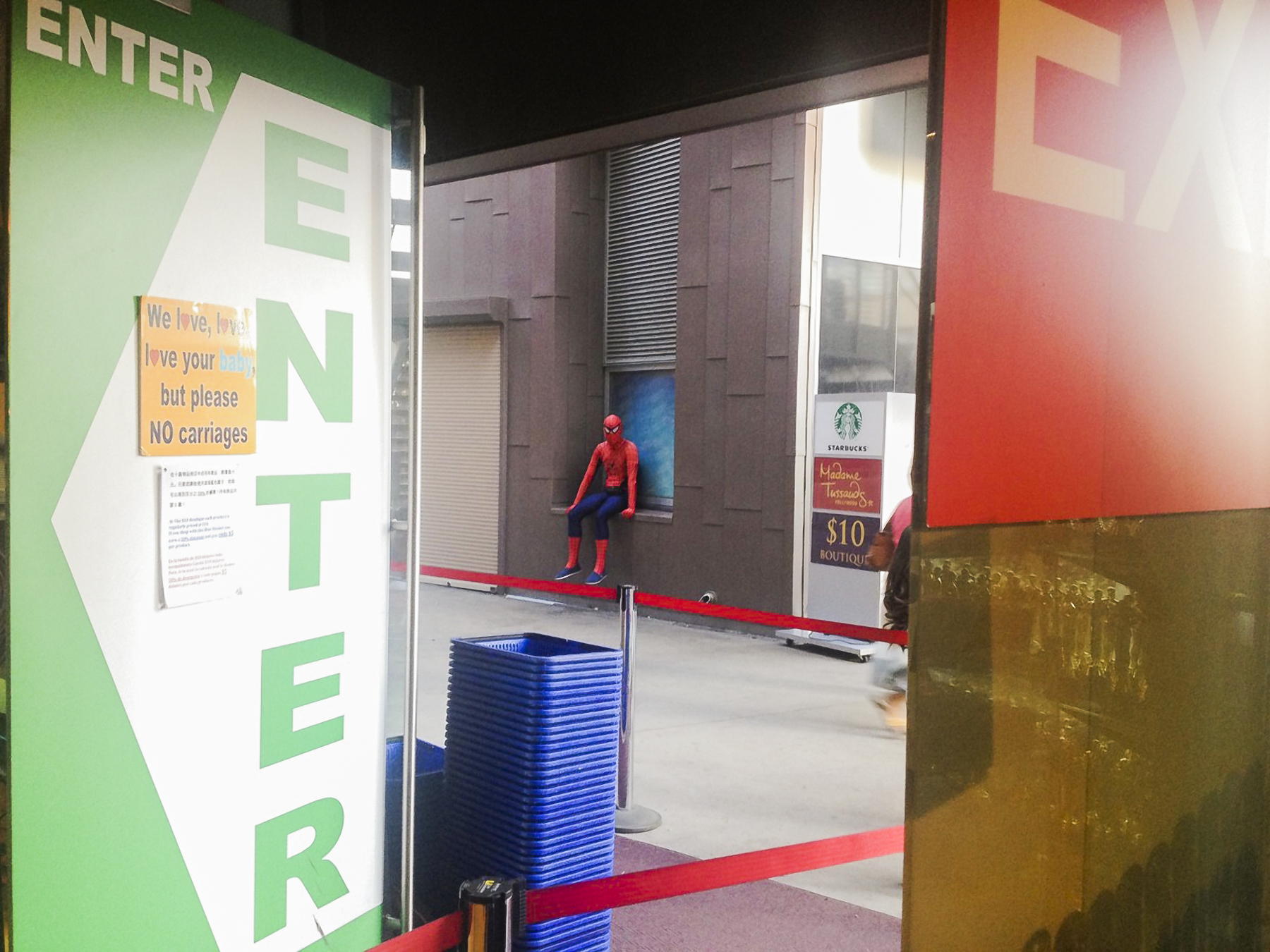 Tell me about this photo of Spiderman sitting on a cutty window ledge in an alley. Where were you when you saw this?
That's on Hollywood Boulevard. I live in Los Angeles and I don't ever go to Hollywood Boulevard, but sometimes I do. There are always performers dressed up as superheroes or movie characters and they pose for photos with tourists, and he just kind of like on a break and I was in line getting coffee or something. I just kind of looked and saw Spiderman resting. Which is kind of, you know, funny because I mean, we're so used to seeing characters like Spiderman in a certain context, but when you see these performers doing human things, it's funny. There's also something slightly tragic about him. Like, what a brutal existence he must live. He looks so defeated. He's a symbol of heroism and never giving up and he's always there to come to the rescue matter what, and then to just see him be like, " Oh God, I need ten."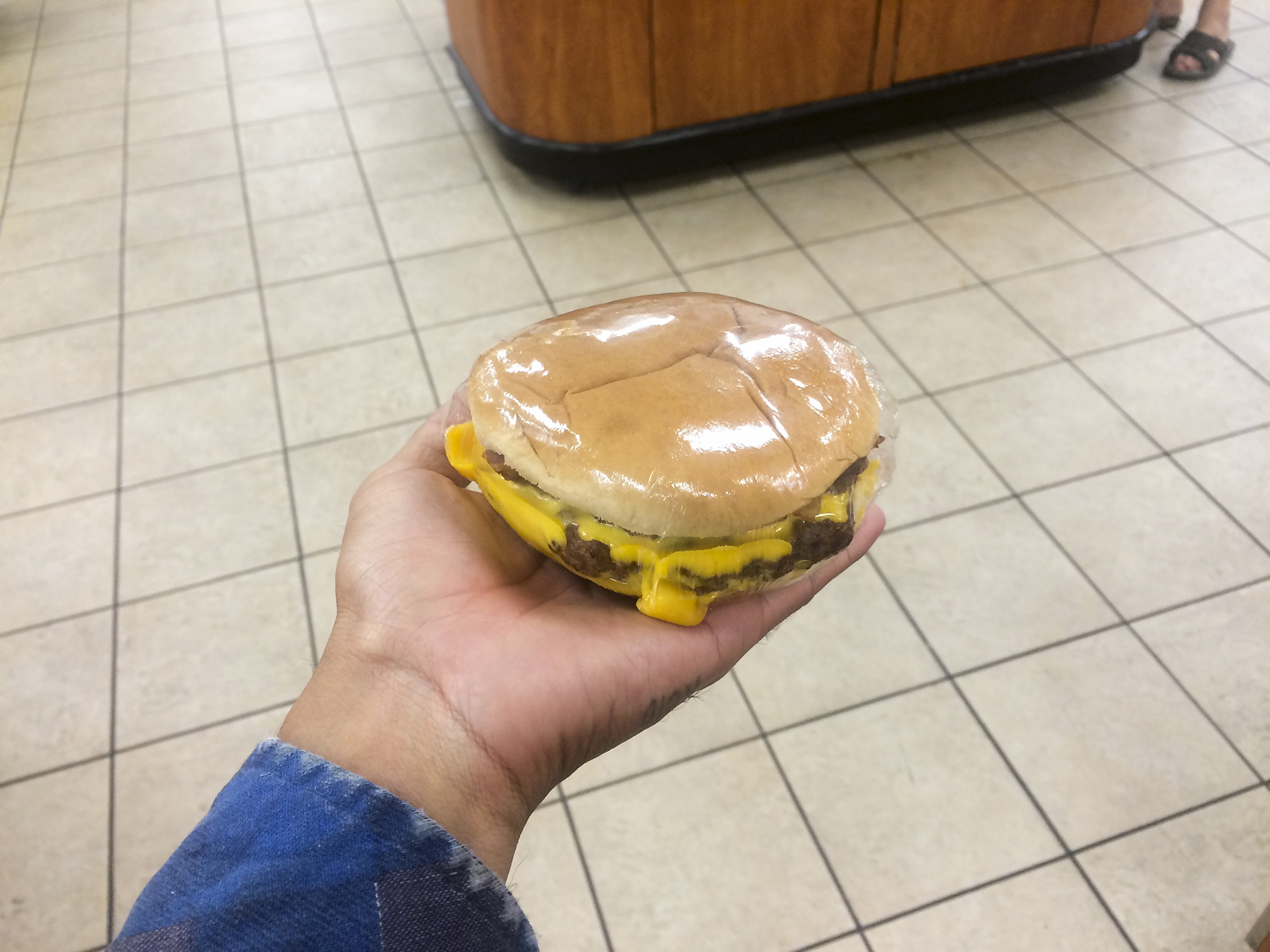 This cheeseburger in saran wrap looks so nasty.
I'm a professional skateboarder, so I travel a lot. We travel through the Midwest a lot and that photo was taken at a gas station in the middle of the night somewhere. It's really gross, but kind of amazing too. It's a very depressing reminder that someone would eat this. It's interesting to think about who is going to buy that cheeseburger and unwrap it and eat it, I guess. I'm always encountering and noticing objects where it's just like, "Why does this exist?" I'm not above eating that cheeseburger, but in this instance, I just took a photo and put it back. These photos are specific messages for specific people and I remember taking this photo to send to a friend of mine, that upon seeing it would be like, "Oh my God, that's amazing." A lot of these photos carry that 'accidentally tragic' nature, like the cheeseburger; it's such a tragic thing. Like, "Oh God, that's so gross."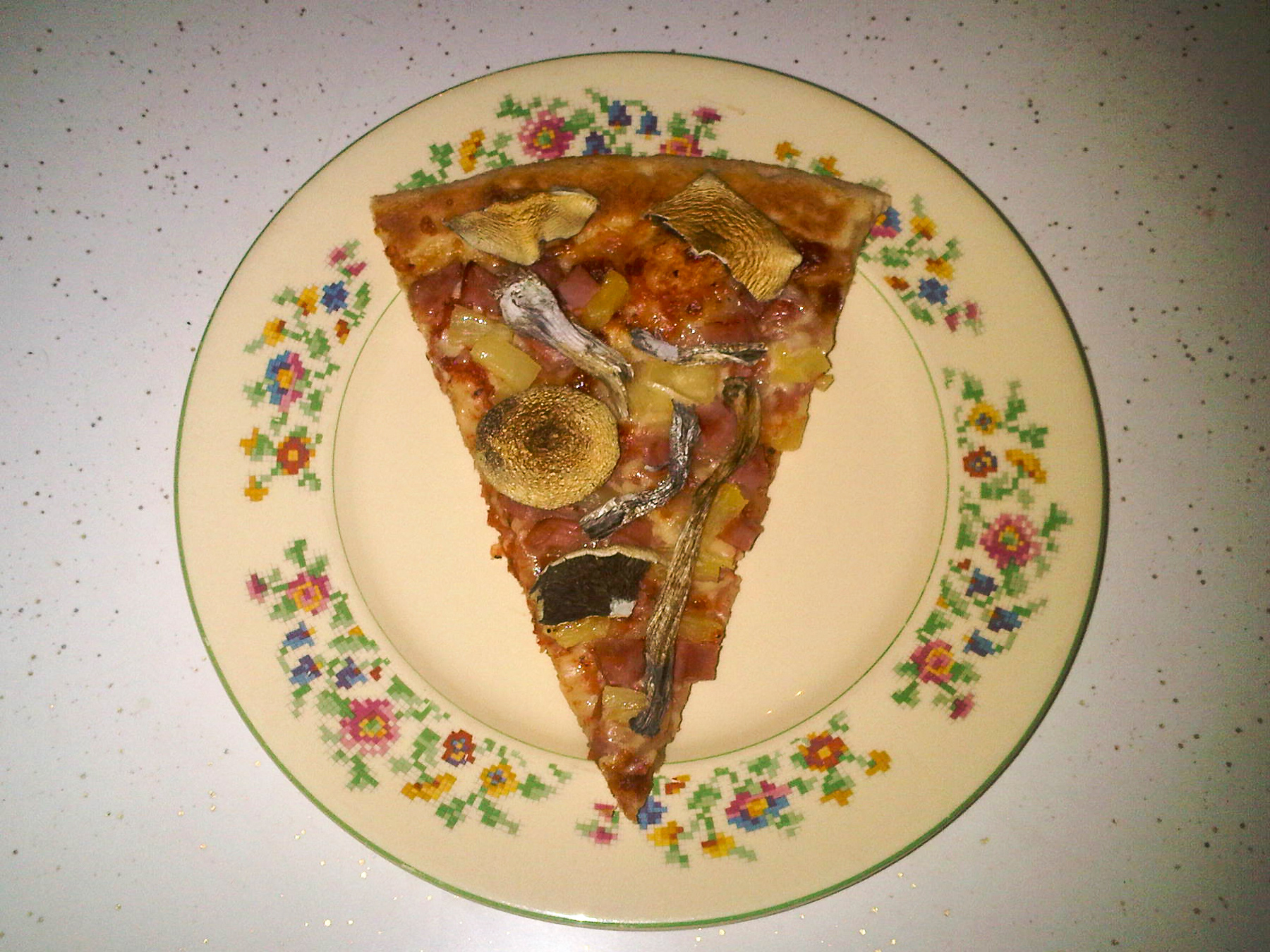 We'll keep with the food motif here and talk about the mushroom pizza. Give me the lowdown on this photo.
That's from when I first started dating my wife and we wanted to eat mushrooms, but mushrooms are kind of gross to eat. So we ordered a pizza and just put them on a pizza as a topping. There's not much of a story. It was just a fun, trophy photo.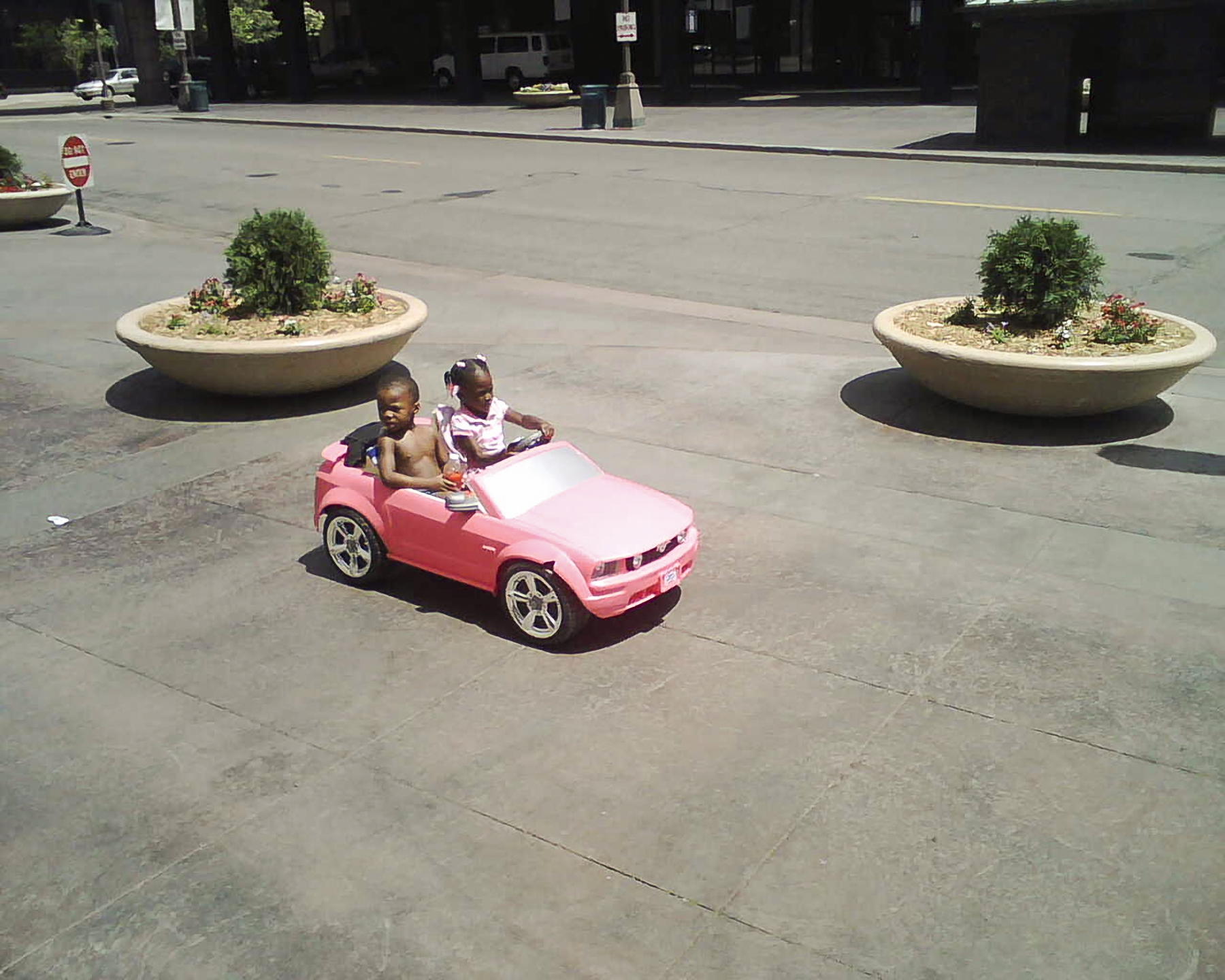 I love this image of the two kids in the pink car.
I was traveling and skateboarding and I think that was taken in Minneapolis. It was one of those, you're just walking down the street moments, and you stop because you hear something. You could hear one of those little cars coming and then you see the car turn the corner and it's these two kids just cruising. It was really funny. What was even better was that their parents weren't around. It's always funny when you photograph children doing something and their parents aren't in the frame, or in this case, they're not around at all. It was one of those funny moments where they're just by themselves, but they look really comfortable and I don't know, I don't know to describe it. It's gotta be about the kind of weird, but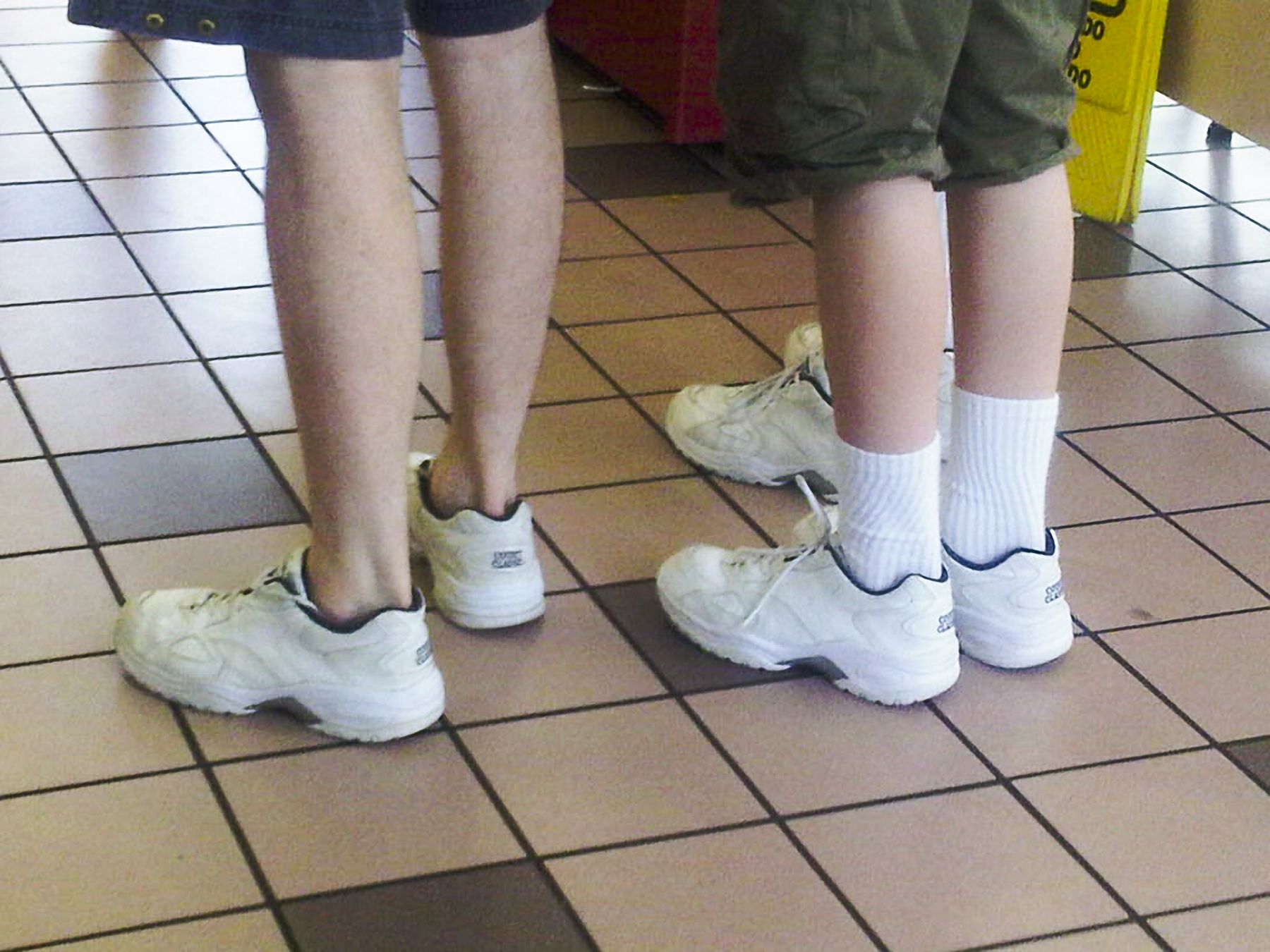 What about the trio of dudes in the super basic tennis shoes with the signature mid-shin socks.
Oh, okay haha that one is funny because it was just a dad with his two sons and they're just very kind of stereotypically white, and for a lack of a better word, basic. Basically those shoes, it's just so funny because those shoes, to me, have always been associated with a dad, like a total white suburban dad. Then also he's put the shoes on his sons, which I thought was funny because growing up, me and my friends, all we lived to do was to not be like our parents and it's just funny because of what that shoe represents and then also making your kids dress that way too. And who cares? Like maybe they wanted the shoes too or something, but is just so funny to see a shoe that represents so much mediocrity to me, and the kids just being like, "Yeah, whatever. We don't care what we wear." I guess you would associate them with a guy who really doesn't care what he looks like or what people think about him anymore. It's also funny when you see adult kids, like an adult baby.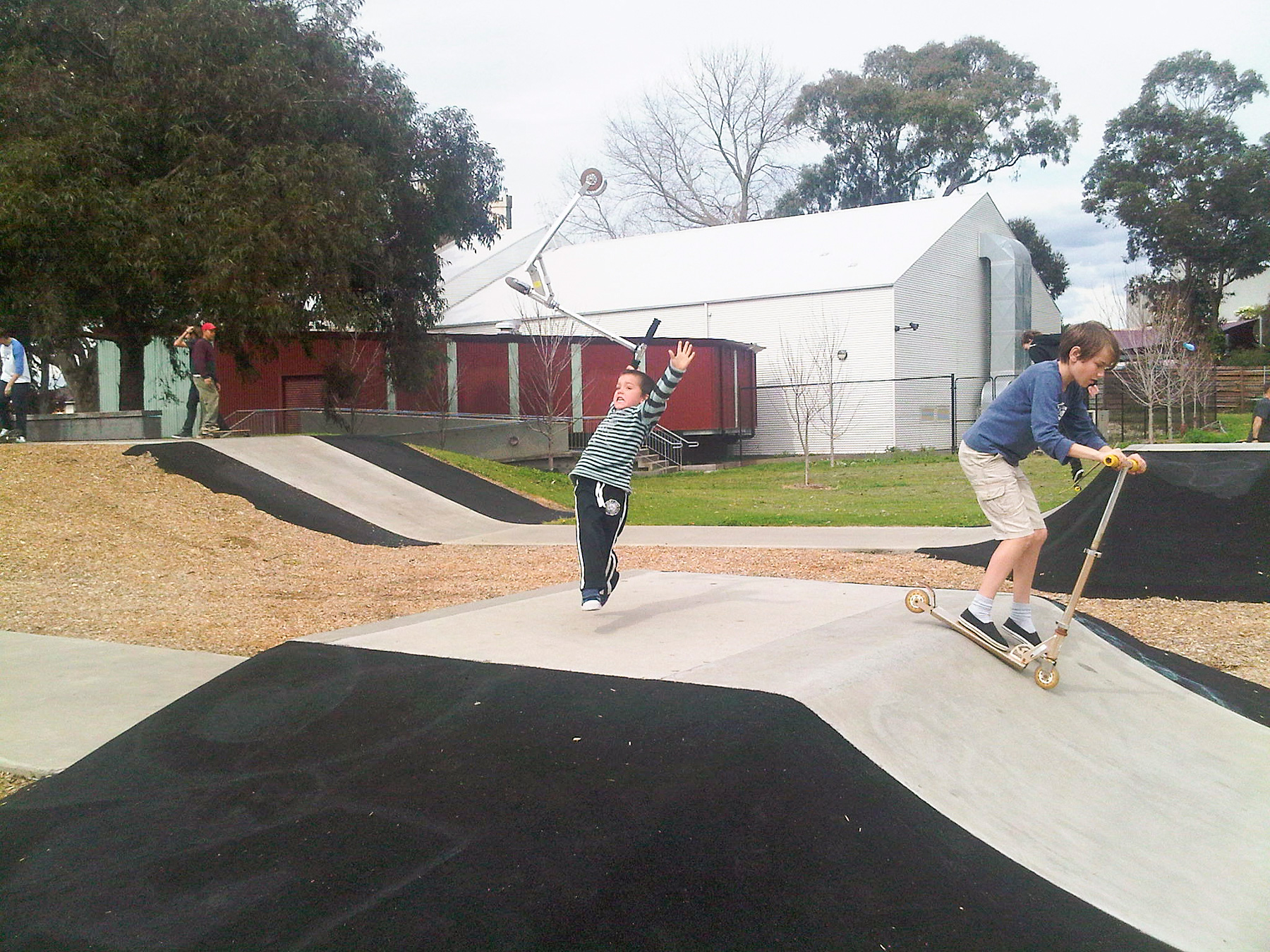 The last image that I have here is the kids at the skate park that are on scooters. One of the dudes looks like his scooter is being launched above his head.
Since I'm always at skateparks, there are always these scooter kids there and a lot of them have no idea what they're doing. They're getting in the way constantly and they're just being dumb kids. They have no idea where they are or what the hell is going on. I think that kid thought he was going to do a flip off of that transition but just fell. And I just knew it was coming.
It's perfect timing. I don't even think he's on the ground. Like he's levitating off the ground.
haha, yeah I got kind of lucky there.
Fore more from Jerry Hsu, follow him on Instagram.