Pat Falco is no stranger to political satire. In fact his work has consistently been made with the help of his sharp tongue and effortless wit, to reflect upon the absurdities, incongruities, and deficiencies of not only the art world that he inhabits, but also our political system and the gentrification that plagues almost every corner of Boston, the city he calls home.Now Falco is about to open Luxury Waters, his second retail intervention in Boston, and an elaborate installation confronting housing justice. The new show at OPEN Gallery will host a collection of plans, processes, research material, and marketing objects for a 62-story luxury triple-decker rising from the Fort Point Channel waters in Boston's Innovation District.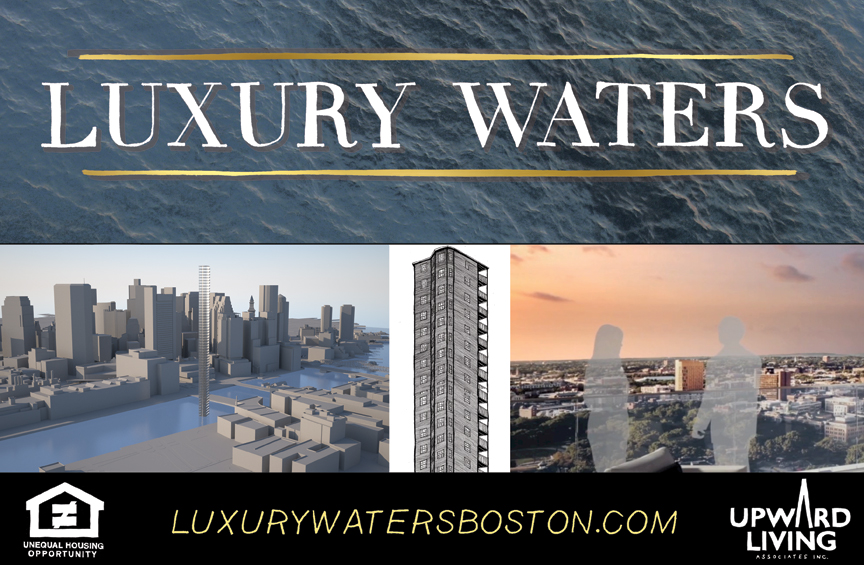 As Tech commodifies labor at an increasing rate, automating the segregation of rich and poor and concentrating wealth in our cities, the way we build and regulate housing matters. Luxury Waters questions who gets to live in our cities of wealth. For this exhibition, Falco has developed a series of works which juxtapose the abundance of "market rate" housing against the social injustices on which it is built. Falco's drawings, sculpture, and installations tell the story of a design process forged in the image of a society obsessed with deregulation, automation, and unhinged growth.
Luxury Waters recontextualizes the processes of luxury housing production into a cartoon space that speculates on the outcomes of real estate development ideology. The appropriation of working class design, the construction of housing at sea level without consideration of climate change, the isolationism of tech housing on commuter corridors, and the blatant manipulation of inclusionary housing regulations, all point to the bleak conclusion that Falco considers in this installation.
By separating the language of development from any specific building, Falco creates a rhetorical space for reflection that challenges the narratives embedded in our built environment. This interruption of the future cities discourse shines a light on the invisible hand of housing development.
Luxury Waters opens this Friday, September 29th at OPEN Gallery from 6-9pm. It will be on show until October 27th. For more from Pat Falco follow him on Instagram: @pat_falco.