LA-based Tracy Bryant is a connoisseur of California sound. Growing up in the San Fernando Valley, he taught himself to play guitar at a young age and began building his music taste through oldies radio and skateboarding videos. Over time he developed a love for 90s garage rock, eventually forming the post-punk band Corners which toured regularly for a number of years.
Now Bryant is focusing on his solo work. He says "I'm definitely happier doing this. When you have a project under your own name you can make any kind of record and no one's going to say 'They changed, that's not them.'" His latest album titled Hush was released in August and is his third full-length solo record. With swirling melodies and a definite surf and psych-rock influence, Hush provides the perfect soundtrack for a drive along the California coast.
Can you tell me a little bit about the new album Hush?
We recorded up in Topanga Canyon with Kyle Mullarky. He produced it, recorded it, mixed it. He's great to work with, we would show him the song and he would say, "Maybe it needs a big intro, maybe it needs a bridge." We started recording the songs literally two years ago, right when the second record was already coming out. So we'd sit and listen to them for a couple of months…this needs a new bassline or this needs a new guitar part. We just kept revisiting it, which was cool, putting in a lot of time and effort. I don't really like throwing things together because once it's out, it's out. You don't want to regret what you did.
How did this record come to be released on Taxi Gauche in Switzerland?
That label is run by a good friend Piet Alder. He sets up shows in Zurich, he's setting up promo stuff next week when I go over to Switzerland and a couple of other shows in other countries. He started a label, so I just wrote to him and asked if he wanted to release the album overseas. We released it in the US ourselves, the label here (First & Foremost Records) is just my wife and I. You do so much of the stuff yourself anyways. It's great having your hand on everything. I like working with people I know personally so the pressing plant was in The Valley and everything was a friend here, a friend there.
How influenced are you by California surf and psych-rock? To me, Hush is exactly what I would want to listen to while driving along the coast, especially songs like "Bury Me" and "Nightmare."
Thanks yeah, I always want to make records that feel like—that's a good way to describe it—like driving.
When it reminds you of doing a specific moment.
Yeah exactly, or a feeling. But definitely, I was into a lot of 60s surf instrumental music and garage rock. "California sound" or whatever you want to call it, I feel like it's kind of a blend of things, you know? It's fun to see a punk band, but when you want to put a record on at home in the morning you're not going to put on something too heavy. So that was kind of where we were going with the last record, and with this one especially, making something that we would want to listen to. You have these records that you want to put on when you're cooking or whatever, but at the same time are interesting enough where it's not just background music.So you were intentionally going for that or is it naturally influenced by you living in California?
It's pretty intentional. I think being influenced by a lot of California bands definitely has something to do with it. I've never thought of it that way but that's something they always say in Europe, the "west coast" sound. The "California" sound.
Yeah! It's definitely a thing though.
It's true. I grew up surfing, I've always liked surf music, skateboarding videos too. A lot of people find out about music from skate videos. I've had some songs in skate and surf videos which is amazing, that was kind of a dream come true. Sometimes when making songs, I do think about that, the aesthetic of someone surfing or skateboarding. That's that California thing I guess [laughs].
Do you have a favorite track on the album?
I think the song "Nightmare" lyrically was one of the best songs I've written. "Bury Me" is a good one, my wife, Kimberly Fitzner, and I wrote that together. It's funny because when we made that song we thought it was really catchy. Then we showed it to Kyle in the studio and he says, "I don't know, it's too simple, it's only three chords the whole time." So we put it away and did all the other songs and then my wife says we gotta bring that song back. So we brought it back and recorded it. Now that's the song that people seem to like the most and Kyle's like, "I don't know why I didn't realize it!" It's just funny with things like that, you never know.
That's an interesting thing, to watch that unfold and just see how it does.
It's really interesting because you can't really force anything. You can think, "Oh I'll do a music video for this song," but that doesn't mean it's going to be the song that people will want to listen to.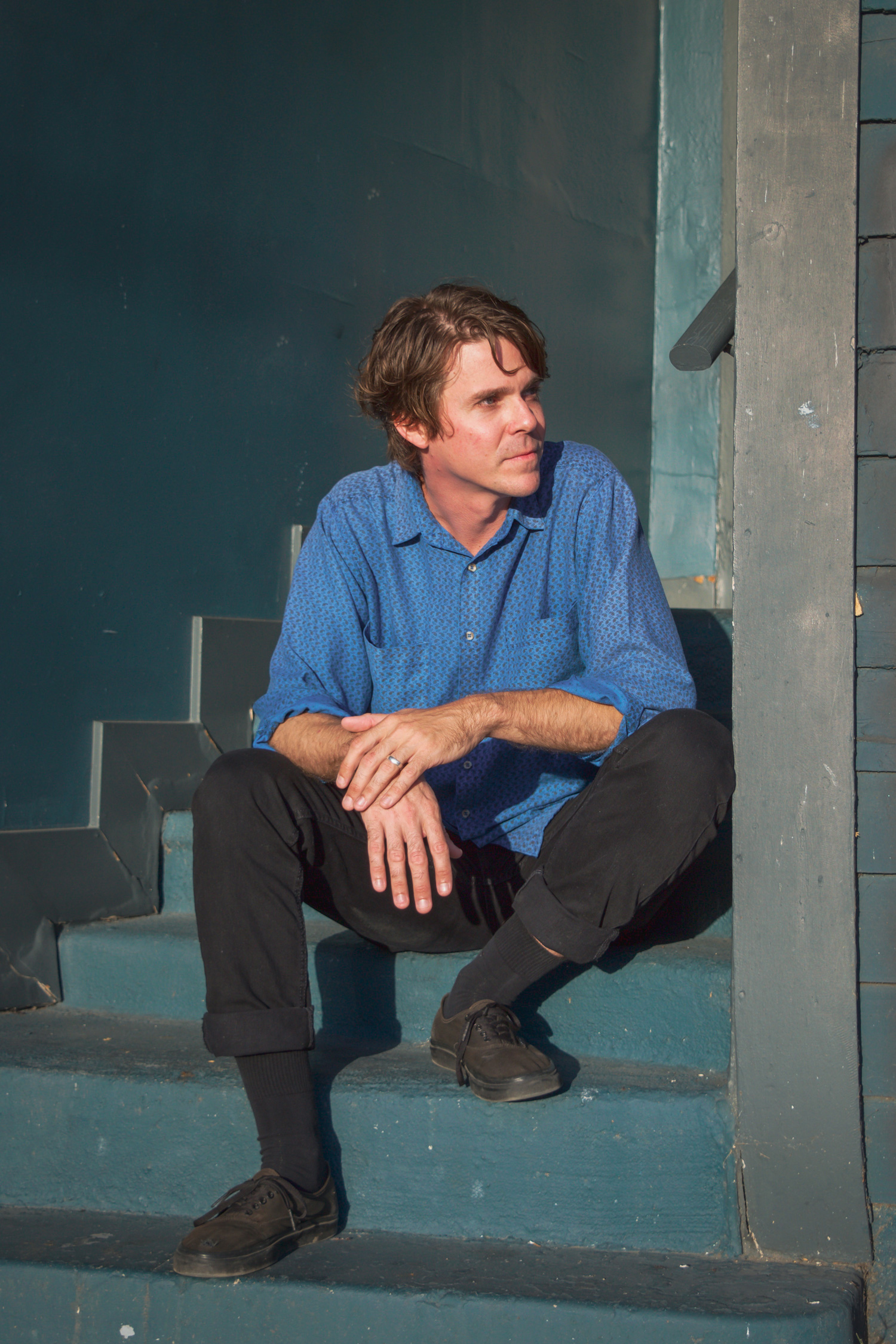 Could you tell me about the concept behind the music video for "Nightmare"?
That's the one song on the album that's kind of touching on the Zeitgeist of this country and whatever. I'm pretty interested in politics. I don't write about it much, but I keep up on it, you know? The video was shot by Derek Dunfee. We built this demon costume thing from a Halloween store. The whole monster reappearing in different shots, it's this looming dark thing. A lot of people don't want to talk about things or acknowledge things in America. Especially in LA, many people don't want to get that real. It seems like no one's talking about anything serious, which is kind of irritating when I want to talk about things that matter, not just the in-between.
If you weren't doing music, what would you be doing?
When I was growing up, I never could see myself doing anything. I was doing well in school but I got to a certain point where no career seemed like something I wanted to do. I didn't want to work 9 to 5, not because I was lazy, but I just couldn't imagine anything. There was a point where I wanted to be a postman; I was thinking that it seems like a job with some freedom, to just drive around and drop off people's letters, you know? Then I asked the postman and he tells me it's not what you think, it's really stressful. I had already taken this test all about sorting out numbers, I think you needed to score 90% or higher. So if you score 99 they call you first and just go down the line. I got a 94 or something, and 8 months later I got a letter in the mail that said to come to your interview. It was in Oxnard at this dock, so I went up there and when I was looking for the room I was seeing these guys pulling up at 7 am with trucks loading them up. It was this weird feeling like, "I don't want to do this."
I walked in there and he told me to have a seat and I looked at him and then I just turned around and left. In that moment, I was thinking, "Why am I going to waste any more of their time or mine?" But yeah, if I wasn't doing music I don't know what I would do. Pretty much all I want to do is make stuff. It's weird, lately, I've been thinking about why. So many people are about building a legacy and leaving something after you die or whatever, but to me who cares if people listen to your music after you die? That to me is the strangest logic. You won't even know about it. What is the point? Growing up, I hated being misunderstood, and I feel like with writing songs and making music, when people listen to it they get who you are. You don't have to explain yourself by saying, "Oh this is what I do, this is who I am, this is what I like." It's all right there.
Hush is available on all streaming platforms. For more from Tracy Bryant, follow him on Instagram.