Music and art share a symbiotic relationship. One describes the feeling, one describes the thought. Both, in one way or another, describe the ineffable. It comes as no surprise, that some of the most memorable records in history are often cherished visually as much as they are musically. "Music is art," states Indiana-based designer, Aaron Lowell Denton, who never envisioned art and design as a career path, but rather a means to further express his longtime love for music.
Each of Denton's posters carries a nostalgic feel that is designed through a hypnotic blend of color, composition and the layered textures he creates with old book scans. I hopped on a cross-country call to explore Denton's entrance into the world of design and the equally valuable place it holds in the world of music.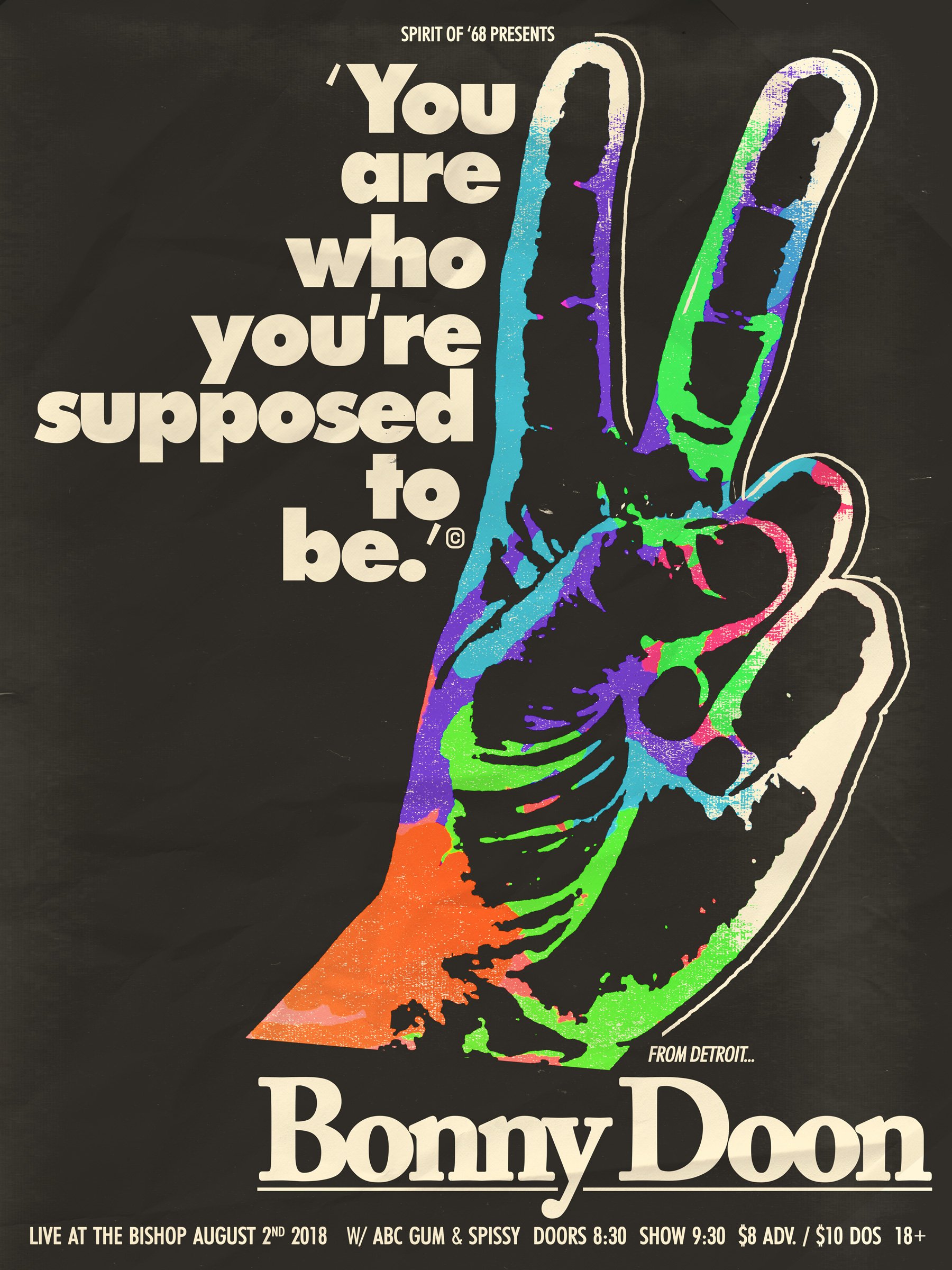 Having grown up in a small, quiet town far removed from big cities, like NYC or LA, what would you say were some of your earliest exposures to art and design?
Well, I didn't have much access to museums or anything growing up so never really saw any real art until college. So I didn't have much influence when younger, but because of that, I had an imagination about what it was or perhaps a less cynical or even academic perspective of it. A more dreamy sort-of-escape. My family and the place I grew up in didn't have anything to do with the arts, so it was a sort of way to rebel. I just loved it, just reading art books. I remember going to Borders—
R.I.P.
—yeah and just gawking at the art books and being really interested in that world but not quite understanding it at all.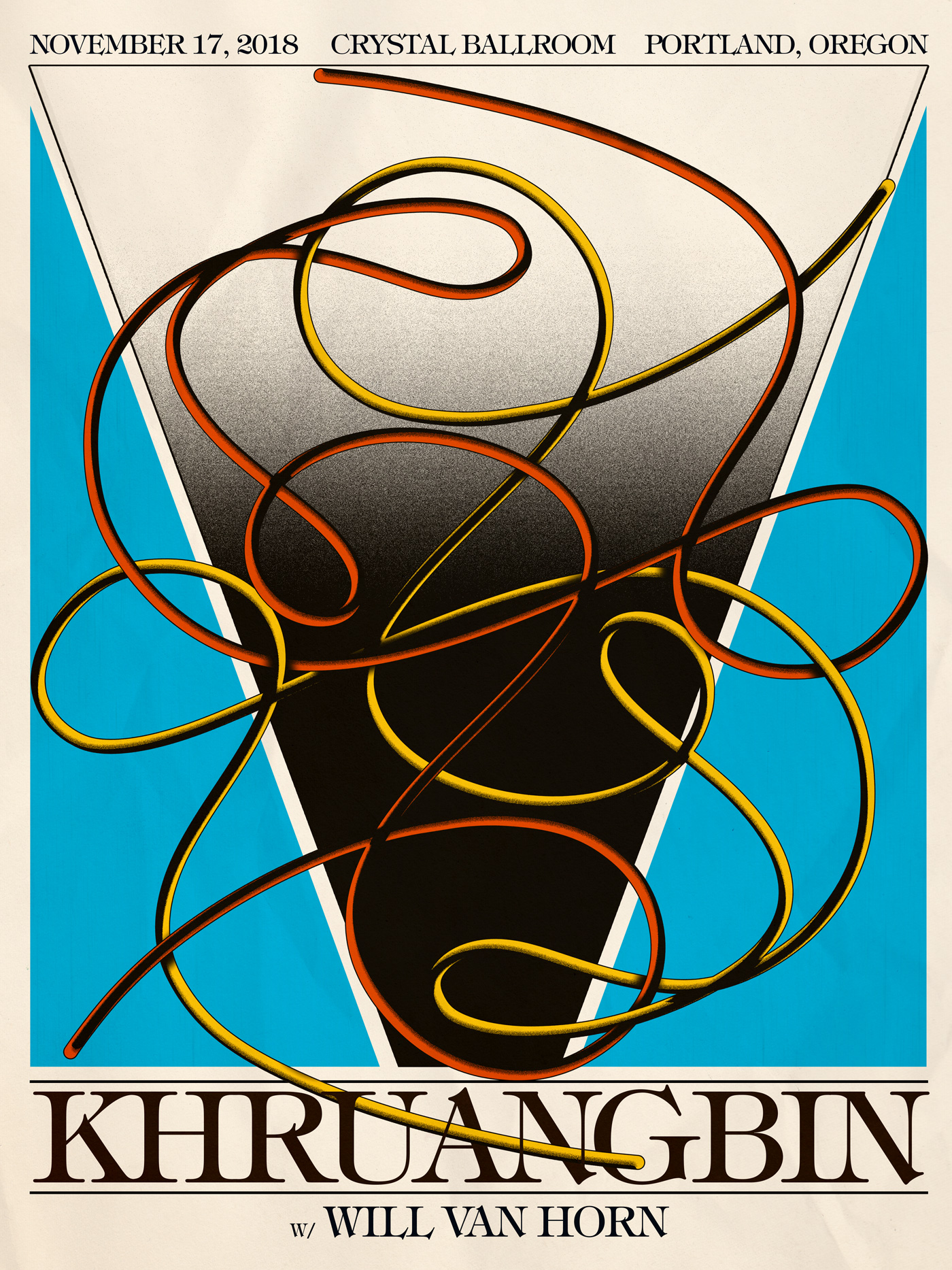 It's interesting you mention a 'less cynical' outlook, because when we look at art, we often identify ourselves with an artist, a movement, or a trend. Having such limited access allowed you, in a way, to just take it all in…free of judgment.
Totally, yeah I didn't know anything of the arts and no one around me was making any art seriously. So I began to form this relationship towards it, that looking back, was pretty pure.
It wasn't based on someone telling me what to like or dislike. It was purely my own thing that I gravitated to certain artists and movements. So when I got to college I found that I could just study that. It was pretty naive saying it now, but growing up in Indiana, there's no money given to art, at least where I grew up. You can really figure what you like. 'Oh I saw this and I feel connected to it.'
Your posters are compelling in the way you set type and color alongside this retro pastiche. Can you describe your aesthetic and your process behind it?
I've thought a lot about this trend in design, and maybe I just perceive it as a trend because I don't have a real history in design, but in these deeply textured things. I don't really think of my own work in that way, but I do like the idea that it feels like a real object and I'm not doing it to trick or make you think in that way, but color works a lot better when its overplayed with texture. You get this super flatness and sense of depth with color when playing alongside texture.
Most of your designs are music based, did you play yourself?
Yeah, since I was a teenager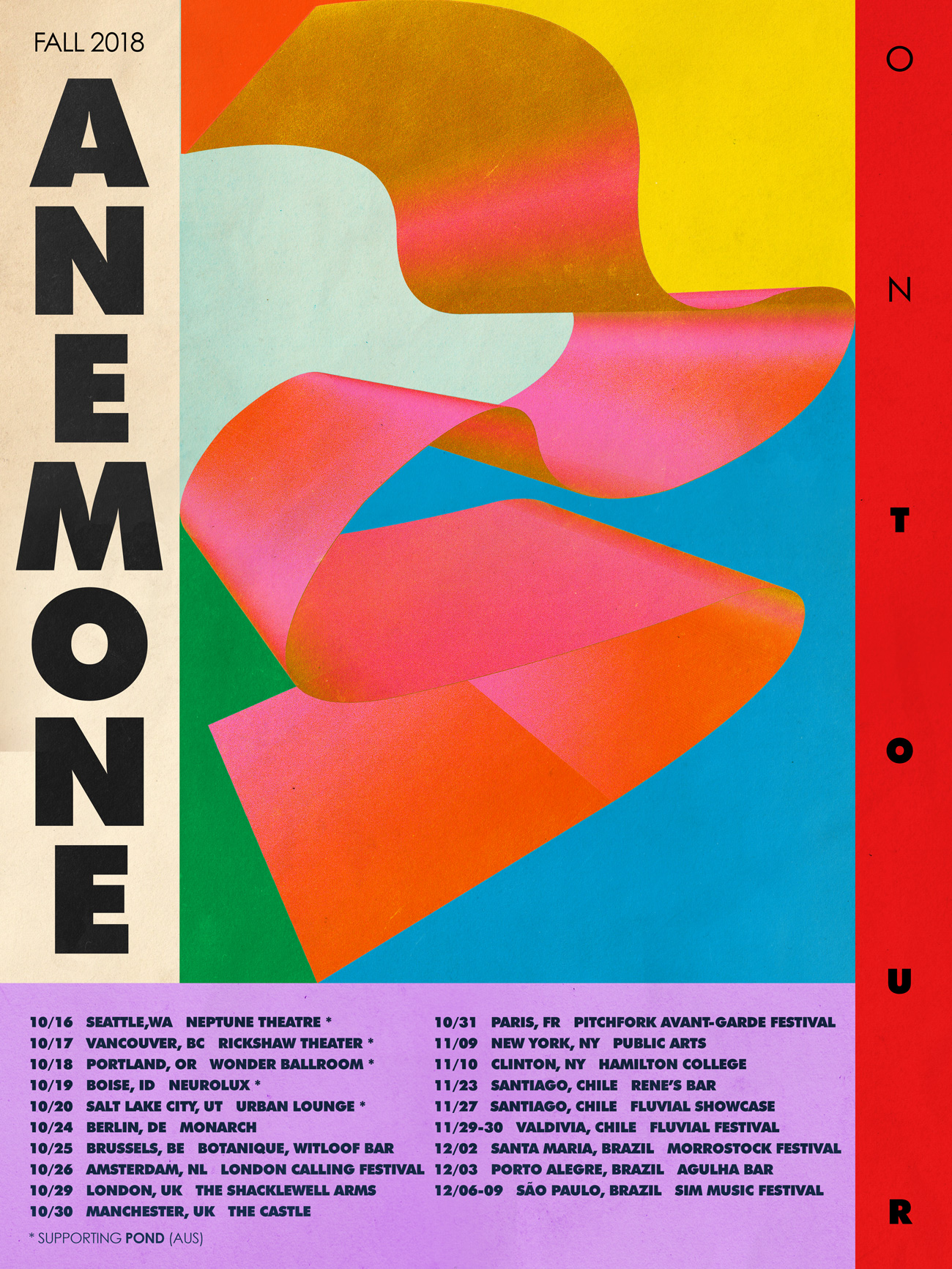 .
Do you plan to venture past music, maybe toward some medium of fine art?
Not sure yet, but the answer is yes and it's kind of been happening now. I've had some recent commissions that are loosely tied to music and the posters are devoid of text. But the text has become a real part of the thing.
I keep telling people, 'I never just made art, without an event or having something associated with it.' A little because that's my way of living, but even before that. It's so hard to just make art constantly, tackling this complex thing and being expected to also make money off it. I was never motivated nor wanted to do it. I really thrive in music-related art, because you're always dealing with like-minded people, such as musicians, which I understand and relate to deeply because everyone who is close to me is basically a musician.
Also, the deadlines are insane, so I sort of thrive to really dedicate myself to coming up with how an event is supposed to be expressed visually. That makes you finish things and I enjoy that.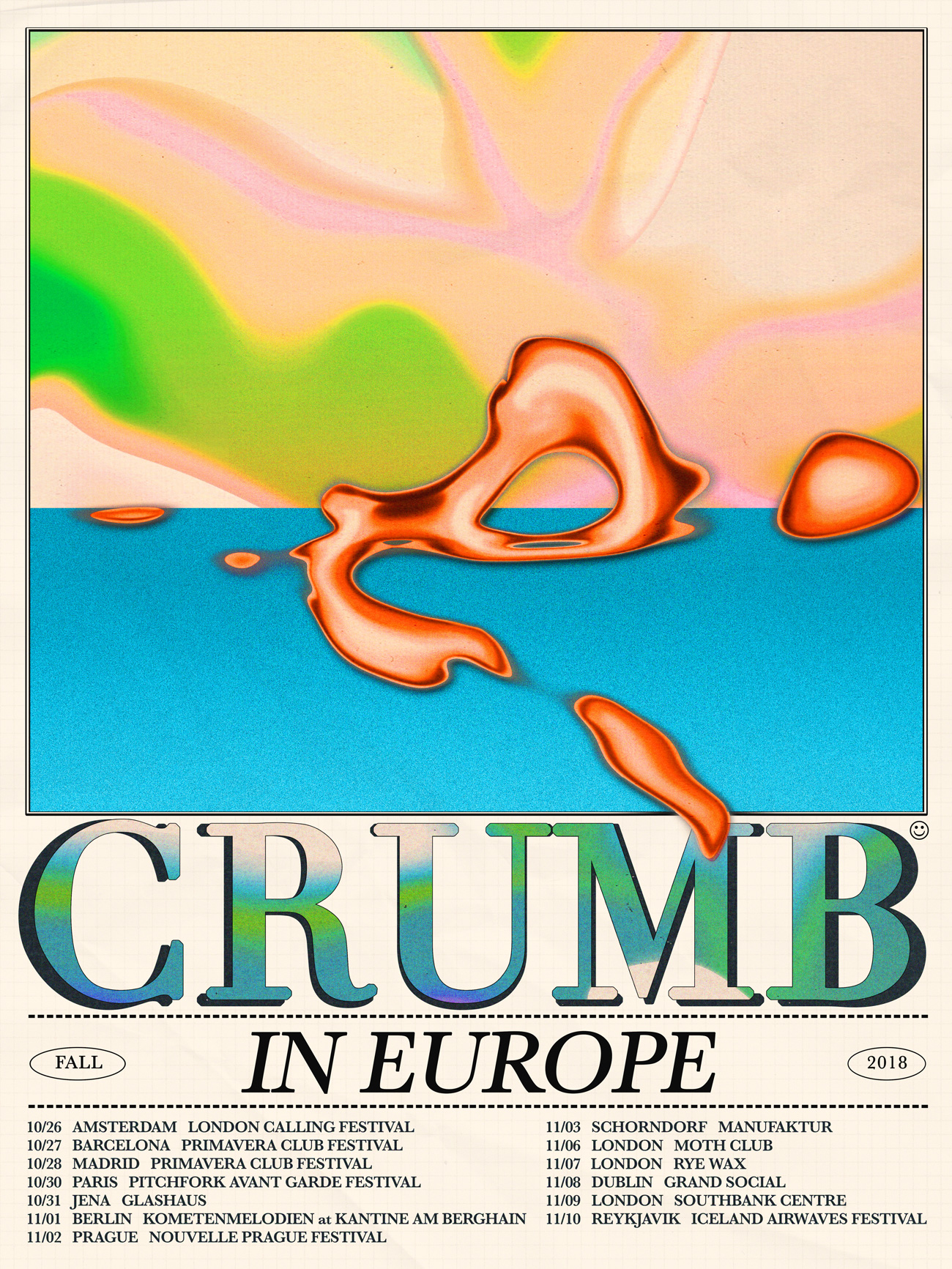 What was your entryway into music? Like what band or cover made you think, 'What the fuck, this is what I want to do.'
Yeah, like I said, my parents weren't really into music but I have an older brother who used to buy CDs, which I would listen to, he had these Pavement CDs which made me think, 'I didn't know music could sound bad but be good,' and that was really exciting. Also got into Nirvana, and then after got into Stereolab which made me think, 'music is art.' I really got into Arthur Russell as well in high school.
Posters can kind of shape what a show is going to be like, not mine, but just in general. If a show has a well-thought-out poster, it means someone really cares about it. Nowadays, man, I don't know how it feels in LA, but even in Bloomington, it feels like there are so many bands that are touring for some reason but no energy or dedication behind it. So when you see a show that people care about and put love into, that makes the difference. 
For sure man, and you can see that all over LA, where you can see the ones who are dedicating their heart into the craft as opposed to the ones who are there to just collect a check.
And not to disparage, I completely understand those who just make their living making music. I just feel like its sad that it sometimes feels like a mill. I think it's just cool to have a fuckin' sick poster for one show…like, let's make this poster cool.
For more from Aaron Lowell Denton, follow him on Instagram.