This is a preview of our feature on Didi in upcoming issue 15.
For the whole of the L-train ride, my focus was on the ground and the bedecked city feet that came and went at each stop. (I have a staring problem, and feet are more understanding than eyes, it seems.) Sneakers, sandals, boots, heels, slippers, slides, even water shoes—the many soles of New York.
I shuffled my adidas slides up the metro-stop stairs and into the real world of Brooklyn to find Didi Rojas and her fresh, white Air Forces rounding the corner of Lorimer Street—Group Partner's home, where she manages the pot-makers' social media and bakes her shoes. She wore a Group Partner T ("Peace & Love & Pottery," baby!), round, metal eyeglasses and the cutest damn smirk that you ever did see.
Born in Colombia, Rojas has been in the States for nineteen years, in New York for six and with Group Partner, a good-vibin' ceramics studio, for four. (You've probably seen their acclaimed terracotta-tittie pots sunning on a local sill; thanks to founder Isaac Nichols, the company has been "righting the wrongs of humanity, one pot at a time" since 2012.)
Right now, Rojas owns two pairs of wearable (i.e. non-clay) sneakers: The Forces on her feet and a pair of red adidas Campuses. When we met on a Friday, she had just ordered black Crocs to use as her studio shoes, and the involuntary smile that formed as she told me was only the tip of the shoe-happy iceberg.
"I have one pair of sneakers that I wear to the studio, and the other pair I wear as my daily shoe, outside of the studio. I always say that I'm not going to, but I end up wearing my daily sneakers to the studio anyway, so they all get trashed. I need to set boundaries for myself, hence the Crocs."
Which is how the false footwear came to fruition, a few years back, when Rojas looked down at her once-white Air-Forced feet, grayish-yellow in color, coated in ceramic and dust: "They looked like clay!" The result was a ceramic rendering of what appeared to be a Foot Locker-ready basketball shoe, complete with "laces," "cushy sole" and all—aside from the immediate shatter that would take place upon meeting blacktop, you'd never know the difference.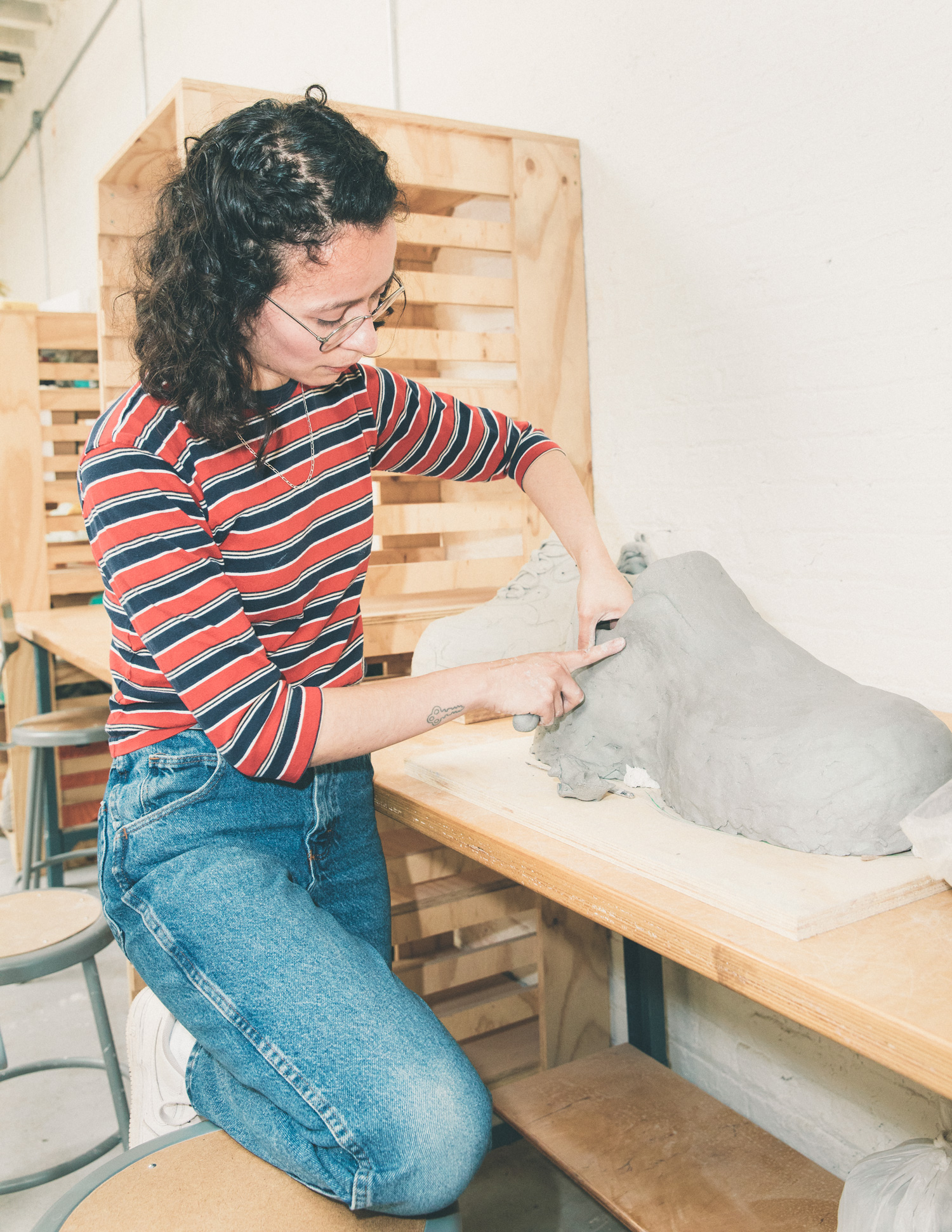 "I think shoes are definitely self-portraits of the people that wear them. Whether or not they're worn-out may give you an idea of what they do for a job; you can even tell how a person walks." (Google "collapsed Uggs" for a well-worn visual example.)
Since her pioneer parody pair of Nikes, Rojas has covered the footwear sphere with her impractical imitations, taking full advantage of the high-fashion-sneaker boom of 2016 and its tennis-shoes-for-all-occasions aftereffects. From Italy (Gucci and Miu Miu) to France (Maison-Margiela) to Spain (Balenciaga) to the UK (Dorateymur) to Germany (adidas and Puma), and back to the States (Marc Jacobs, Vans, Michael Kors, Converse, New Balance, etc.), she's emulated an impressive span of kicks. And for those of you, like me, who didn't know the extensive price range attached to these synthetic wearables, a lot has changed since '02, when Nelly raised praise for Rojas' favorite kicks.
For more from Didi Rojas, follow her on Instagram.