This feature was originally published in issue 15.
For the whole of the L-train ride, my focus was on the ground and the bedecked city feet that came and went at each stop. (I have a staring problem, and feet are more understanding than eyes, it seems.) Sneakers, sandals, boots, heels, slippers, slides, even water shoes—the many soles of New York.
I shuffled my adidas slides up the metro-stop stairs and into the real world of Brooklyn to find Didi Rojas and her fresh, white Air Forces rounding the corner of Lorimer Street—Group Partner's home, where she manages the pot-makers' social media and bakes her shoes. She wore a Group Partner tee ("Peace & Love & Pottery," baby!), round, metal eyeglasses and the cutest damn smirk that you ever did see.
When I asked Rojas how she would describe herself, she gave me an encapsulating two sentences: "I'm a ceramic artist. And I have a year-old Chihuahua named Charlie (@chill_out_charlie)—she's the light of my life!" 'Nuff said. (Unfortunately, Charlie—who wears sweaters and jackets, but not sneakers, yet)—couldn't be there. She was at home, enjoying the AC.)
Born in Colombia, Rojas has been in the States for nineteen years, in New York for six and with Group Partner, a good-vibin' ceramics studio, for four. (You've probably seen their acclaimed terracotta-tittie pots sunning on a local sill; thanks to founder Isaac Nichols, the company, which was featured in Issue 10, has been "righting the wrongs of humanity, one pot at a time" since 2012.)
Alongside her twin sister, Mars, Rojas went to Pratt Institute for illustration, which (thankfully) disabused her of her declared pen-to-pad focus and introduced her, instead, to ceramics. "A piece of paper just stumps me—I can't really think that much beyond it. I think that ceramics helped me get over [perfectionism]—knowing that in ceramics there's only so much you can control. Ceramic is something that is really difficult to say that you've mastered, cause there are so many different kinds of clays and glazes."
The growing Brooklyn business was the first shared-space Rojas occupied after Pratt, and while Rojas attributes her choice of creative channel to Pratt, her creative coordination is partially owed to her experience as a Group Partner family member. "What I've learned from the whole production side of things [via Group Partner] is that I don't want to produce my shoes the same way that the pots are produced. For me and my shoes, I want to create them as art objects rather than vessels." Things like functionality (or, not) and mass-production (or, not) are personal choices she's made through observation and trial-and-error in a community of folks who share the wealth, space and tools of the medium without complete creative consensus.
Right now, Rojas owns two pairs of wearable (i.e. non-clay) sneakers: The Forces on her feet and a pair of red adidas Campuses. When we met on a Friday, she had just ordered black Crocs to use as her studio shoes, and the involuntary smile that formed as she told me was only the tip of the shoe-happy iceberg.
"I have one pair of sneakers that I wear to the studio, and the other pair I wear as my daily shoe, outside of the studio. I always say that I'm not going to, but I end up wearing my daily sneakers to the studio anyway, so they all get trashed. I need to set boundaries for myself, hence the Crocs."
Which is how the false footwear came to fruition, a few years back, when Rojas looked down at her once-white Air-Forced feet, grayish-yellow in color, coated in ceramic and dust: "They looked like clay!" The result was a ceramic rendering of what appeared to be a Foot Locker-ready basketball shoe, complete with "laces," "cushy sole" and all—aside from the immediate shatter that would take place upon meeting blacktop, you'd never know the difference.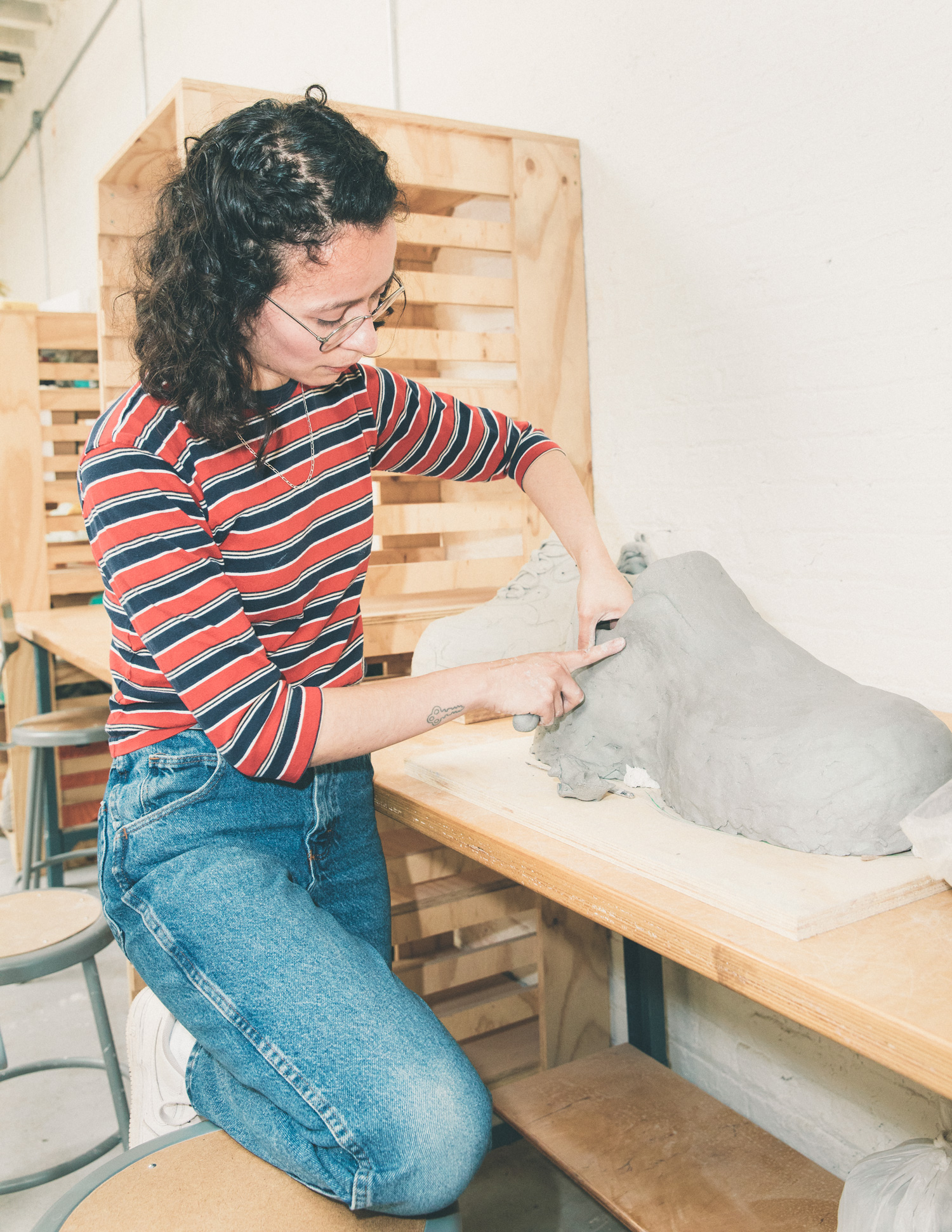 "I think shoes are definitely self-portraits of the people that wear them. Whether or not they're worn-out may give you an idea of what they do for a job; you can even tell how a person walks." (Google "collapsed Uggs" for a well-worn visual example.)
Of course, all irony is based on reality, and don't you just love when reality catches up to itself. "[My shoes] started [ironically], and now I'm like, Wow, I'm kind of obsessed myself. I feel like shoes have become iconic shoes really quick, and why do I feel like I need this shoe?!"
Since her pioneer parody pair of Nikes, Rojas has covered the footwear sphere with her impractical imitations, taking full advantage of the high-fashion-sneaker boom of 2016 and its tennis-shoes-for-all-occasions aftereffects. From Italy (Gucci and Miu Miu) to France (Maison-Margiela) to Spain (Balenciaga) to the UK (Dorateymur) to Germany (adidas and Puma), and back to the States (Marc Jacobs, Vans, Michael Kors, Converse, New Balance, etc.), she's emulated an impressive span of kicks. And for those of you, like me, who didn't know the extensive price range attached to these synthetic wearables, a lot has changed since '02, when Nelly raised praise for Rojas' favorite kicks.
"A project that I'm excited about right now is again working with the Balenciaga Triple S, making tiles. I want to create a wall with the 3D sneakers as the tiles: so, it's the actual shoe shape used as building materials, and that consumerism aspect comes into play, and the idea that people are willing to spend so much money on these."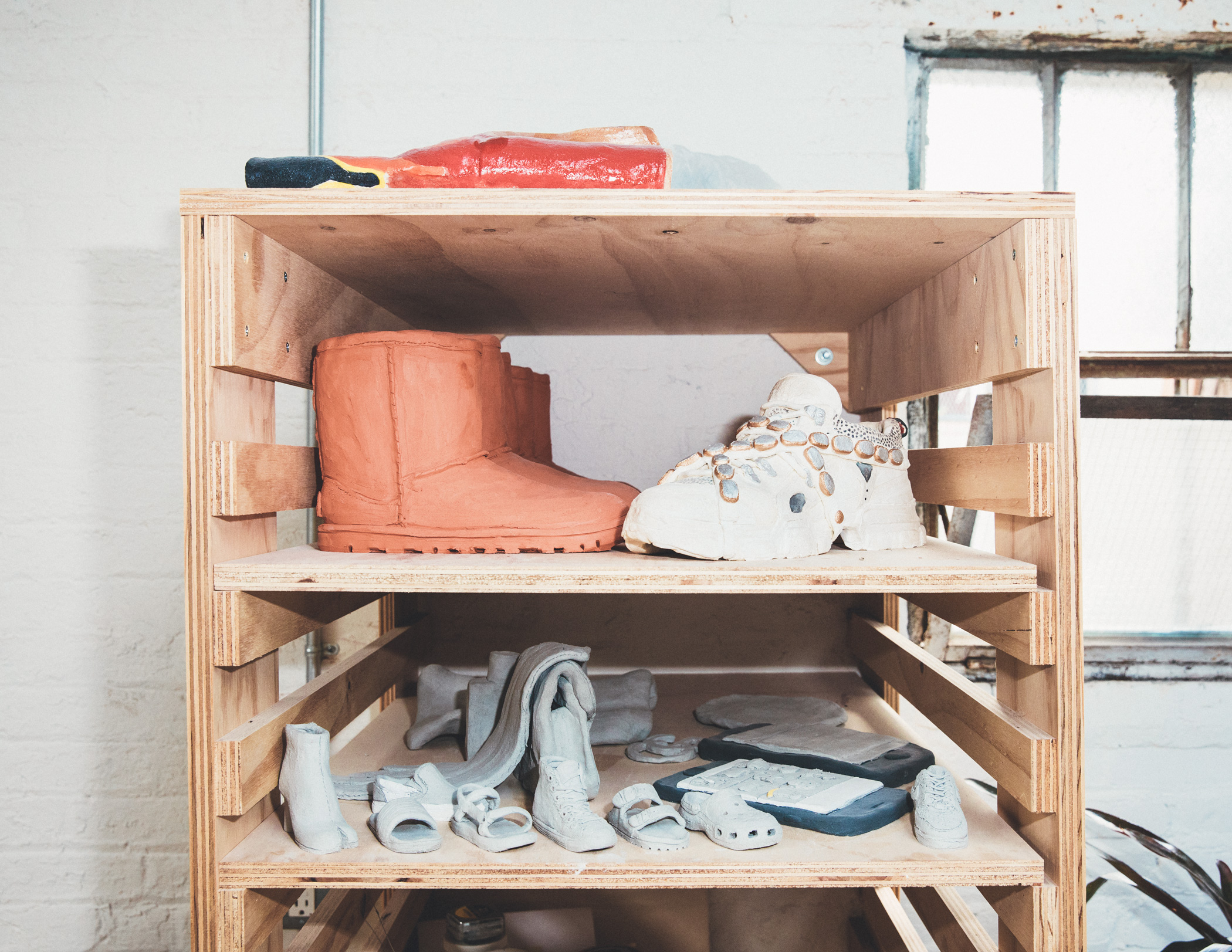 If Balenciaga had their way, a fifty-tile wall of Triple S's would cost you, roughly, $45k (a pair of the color-blocked clunkers retails at $895); Rojas, however, isn't looking to commercialize like these designer brands. "Right now, I want to experiment more to introduce more of the ceramic language. More of, this is the medium that I'm working in, as opposed to, I'm making something that looks like something else."
Like many of us, her research is social-media based; although a few drop-ins in SoHo would be fun, she admits. Her work ethic and studio time, however: a testament to her partner, Mitch, who's also an artist. "I think that his art, in a sense, looks a lot more serious than mine. He took his career in a way where he was always a bit more serious—he went to Pratt for fine art. For me, it's like, oh, shoot, maybe I should be in the studio, too. Also, kind of competing off of one another in that sense— we do spend time together, but we support each other in a way where, if he needs to be in the studio, I get it, cause I need to be in the studio, too!"
It was one of those interviews that I didn't want to end—I think we hugged and said cya at least three times before I actually left the studio. I imagined Charlie and Mitch at home, waiting for their leading chica. But here's the best part: as Rojas ultimately led me to the door, she paused and let out a squeal: there at the front door was her box o' Crocs. The Zappos fairies never fail.
A follow-up video message of Rojas dancing in her new studio shoes confirmed the thrill that her earlier squeal implied. That will give her Air Forces a break from the next ceramic sandstorm.
For more from Didi Rojas, follow her on Instagram.