This interview was originally published in Issue 14.
Downtown Rehearsal, the iconic band practice space near the 6th Street bridge in downtown Los Angeles, looms like a communist industrial warehouse in the bright afternoon light. And for a hot minute, I almost have an East Berlin flashback, until I spot FEELS ­‑ stylized in caps for emphasis and attitude ‑ spilling out into the parking lot, their bright colors poking out against the soft blue sky. Laena Geronimo, Shannon Lay, Amy Allen, and Michael Perry Rudes have been shredding as a single force field since 2015, when they were the new band about town playing every show, every night of the week, every chance they got. Laena and Shannon, doing tag team on guitar and vocals, alternate a heavy, anthem-style, riot grrrl caliber of rock, with Amy and Michael keeping the rhythm steady and fast, unbelievably fast, on bass and drums respectively. I remember seeing them play for the first time, overcome with awe at their ability to match intimate lyrics so full of longing and emotion with pure, unadulterated rock, the definition of which is beyond description.
In real life, beneath the soft blue sky and their industrial rehearsal space looming ominously in the background, FEELS are warm, hilarious, sentence-ending, snack-loving thrashers who feed off each other's energies. The Los Angeles-based foursome released their Ty Segall-produced debut two years ago on John Dwyer's own Castle Face Records. So what's next, I ask them, as we gobble down some weed gummies and head into the four-story building of perpetual noise. They wrapped up their sophomore album last year, and can't wait to share it with the world. "We put some good communal energy into these songs, and you can feel all of us." For a band thriving on positive momentum and the kind of synergy most bands can only dream of, I'm betting fireworks are in their immediate future.
Tell me about your new album?
LG: We recorded it up in Grass Valley with Tim Green, who's amazing. We spent eight days up there, recorded it all, did some mixing.
Does he have a studio? Or was it at his house?
LG: He has some property – he has a house, and the recording studio is a separate building – but his house has a bottom floor that's like a fully furnished living situation, and bands get to stay down there.
Grass Valley's in Northern California, right?
LG: Yeah. Just like manzanita groves everywhere.
AA: You should definitely look up Louder Studios. He's got a huge catalogue of bands that he's recorded, bands and records that I grew up listening to and really love, so it was an amazing, special thing to record with him.
How did you guys link up with him?
SL: Ty [Segall] recommended him.
LG: Wand just recorded with him.
SL: We didn't know who to go with, and Ty was like, "You should check this guy out." I ended up messaging him, and he was obsessed with the Simpsons, and I was like, "We should do this guys!" [Shannon loves The Simpsons, FYI.]
It was a sign!
SL: I knew it was gonna be great, and it was! It was fucking great.
LG: I found out he was in Nation of Ulysses back in the day and he recorded Bikini Kill and all this stuff, and I was like, "Alright. Let's definitely do this."
Was it just him, with you guys?
LG: Yeah. We didn't have any producer thing going on. I mean there's four of us.
AA: We have our checks and balances.
LG: We got ideas.
SL: It was a nice experience. We really took our time and put in some nice details. It was cool.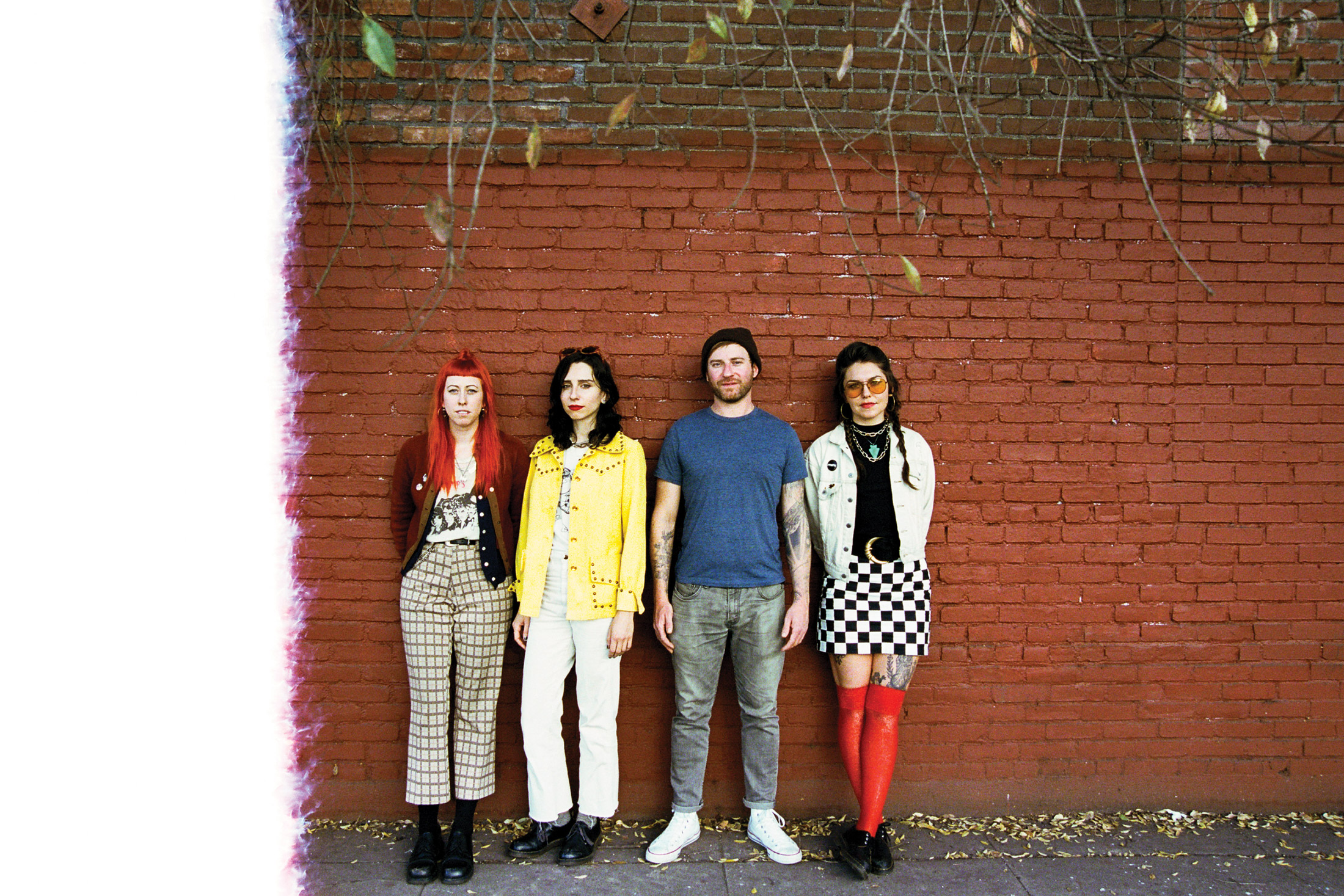 Did you guys have most of the songs going into it?
LG: Yeah. We left a bit of room to be able to experiment with stuff, because we knew we had a little bit of time.
AA: Yeah, there's a cheese grater on one song.
LG: And some bracelets I had on.
What's the style? Is it similar to the debut?
SL: It's very different.
How so?
SL: We slowed down. We took our time. We really put some good communal energy into these songs, and you can really feel all of us.
Did you guys write most of the songs together?
AA: Yeah, definitely.
SL: And even if someone brought in a song, the things that everyone did to it, made it a very collective effort.
LG: On the first record, we really just wanted it to sound like how we sounded live. And on this one, we kind of allowed for space to try different things and just add—like the end of one of the songs has an organ in it. We'll never do that live.
TONY ACCOSTA: I like having an album offer things that you can't offer live.
LG: And vice versa.
SL: It makes it a different experience.
TA: That's the reason you buy the album.
SL: Considering putting an album together, it's gonna exist forever, like you might as well.
LG: Right, and that's also the reason to go see a band play live too, because you want it to be different than the album.
TA: Exactly.
LG: The one time I went to a show and it sounded exactly like the album, I was so bummed. I was like, this is boring. I could just sit at home and listen to this. But, it was Tool. And I was 16.
Back to the record, so you guys were up in Grass Valley for eight days, right? Did you record the entire time?
LG: We recorded in six, and then we mixed for the last two days.
What was the schedule like?
LG: We stuck to a pretty solid schedule. We recorded for eight to ten hours – basically Tim doesn't start until 1pm. Like don't even try and call him before noon or anything.
MR: I liked that.
LG: And then we went – what's eight hours from there – 9pm or 10pm? He had a really cool old Sega that we played? Or was it Nintendo?
SL: Nintendo.
LG: We'd play Mario Kart. And he had all these great VHS collections of Mr. Show, that comedy show. It's so good.
SL: Fabulous comedy show.
AA: And 'Midnight Special.' We watched Marvin Gaye sing. He had a performance in Japan and he was dressed so incredibly, like rhinestoned Western-wear, but then he's wearing a red fisherman beanie. He looked so good. Like effortless. And his name's Marvin! He's like the sexiest man in the world. And your name's Marvin!
So you guys basically lived there.
MR: Yeah. And it's pretty out there. You're not in town or anything.
LG: So yeah, we'd make breakfast, sandwiches for lunch, and dinner we all took turns.
SL: There's a cool little town you can go into, and we went one night and saw a really good KISS cover band.
LG: They were breathing fire! And had the outfits.
MR: Full KISS.
LG: Oh yeah. The whole nine yards. The platforms! They were very good.
SL: It was amazing.
LG: The Gene Simmons one was in love with Shannon.
SL: I politely declined. He was very forceful about it.
LG: He apologized profusely afterward. He yelled at her face and was like, "Is your boyfriend here?!"
SL: He was friends with Tim, so the next day he came to the house and was this bald middle-aged man. He apologized a lot afterward.
How big is the property?
MR: Real big.
LG: Manzanita groves everywhere. You could get lost in it.
MR: It's where they discovered gold in the Gold Rush.
AA: That's why the Yuba River is so nice. And those rocks are so big, because all the dynamite blew out the mountains.
MR: The water is filled with hydraulics, that's why they washed the mountains away and made those rocks, which we went swimming in. That was super fun.
LG: There were these little lagoon pools.
When were you guys up there?
LG: In August [of 2017]. It was hot, but not too bad.
AA: It was like 100 degrees every day.
LG: I didn't mind it at all.
SL: It was great.
Your last album came out, when, 2016? Time goes by too fast. What have you guys been doing since then?
LG: We toured a lot. [Understatement]. Then went to Europe. And all last year we spent writing the new record and recording it.
When does it come out?
LG: We don't have a date yet. We're in the process of negotiating some stuff with some people we're really excited about, but we can't really share anything about it yet. But it's all happening. It's very exciting. We can't wait to tell everyone about it.
Future plans for the band?
LG: Once we know when the record's gonna come out, then we can really plan stuff out. But we wanna tour.
You guys are always on tour.
LG: Yes.
When were you guys in Europe last?
LG: We were there in October…
AA: 2016.
LG: We're just dying to go back. We'll see. We have a really great booker out there who tour managed us the last time, and he's just been bugging us since we got home. Once we have that one thing, it's just gonna [makes gunshot sounds].
Laena, you're also in Num.ber with Jeff Fribourg. And Shannon you have your own solo project. How do you guys balance?
SL: So far it's been okay. FEELS has been kinda slow the last year just because of our timeline. I think it'll switch off. We'll go into FEELS mode eventually and put the other stuff on the side.
LG: It kinda works out, you know, you just play music because you love to, and you want to do it all the time. We all have our own priorities and we figure out how to commit to them. It's fun just to be able to have as many outlets as you need whenever you want.
For more from FEELS,  follow them on Instagram.
Photography by Tony Accosta.