If there is one word or prefix to describe artist Jay Watson, it's multi. Multi-talented, multi-instrumentalist, and a multitasker in multiple bands or projects. As a brilliant musician and songwriter, Watson plays in two supremely influential psychedelic bands, Tame Impala and Pond, as well as operating individually under the moniker GUM, a reference to a childhood nickname and the green play-doh character Gumby.
With over a decade of musical experience, Watson's distinct sound, versatility, and adaptability are evident whether he's producing, songwriting, performing, or collaborating with other fellow artists. When Watson isn't touring with one of his three bands, he's most likely aiding other hyper-talented artists like Angel Olsen and Mac Demarco in live performance. Being in two groups plus one solo project, consistently working on collaborations and remixes with various artists, and regularly touring on top of constantly creating new music, may seem like too many plates to spin at once for some, but has become Watson's way of channeling his unwavering devotion to music across any platform.
The skilled musician writes about 20 songs a year and those which he doesn't utilize for the other bands, organically culminate into tracks for GUM. The accomplished musician has stated that growing up, he didn't particularly like being called Gumby, however, he liked the root term 'gum' because it reminded him of chewed gum. Chewed gum implies something sticky, gross yet sugary, and pink. It felt like a kismet symbol for the strange synth-soaked pop music that he creates as GUM.
Two weeks ago on a chilly, damp Monday night in Los Angeles, I rang up Jay who had just woken up in his residence in Fremantle, Australia where it was around 9:40 a.m. Recently as GUM, he released three singles, "Blue Marble," "S.I.A," and "The Underdog," from his anticipated album of the same name, The Underdog. GUM release the album April 6th and will be stopping by Los Angeles at the Masonic Lodge at the Hollywood Cemetery on April 16th. Shortly thereafter, Watson will be heading on tour with Pond and Tame Impala. Fueled by timezone differences—Watson's brain having just woken from the morning haze and mine ready to power down after a busy overcast day—we went on delightful tangents about his favorite past time, mental and physical health, current events, what went behind creating the new record, and his creative process with the countless projects he immerses himself in.
First off, I love the song "Blue Marble" and I also found out you released a music video for it a few weeks ago. I love that you went with this sort of psychedelic otherworldly claymation.
Yea, thanks! Did you ever watch Parks and Recreation, [the episode] where Ben Wyatt gets fired and to cope with his depression he starts making a claymation video all day? I feel like that indicates how long [the music video] must've taken.
Haha totally. I imagine the process of making the "Blue Marble" video must have been that tedious, plus it was way longer than Ben's 10-second clip. I read that this song is meant to evoke a weird parallel universe feeling where the person that wasn't supposed to win, does. Was this song inspired by current events or maybe something else in particular?
I think that intention is meant for the album in general and acts as kind of an arch for a day in the life of me, starting from going on tour, to playing the show, to leaving and going out to the club, and then waking up feeling awful and riddled with anxiety. Then you have to get through the day until the next show and start again. "Blue Marble" is the point in the album where I am convincing myself that everything is kind of okay.
Is that reflective of your day to day life now, going from one show to the club and you come back and kind of do it all over again?
That's the thing, it isn't really my life anymore. My anxiety has gotten a lot better and I exercise heaps now to manage it. It's more so that when you're on tour, getting drunk every night feels almost necessary in order to deal with the nerves to play the next day. I don't know, it was just this weird cycle. I love playing shows but I don't really love going on tour for ages. It can allow too much time for you to be in your own head and plus you're hanging with the same four or five people every day, which is cool but can also kind of drive you a bit mad.
I'm sure you're asked in every interview but between touring, producing, and playing with other artists on their tours, I imagine it doesn't leave you much free time. How would you usually destress when the opportunity is given? Do you meditate, hike, play sports or cry in a corner for a little bit after a long day?
I don't really have any time. I guess I'll watch tv or something. Oh, my main hobby is this sport in Australia called AFL. It's Australian rules football. I don't know if you've seen it but it's kind of like our weird version of soccer where you can run in any direction and you can also go backward and turn around. There's tackling like NFL, but no helmets and you can kick the ball in the air to catch it, but if you catch it you can't tackle. It's weird to explain but it's like my favorite sport. I know the players and all the stats and read all the press. When I'm lying down with on my laptop, I'm either looking up music equipment on Craigslist or the AFLs.
Are you in a fantasy football league?
I have one, but it's just for fun I don't really play with it. We do 'footy tipping' with everyone in Tame and Pond, our managers, and road crew. The same guy from Pond has won for like the last two years and everyone puts in about $50 so if you win, you get like $400 or something. I really want to win this year.
How do you feel about your chances this year?
Well, the guy who always wins, Jamie from Pond, would argue he reigns victorious because he's knowledgeable about football, but I think it's luck of the draw too. I mean every year the team you think is going to be good, is awful and the ones that you think are awful, end up winning. Like the album, The Underdogs, when I was making it, I was thinking a lot about sports. In 2016, it seemed like at every major sporting event, the underdog won. It was like that in the English premier league where Leicester City won its first title in its'132-year history; Donald Trump's win—for better or for worse, that was a massive story of someone nobody thought would win or could win and did. I remember when he was first running to be nominated for the Republican party, we were on tour in America and all of us in Pond were like, "Oh he's going to be the guy." Most people in the States disagreed but we were like, "Oh come on, he's definitely going to win the whole thing." It's just because it's so insane and I don't know but you can kind of feel that sort of xenophobia bubbling under the surface. We were half joking and kind of rattling everyone up like, "Oh man, he's definitely going to win!" Still crazy, though.
How did you feel when he did win?
On the one hand, I agree what people say outside of the US, that it's not our job to care since it's not our country, but on the other hand, it is still kind of one of the few overlord countries left so we kind of have to care. I know it's been bad for a lot of people obviously, and I know I am privileged that it doesn't affect me really, but I think the election has been good in the way that it's made a lot of apathetic people care more. There's been a large portion of American society previously ambivalent to politics that now care a bit.  It's a good thing, either way, you're leaning because it means you'll actually vote now. In Australia, we have to vote or you get fined. I've gotten fines from the 2008 election because I was on tour. It kept accruing until I finally paid it so that I could get my drivers license.
You kind of touched on it a bit about what attributed to the concept of The Underdog? Could you elaborate on the inspiration behind the concept for this album?
It's a fairly loose concept. Initially, I had the title song and then just evoked a certain feeling through the rest of the record. I was kind of being funny because it sounded almost like an album title for a Harry Nielsen record or something. I kind of suspect a lot of people do this too, where they first think of the titles of songs and ideas, then try to make them all fit together later in some type of narrow and weird way. You kind of make up a narrative for it in the end rather than having it be an overarching initial conception.
That's interesting because I've also known creative production to happen in the opposite way where the concept comes through first and the title comes later.
Oh yeah, we're kind of having that problem with the Pond album at the moment. We normally have the titles first but this time we don't and it's kind of exciting actually that the process is the other way around this time.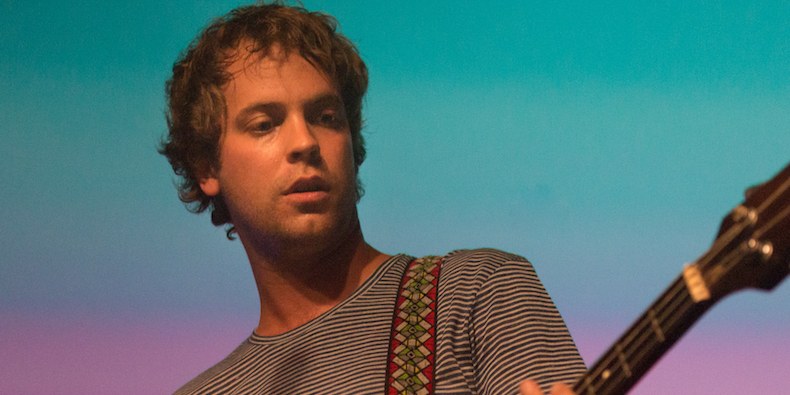 So for this latest GUM album, how did you approach the songwriting and production process of the album? Did anything feel different compared to the previous records?
No, I do it kind of the same way. I wanted to add a few bits that were more organic, like real drums and guitars. The last album was kind of synthetic because I made it in my flat in London. This one's a bit more 70s—I don't know, it's also kind of all over the place. There are still a couple of those electronic ones, but even those I tried to make sound more organic and just less synthesized. Although there are still hundreds of synthesizer sounds on the album [he laughs], they're less computer sounding if that makes sense.
How did this solo project as GUM come to fruition? Did this project come about from a particular moment in your life or as an outlet that the other projects may not have been fulfilling?
I just love making music. A Pond album might have three songwriters working on the record and you may only get to write a third or half the album with the other guys. But through the course of a year, I'll have written about 20 songs. So I pretty much release everything I make through GUM and I don't really censor it too much. I almost make an album a year so I think the quality is bound to ebb and flow. Yet I kind of don't mind that because I just put out whatever I've been working on.
Would you say it happens a little more organically?
Yes, but because I don't have to run it through a committee like Pond.
Tame Impala, Pond, and GUM each has its own particular flavor and sound and share bandmates and collaborations between them. Do you ever face challenges creatively in maintaining each of their distinct aesthetics and sounds or does it kind of evolve as you and your bandmates do?
It's kind of…um yea, I… sorry it's kind of hard forming a sentence, I only woke up about a half hour ago haha.
I actually wanted to ask you at the beginning but isn't it morning where you are in Australia right now?
It's 9:49 a.m. but I'm normally up at like 8 or so. I don't drink caffeine anymore which is kind of good because it means I can like wake up and be ready to go. Like, I woke up and ten minutes later was on my first interview. When I used to drink tea and coffee, I needed caffeine before I even started talking to anyone.
How'd you ween off it?
I have high blood pressure so the doctor told me to go off it and I did. It's not really hard if it's a health risk. It's either do it or go on medication. Now I just do heaps of tennis, don't drink coffee, and try not to do shots, oh and try not eat hamburgers.
Those must have been challenging things to let go of.
Yes, but my logic is that I can do whatever I want if I played an hour of tennis that day because I feel like exercise negates the more indulgent activities. I don't know if that's true or not but it probably is to some extent. I also stopped my caffeine intake because I didn't want to worry about high blood pressure and honestly, the best side effect is that it's really great for my brain. I'm way less depressed. This sounds really harsh, but I've come to a point with my own health progress that I don't really have sympathy for people who feel the need to medicate to get through the day. I reckon doing an hour of exercise a day is better than any antidepressant I've ever had. I feel like if I've already exercised in the morning or something, it's weird to still be anxious for the day because you're too tired to worry anyway. When I lie around in bed all day, I tend to overthink stuff.  
That probably frees up more headspace for you to focus on whatever you need to do for the rest of your day too. Kind of steering us back to the question, how do you separate the creativity and distinct sounds of GUM, Pond, and Tame Impala?
I guess we don't really ever overthink it. Sometimes I'll come up with a song that I think Nick would be able to write over for Pond or that he'll just really like and I'll just give it to the band. I only keep ones for myself if I feel it won't resonate with the others as much as some of the other stuff. But there will be songs on my records or Nick's solo records or Ponds' records that can be interchangeable, you know? Like on the last Pond record, "Sweep Me Off My Feet" was my instrumental, but I knew Nick would really like it. "Edge of the World" is comprised of two lengthier songs that I wrote the instrumentals to go on my solo album, but I thought it would be really good for Pond.
Do you feel like being in various bands, you're able to experiment and play with your sound to varying extents depending on the band?
I think it's really good practice for making all the other projects, even for playing live for Tame. I think I've come a long way from making my first solo record in terms of understanding sounds, the technical side of audio, and just the understanding of space and songwriting. That's been a massive learning curve, but I think it's definitely made the other bands' records better too. Every time you make an album you learn so much. Doing on album a year on my own project energizes the other projects as well.
What are other projects can we look forward to?
Let's see, I'm doing some remixes with one of the guys involved with Pond, James. His project name is Ginoli and he makes kind of weird house music so we're doing some remixes for people. It's been really fun making weird dance music. My album, The Underdog, is coming out April 6th. We're almost finished mixing the new Pond album which hopefully we'll have something out this year. I think we may have a title down, but we'll see.
Kind of tailing off of that, you're performing in LA on April 18th, can you let the fans and those who still want to get tickets know what they can look forward to?
This is pretty much a promo run before I tour with the others, but there'll be a few songs from each album.  It's pretty much just me and backing tracks and I'll have a few gadgets, a guitar, and sing.
You're doing this and then touring with Pond right after?
Pond's touring in the States in May. We had visa troubles so we had to push it back to May.
What's a memorable moment from your last tour?
We just did Laneway Festival which was cool. It's fairly innate to Australia and this one is spread out for two weeks.
Do you have a favorite city or town you like to perform in?
Not really a favorite city or town, but I love playing to people in South America and Central America because they're so passionate about music and they go ballistic! My favorite place to visit though is Japan. It's like my favorite country to hang out in.
Where in Japan do you like to visit?
The big crazy cities like Tokyo and Osaka.
You guys shot a Pond video in Tokyo right?
Oh yeah, we were staying out in this weird area of the city and there wasn't really much around. It's funny, the whole video for "Fire in the Water" was almost entirely shot around the hotel we were staying in. Even the garden outside, our director Kriskofski made it look like really epic.
Where are you looking forward to stopping by for the upcoming tours?
I lived in London for a couple years so it'll be good to go back to see my friends, do some press, play some shows, and go to the pubs. I'll be doing some recording in Paris which should be cool. I love playing in Los Angeles, New York, and San Francisco. I have a lot of friends in LA and New York so it'll be good to see them and I don't really know anyone in SF, but I like the city and I've always had really good dinners there.
Discover more Jay Watson on Instagram, Soundcloud, and GUM's music, projects, and tour dates via Facebook. The Underdog comes out on April 6th.