Who came first, Lucas Nathan or Jerry Paper? By some accounts, Jerry Paper is an inter-dimensional entity that has manifested itself into earthly form as Lucas Nathan, a mere mortal vessel for Paper to rain down loads of weirdo-pop onto the world. A more down-to-earth take is that Jerry Paper is actually the fictitious brainchild of Nathan, a creative outlet for him to materialize his wildest ideas into the form of Steely Dan-inspired tunes. Can both be true? With Nathan now making music under the alias for the better part of a decade, the barriers between the metaphysical pop star and its host body have increasingly come down.
Jerry Paper began as a project in Nathan's bedroom in Brooklyn in the early 2010s, while studying music and philosophy at The New School. Nathan would don a flower garland to channel Jerry Paper, who then became the maestro of an ensemble of synthetic instruments, all orchestrated with the touch of his keyboard to play pop muzak symphonies. Perhaps reflecting his philosophical background, Nathan would ruminate in a low-pitch croon over concepts you'd expect to come across in a sci-fi movie.
His 2014 album, Big Pop For Chameleon World, was ostensibly about "an inter-dimensional infinite man existing in a finite world." Its release was accompanied by a video game, developed by Canadian animator Cole Kushner, so that you could follow Jerry Paper through his quest to transcend the Chameleon World and free himself from his current physical form. While creating the characters for Chameleon World (including an animated Jerry Paper), Kushner, who has a background in clinical prosthetics, delved into the theory known as the "uncanny valley." It postulates that while people have an affinity for human looking objects (think of the cars with faces in Chevron advertisements), when something resembles a real human being too closely, there's a dip in that affinity, instead triggering deep discomfort in the viewer (think of the initial CGI iteration of Sonic the Hedgehog in the new film). With Kushner and other like-minded animators at hand, such unsightly humanoid characters have become fixtures of the Jerry Paper cinematic universe.
Starting with Jerry Paper's 2016 album, Toon Time Raw!, synths began to be accompanied by live instrumentation. The liner notes of the album credit Easy Feelings Unlimited as the backing band, which actually was the Canadian jazz-pop ensemble BadBadNotGood in disguise. His next and latest record, 2018's excellent Like a Baby, expanded on this collaborative spirit, again working with BadBadNotGood, as well as featuring cameos from laid-back psych rockers Mild High Club, and the ever-talented Natalie Mering of Weyes Blood.
With live bass and horn sections now grooving behind him, Nathan was able continue to explore far-out, sometimes bleak ideas, while nonetheless lulling an unsuspecting listener into a complacent head bop. In Toon Time Raw!, Jerry Paper is introduced to cartoon animals that suffer from anxiety and depression. On the track "My God" off of Like a Baby, we find a recently deceased Paper reviewing his finances with God to see if he has a decent enough credit score to enter through the pearly gates of heaven.
On the idea behind the song, Nathan offered, "I was thinking about money and value, and how in the U.S. it is an assumed part of our culture that you have to earn your right to be alive, to have any semblance of a comfortable life. I thought it would be funny to create a world in which God cared about how much money you have." Perhaps sensing the heaviness of the topic, Nathan then quipped, "It just made me laugh, ultimately."
Herein lies the affable appeal of Jerry Paper; when Nathan narrates uncomfortable realities through the lens of his alter ego, they feel far away, comical even. Combine that with his lounge-pop backing band, and it even makes for a fun, breezy song. It's only upon a more careful listen that you realize that the lyrics aren't so surreal after all. Regarding "My God," Nathan reminded me, "When the puritans came [to North America], they were Calvinists, and one of the tenets of Calvinism is that the more money you have, the closer you are to God. It's an oversimplification, but I do think that this is at the root of the U.S., which makes sense given the problems we're currently having."
In just two years after the release of Like a Baby, Nathan's ninth album as Jerry Paper, Abracadabra, arrived on May 15th. After years of hopping between various labels, Nathan now seems to have found a home at Stones Throw Records, as Abracadabra is his second release with the iconic Los Angeles independent label. The pairing makes sense, as the label has been called home by many other artists who struggled to fit in elsewhere, such as the like-minded pop-eccentric Gary Wilson, and hip-hop auteurs MF Doom and Madlib. On how he came to join the Stones Throw family, Nathan recalls, "By the time I signed to Stones Throw I had actually already finished recording Like a Baby and was just looking for a home for it. I showed it to my friend Alex of Mild High Club, who passed it along to [Stones Throw founder] Peanut Butter Wolf, and he liked it."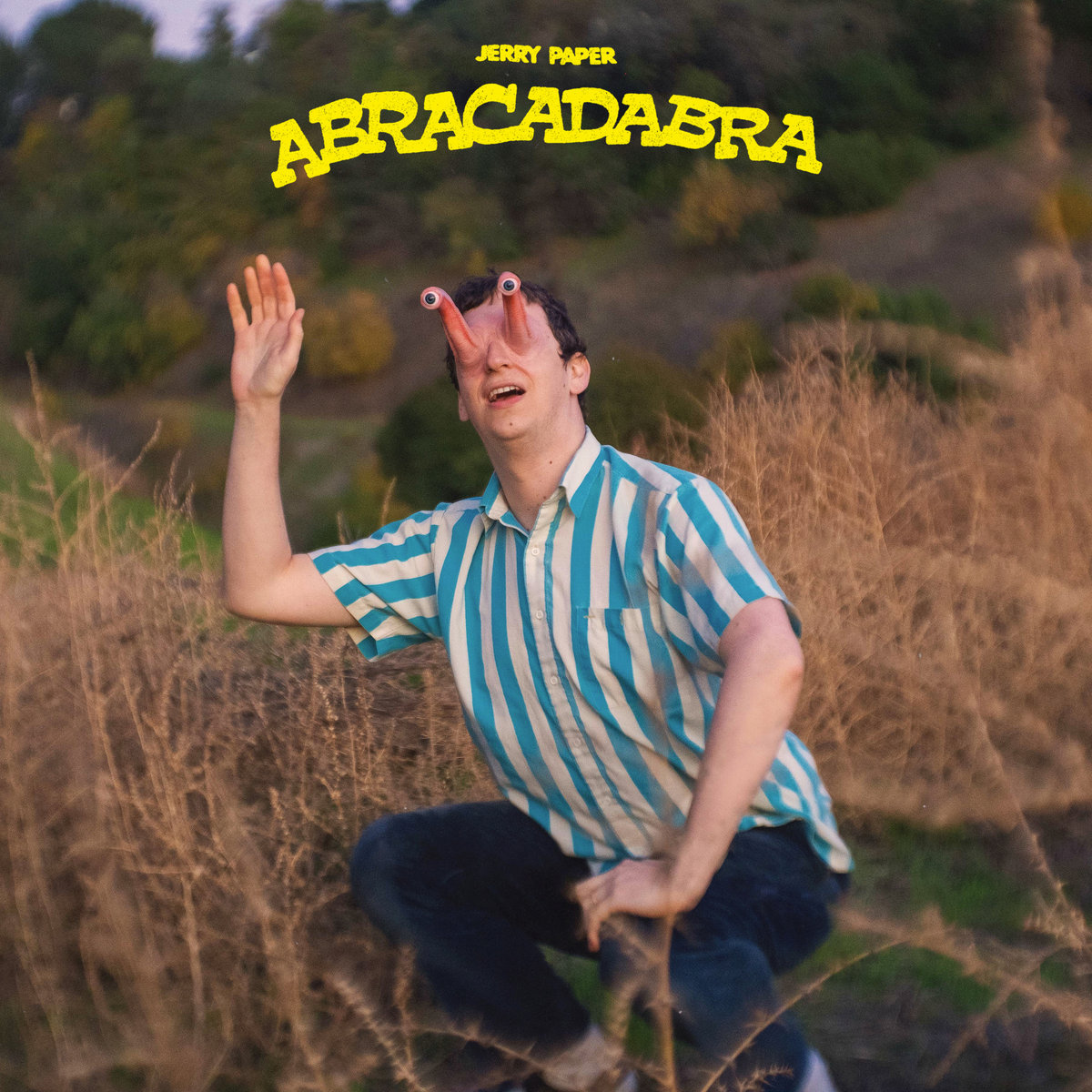 Abracadabra thus marked the first album that Nathan was fully integrated into the label during the writing process. "For this record, I tried to do most things myself. I thought it would be an interesting experiment after being very collaborative for the last few records," he explained. "This is the first time I had access to the Stones Throw studio and their engineer Jake Viator, who mixed and mastered it. So I was able to explore making an album alone while in a studio, which feels very different from making an album with others, or even making an album alone in your bedroom."
On Abracadabra, Nathan appears to be more comfortable with orbiting a bit closer to earth, letting the personal become more apparent. "This album was less about a concept and more about what I was going through," he explains. On the single, "Puppeteer," Nathan laments the struggles of productivity in isolation, and it might be his most immediately relatable song in recent memory, particularly given our current homebound era. While it maintains the traditional sci-fi hallmarks of a Jerry Paper track, ("I trudge back to my cryo-tube post-meal"), the most apparent lines are also Nathan's most direct; "Every evening as I put my toys away, I think about what I've done today. It's nothing, I've done nothing, accomplished nothing."
Elaborating on the writing process for Abracadabra, Nathan opened up about his recent foray into talk therapy, which emphasizes the idea that speaking ones troubles out loud can provide clarity and perspective: "It has been revolutionary for my life. I think, like a lot of men who have been conditioned not to talk about their emotions, I was not comfortable talking about things before I had a clear idea of where I was coming from. I felt like there was always this disconnect between the logical side of me and the emotional side of me, and I would always let the logical side win. If I was feeling bad, my mind would devalue that feeling. A large aspect of the therapy involves talking through feelings that I don't necessarily understand. You can have so much anxiety about something, and putting it into words can render it powerless. It has been infinitely beneficial to my relationships with the people I love."
Nathan dedicates a song to the topic with "Spit It Out," but his newfound willingness to explore uncertain territory can be felt elsewhere on Abracadabra. On "Memorial Highway," Nathan reflects on life after death and how he might be remembered, and in "Apologist," he learns the value of admitting when one is wrong. For Jerry Paper aficionados that would miss the absurdist fun of his previous adventures, there's still the darkly comedic "Bodybuilder on the Shore." It's a cautionary tale about a weight-lifting-obsessed father whose life is thrown into disarray after he's caught smoking methamphetamines at his child's birthday party. Not to mention, Nathan has found other ways to have fun with Jerry Paper.
He recently debuted his own video series, Jerry Paper Teaches, for the artist run video streaming service, Eternal.TV. Filmed in the style of a 1990's public access program, the first episode has Jerry attempting to teach his audience to lay down a classic funk track. Painfully unaware that he has no idea what he's on about, the musical lesson ends up in a very different place, with Jerry playing grating electronic music while screeching through a vocoder. Discussing the episode with me, he chuckles, "I think it came out pretty well."
'Abracadabra' is available on all streaming services, and you can purchase the album over at Stones Throw.