This is a preview of our feature on Briana King in upcoming issue 16. You can pre-order here.
Briana King's energy is boundless. The morning we meet up at her Echo Park house, I'm greeted with a radiant smile and a genuine warmth as she invites me to sit down while she laces up some new shoes. As she skateboards around the neighborhood, stopping for a quick coffee and a few photos here and there, I realize she could do this forever—wake up, skate, get coffee, skate. This is when Briana is happiest.
Skateboarding has not only become King's therapy, exposing her to a close-knit community of women skaters, but also serves as a catalyst for her creativity and ultimately has put her in a place where she feels like she can be her authentic self. As a model, Briana always felt like she needed to look or act a certain way, but when she's skateboarding she beams with realness and her convictions are unwavering, which has given way to a whole new chapter of her life: helping, empowering, and teaching other women to not only start skateboarding, but find their own tribe and sense of belonging.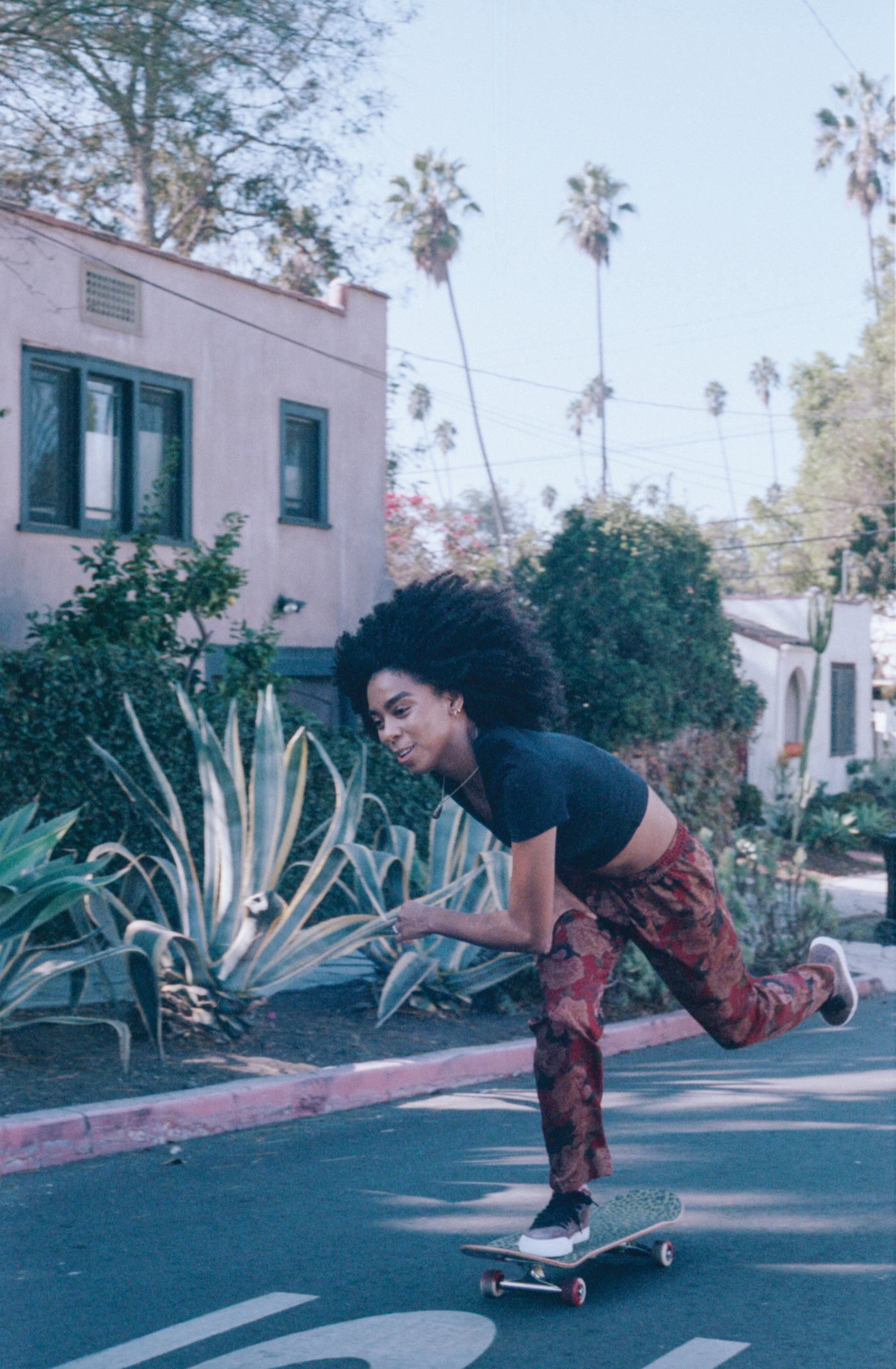 What do you think skateboarding has taught you?
It's forced me to be around different kinds of people and different energies. It's a whole community so I had no choice but to be friends with people and challenge myself to open up. Skateboarding taught me to not be awkward. Everyone sees me a certain type of way because of what they see on Instagram, but really I had no confidence. Skateboarding taught me to be myself. I never thought that I could achieve this amount of happiness or could be this comfortable. I'm so happy with my life—the way I grew up, the way everything happened—because I get to appreciate everything so much more now. Every day I put my headphones on and push, and every day I get chills.
Let's talk about your community. You're a huge advocate for teaching girls to skateboard and making the skate world a comfortable place for women; especially with your recent string of "skate clinics." Why is this important to you?
It's so easy to change your perspective on life through a skateboard. Or bring people together through a skateboard. I want people to experience the love that I'm experiencing. A lot of these girls that end up showing up to an open skate event have never skated with other girls. After an event, everyone leaves with a new posse. I've helped create a platform for new groups of girl skaters. It's easy to make people happy.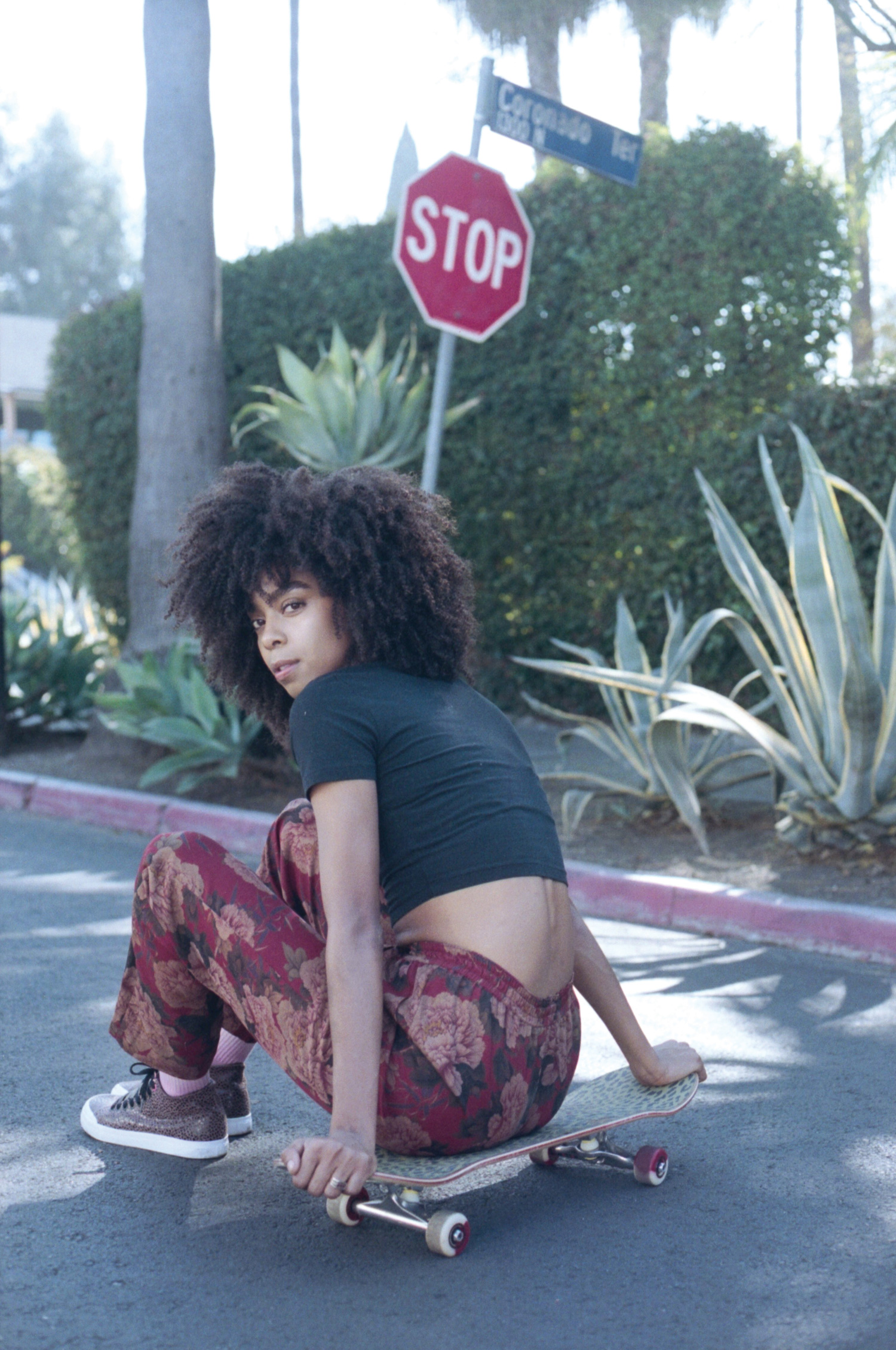 Tell me about some of the girls you meet at the open skate events you have been hosting.
One girl in particular in New York just started crying. She came over from New Jersey, took a train, and lied to her parents saying she was at work. She was like, "Thank you for this. I could have never imagined this." It's so sick. Girls that are basically pros show up. So it's not just girls that are there to learn. They actually just want to be around the energy with all these girls skating.
What do you think makes you authentic?
What makes me authentic is me being so uncomfortable being me, but I'm still me. I'm always nervous. I'm always scared of being myself. But then I'm like, "You know what? Fuck it. I'm just going to do it." It's growing on me, just being myself. I always tell other girls that there's always more. There's always room for change. You're not one person forever. You never know what to expect because I would have never, in a million years, pictured myself skateboarding still. It makes me so excited for the future, like what the fuck else is going to happen?
For more from Briana King, follow her on Instagram. 
Photography by Kris Evans.