This interview was originally published in Issue 14.
Francesco Igory Deiana's Los Angeles studio is littered with sketches and reference photos of work from past shows. The same paper that you see on the studio walls is also on the ground, which makes you consider which is more important, if either, but this is common. To Francesco there is no right or wrong material, nor is there a right or wrong way to treat a piece of paper. Whether it's from the art store or an estate sale, the Italian artist sees the materials he uses for their full potential. Francesco's work is a highly-rendered and laborious exploration of graphite, ballpoint pen, photography, and bleach, all of which he handles like an Old Master. His work examines the personal self, form, and the translation between the digital and the analog. Each piece offers commentary on the way in which our increasing dependence on everything digital has overshadowed the primacy of human relationships.
It's rare to find an artist like Francesco, who is more focused and concerned about the creation and process of making the work than the actual show and final outcome. It's a characteristic that embodies the romanticism of what a true artist is. And at the risk of sounding lame, it really is true—if you don't want to wake up and get in the studio for no other reason then to just do it, then why are you in there? If you're only making work for a show and not experimenting on your own, then what's the point of the practice? How are you furthering your experimentation as an artist? Francesco is the perfect example of an artist in constant creative exploration, and his disheveled studio is a testament to his constantly evolving practice.
On the day I go to Francesco's live-work studio, we painted our nails, Francesco made lunch, and soon after we made our way to the studio, where he made space for me to sit at his work table, surrounded by different tools for mark-making. He grabbed a piece of paper and began doodling as we chatted about his work.
How has moving to California influenced or changed your work?
It changed everything. Growing up in Italy I kind of had a more square perspective of seeing things; it's a lot about what's "right or wrong" in Italy, and whether or not something is right based on how they conform to the norm. But really, what's right or wrong? Coming to California gave me the chance and opportunity to see things in my own way; it's so loose and less defined here. My approach to art-making completely changed. It became free and more about what I wanted to experience and achieve, no matter what that meant in terms of taking the time to explore and research different materials. I was able to take an experimental direction and navigate the more complex terms that my work had taken.
Can you expand on "the loose and less defined" culture of California that has affected your approach, because your work seems so technically clean and almost digital?
I think California is just more loose and laid back in general. That culture of not having any boundaries influenced me to stop putting limits on my imagination and to dismantle mental barriers. A lot of my work can look very digital, but that's just because of the studies that I've been doing and what I'm interested in at the moment with my own practice. If "looking digital" is the result that I wanted to achieve, I've just worked hard to reach what's needed for my brain. I have a pretty instinctive side and an obsession for mark-making and repetition. I'm very OCD. Also, I'm not that patient and I'm pretty loose, even if often, the work visually translates opposite results. In reality, there's barely any measurement in anything that I do, and there's a lot of experimentation with unusual materials, which implies a specific care and attention you have to give to my pieces. I'm slowly unifying all the more loose work and the more precise pieces within the same concept or context, because in the end that's myself and I can't avoid it.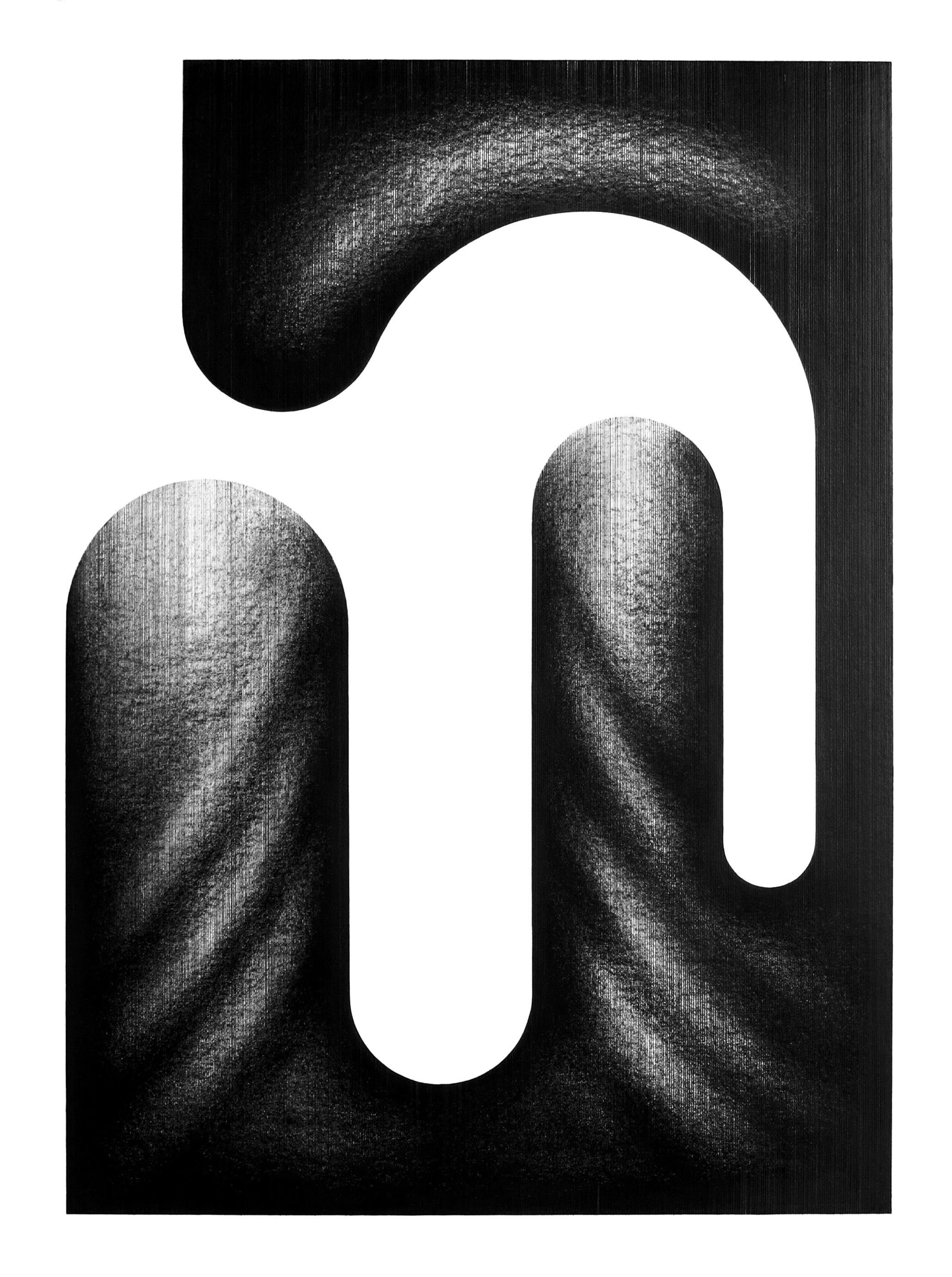 What is the obsession with graphite?
There are different points to it. First of all, I have a lot of fascination with graphite as a material. It's basically a mineral; it sits on top of the surface and doesn't get absorbed. The shine of it is fantastic. It's metallic and calls back to a lot of interest that I have for metals in general. Some of my graphic works often evoke design ideas for sculptural works. There's a margin that to me goes way farther and can be more playful with graphite as a material. Something as simple as the direction of your marks and repetitive actions or feelings with it are very visible.
Conceptually, graphite is very challenging and appealing, yet is very accessible and basic like many materials that I've used. There's something very interesting about using a material that's so simple or so traditional and has been used for all these years—especially in the technological and digital era we live in. 
Seems like the process of making is just as important as the final piece.
Being an artist can be emotional and kind of a struggle sometimes. Unless I think about a specific concept for a piece, my work is self-conceptualized and reflects my feelings and what I want to express. So often, my process of making can be very important, and the delicacy of the finished work itself can be a specific choice, too. The final piece is all of this.
Repetitive mark-making and imagery seem so apparent in your work, why is that?
I think there are different points to this, too. In the more digital pieces, the repetitiveness is what I need in order to make the works look so digital. The repetitive lines become more of a tool; same for the shading part. However, for example, with the "photoshop brushstroke" pieces and the scale of it, the repetitive nature becomes very performative. I made a tool that creates two lines and makes the same mistakes your finger would do in the digital sketch. Filling in those lines creates this mark-making and obsessive texture; you can clearly see the overlaps and it almost looks like scales. It's very overworked, and I think it shows a lot about this world.
I also have a thing for heads, I always have. I just constantly draw them. The fact that with three lines I can say so much: mood, physiognomy, aspect, and feelings can be represented in a very direct way and can be more defined to complete abstraction. I see freedom to it.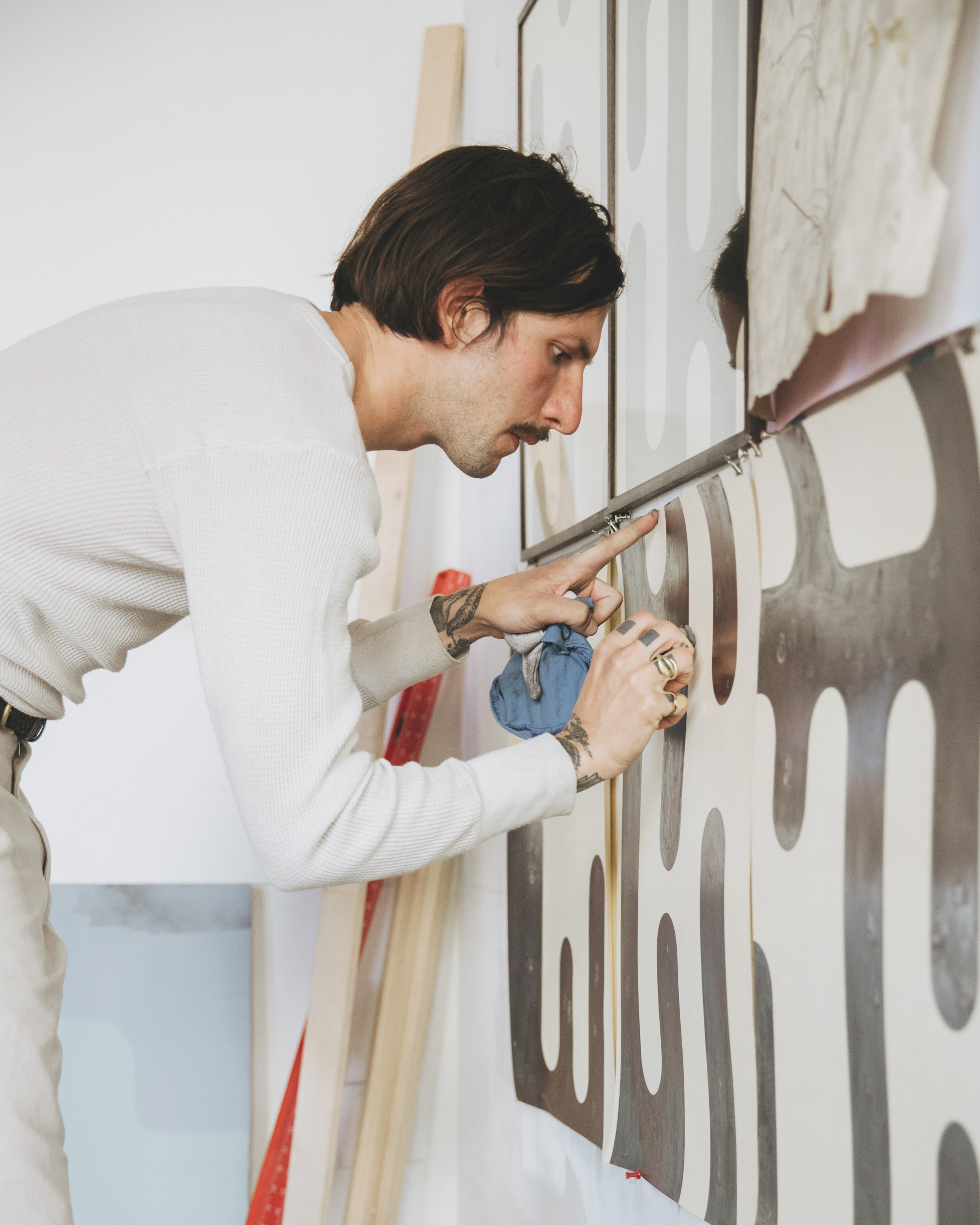 I think something else that is really interesting about your work is the use of color, because for some it may seem like a very monochromatic color palette.
Yes, that's more of a choice, I think because I don't paint as much as I draw, and when I do it's often kind of graphic work, so I just simply use fewer colors and often are very light since they work as a background.
What's the future for you; what's next?
Right now, I'm working on a couple of commercial projects: a publication and a show that I can't really talk about yet.
Also, I'm heading to New York City next week to try to feel it out. I could at some point move in that direction. After almost ten years from my country of origin, New York could be refreshing and in-between things. I love the energy there. It's an evergreen city, and the art world seems like a good fit for my expectations as a hard-working artist.
For more from Francesco Igory Deiana, follow him on Instagram.
Photography by Adam Amengual.