This feature was originally published in issue 15.
Mattea Perrotta – artist, painter, muse, creative force of nature – lives in a craftsman duplex in Echo Park, on the south side of Dodger Stadium, tucked away beneath sprawling sycamore groves and transplanted palm trees. We spend most of our time together sitting on her back porch, smoking hand-rolled cigarettes, drinking tequila cocktails and talking about life. Life to Mattea, as you'll come to learn, revolves almost entirely around painting. "I don't know what else I would do if I didn't paint."
Seeped in abstract, simplified shapes and geometric forms bursting with bright blues and pale nudes, Mattea's approach to painting is entirely her own, and a process she equates to discovering imperfection. "My whole view on life is about the imperfection and how beautiful that is and showing that." A self-proclaimed tragic-romantic, Mattea fits more appropriately into a Fellini movie than she does in the 21st century, with its instant gratification and degrading "wyd" texts. And although painting is her passion and what gets her through the day, Mattea's discipline, determination, and dedication to her craft are limitless. There is no backward for her, only bright lights ahead. "I feel like there's not enough time in a day for all the things I wanna do in my life." We can't wait to see.
If you could have one superpower, what would it be?
To speak every language in the world. I think language is the most beautiful thing, especially now, because we're so lazy with texting and everyone's using emojis and we're basically going back to hieroglyphics. We've established this sense of language that's amazing, and we don't even use it anymore. And there are acronyms for things. Like, why? What happened to poetry and writing letters? I'm a tragic romantic, but I think language is amazing. There's something so powerful and beautiful about it, but people are lazy. Just like with art, I can get lazy in the studio sometimes when I'm painting, and I'll just want to speed up a process. But then I remind myself to enjoy, to take my time, to get to know the color, the composition, the palette. You have to be really slow and patient and try all over again. It comes down to an ego thing.
What do you mean by that?
It's about letting your ego go. Ego gets in the way and controls everything. And it's like, for what? Fuck it. We're all human, we're gonna look stupid sometimes, and that's okay. That's the beauty of it, the flaws and the imperfections. And I try and do that with my painting. My first year I was with Mama [Gallery], I was much more precise and controlled, and the colors were one color. Nothing was mixing in between. And now my practice—my whole view on life—is about the imperfection and how beautiful that is and showing that. So now I'm applying that to my painting, but for a very long time, I had to make it perfect before I could imperfect it because I had to understand the perfect before I could understand the imperfection. It's kind of like going backwards, but for me, in order to get to this level, I had to do this other thing first. It's really just about taking your ego out of it and asking, why does that line have to be perfect? Says who? It doesn't.
How did you get there?
Time. And really just letting go of ego, and not caring, not giving two fucks about anything. I have to tell myself sometimes, I don't wanna say "FUCK YOU" to the art world, but you kind of have to, I think. Just to fully dive inside yourself. Because we're so inundated with images all the time, we start to think, "That's what people like," or "That's what people are showing." Why would we try to be like anybody else? People want you because of you and your voice and your experiences and your work. That's what I'm trying to understand. I've had this journey in life that's been very strange and different, but it's been specific to my path, and I've had to do it, so I should paint that and not paint someone else's story.
When did your love for painting begin? When did you discover that?
When I was a kid, they thought I had a learning disability in school. So I went to this hippy, I don't know what you'd even call her, tutor/psychologist I guess, and she asked me, "What do you like to do?" And I said, "I just like drawing, I want to be an artist." This was in second grade. And she goes, "What if you just draw what you're reading? And when you're doing math, make your own equations. The plus doesn't have to be a plus sign." So I created my own patterns for learning through illustration. I'd get in trouble all the time in class.
You got your BFA at Berkeley. How'd you make that decision?
I always wanted to go to Berkeley—it was my dream school. I didn't think I'd get in, but I applied to the art school and got in through that. When I made that decision, there was no turning back. Of course, telling my parents, at first they were like, "You're doing what? At Berkeley?"
Did they support you?
My parents have always been supportive. I'm really lucky.
Do you have any artists in your family?
No, nobody. They're all athletes.
You have such a specific palette. How do you pick your colors?
The bulk of my palette right now transpired when I was living in Morocco. That's when it really changed. I tried flying out there with oil paints and couldn't bring them with me, so when I arrived there, I just had canvas. And I couldn't find an art store, so I just went to a souk and bought pigments and made my own oil paints from the pigments.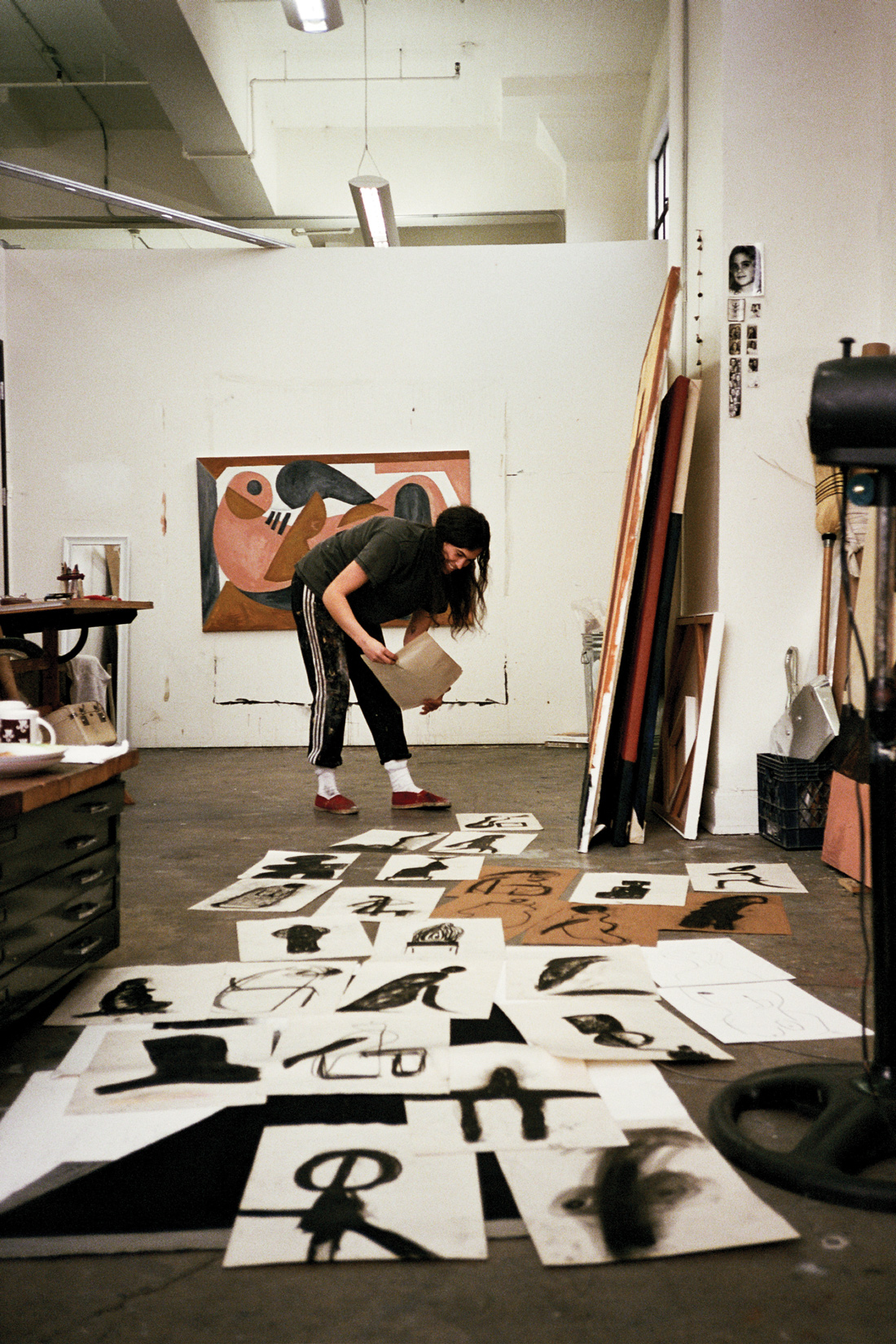 Did you know how to do that?
I learned in college, so I had that nice little tool in my belt. But I only made four paintings there because I didn't have enough time to make the colors and let them sit and mix them and all that. So from that, I kind of fell in love with that fleshy pink, the raw umber, and Parisian blue— all of that kind of stayed with me. But also, I have synesthesia, so I'm really sensitive to colors. They all have associations with numbers and letters to me.
Hold up. You associate colors with numbers? Explain that.
So, each number, I'll see something; like, I look at that number 41:47 [looking at my recorder]—all those numbers have different colors associated with them. Same with letters. And it changes, depending on where I am, but I'll look at something and be like, that's blue, green, red. And it's really interesting. So for me, because I like odd numbers, my paintings are all made up of odd numbers. Or there are certain letters that I'm more drawn to. It's fucking weird, actually. Colors are really hard for me to describe because there's so much meaning attached to it. I don't have a favorite color. I don't discriminate. 
Describe your studio?
It's very minimal. I'm quite a minimalist, as you know. But there are books everywhere. My drafting table is my bookshelf. I have a couch in there that I sleep on. It's very simple: it's long and narrow, with two big windows that face north, and I can see the sign of the Hotel Rosslyn, and the light in the afternoon is really soft and beautiful. It kind of feels like a cathedral in there. It's my holy place.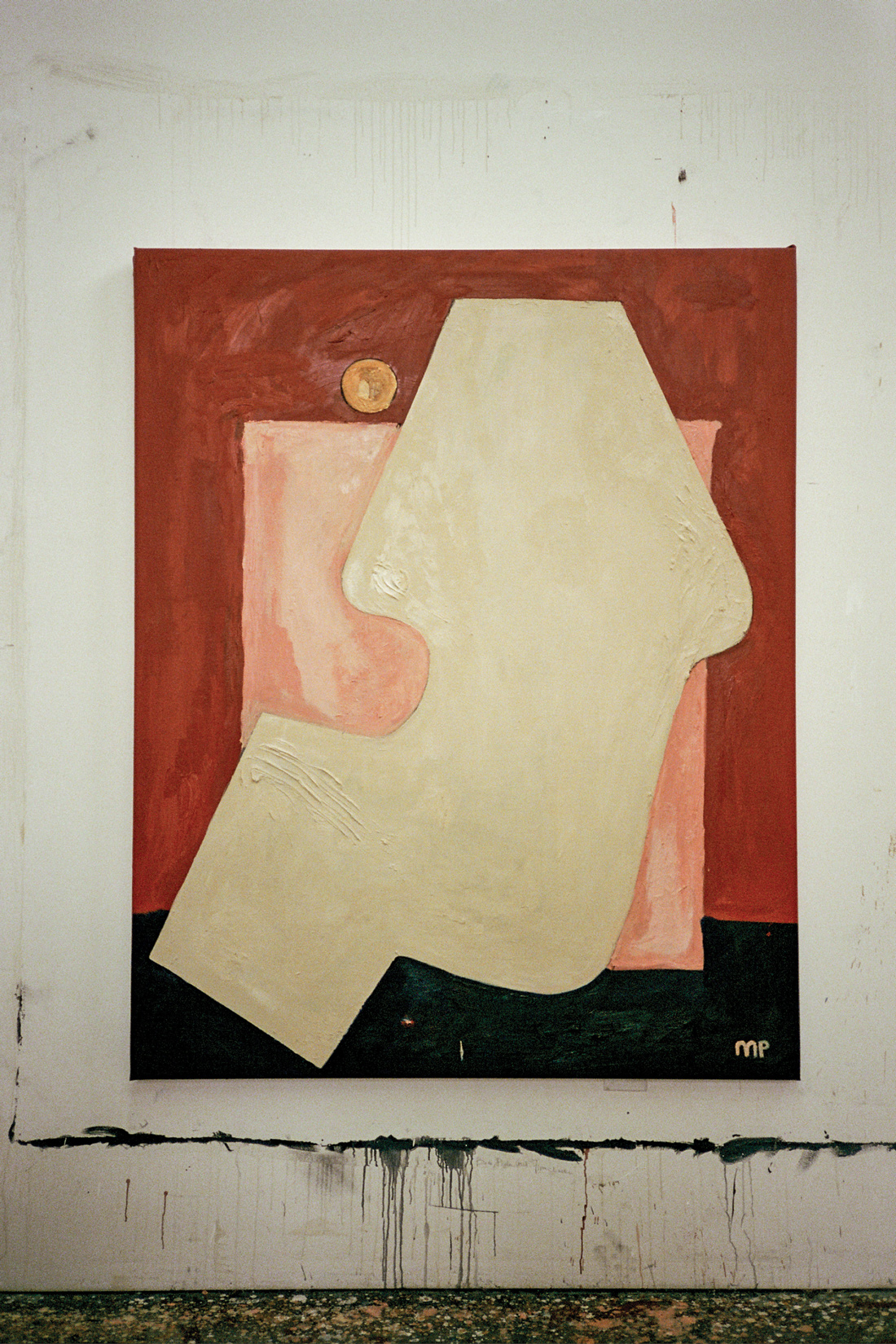 What's the most important thing in there, aside from the paintings?
My books. Charles Bukowski's Love Is A Dog From Hell is one of my favorites. I also have a book that's a series of interviews with Werner Herzog that he's given throughout the entirety of his film career that I really love because he's uncensored and talks outlandishly about life and society and humanity, and I really appreciate that because I feel like there's a large side of me that's really cynical. I really resonate with him.
It's funny you mention Bukowski and Herzog because they're both incredibly "fuck it" about life.
They're two of my heroes.
They have an ethos that I feel you're trying to implement into your own life.
Totally. Minus the misogynistic view on women.
Have you ever felt any sexism in the art world?
Yes, absolutely. But I can't talk about it. It's crazy, male artists versus female artists. I think in museums, 80% are male and 20% are female. It's wildly unequal. But I think it's all shifting now, I want to believe that, anyway.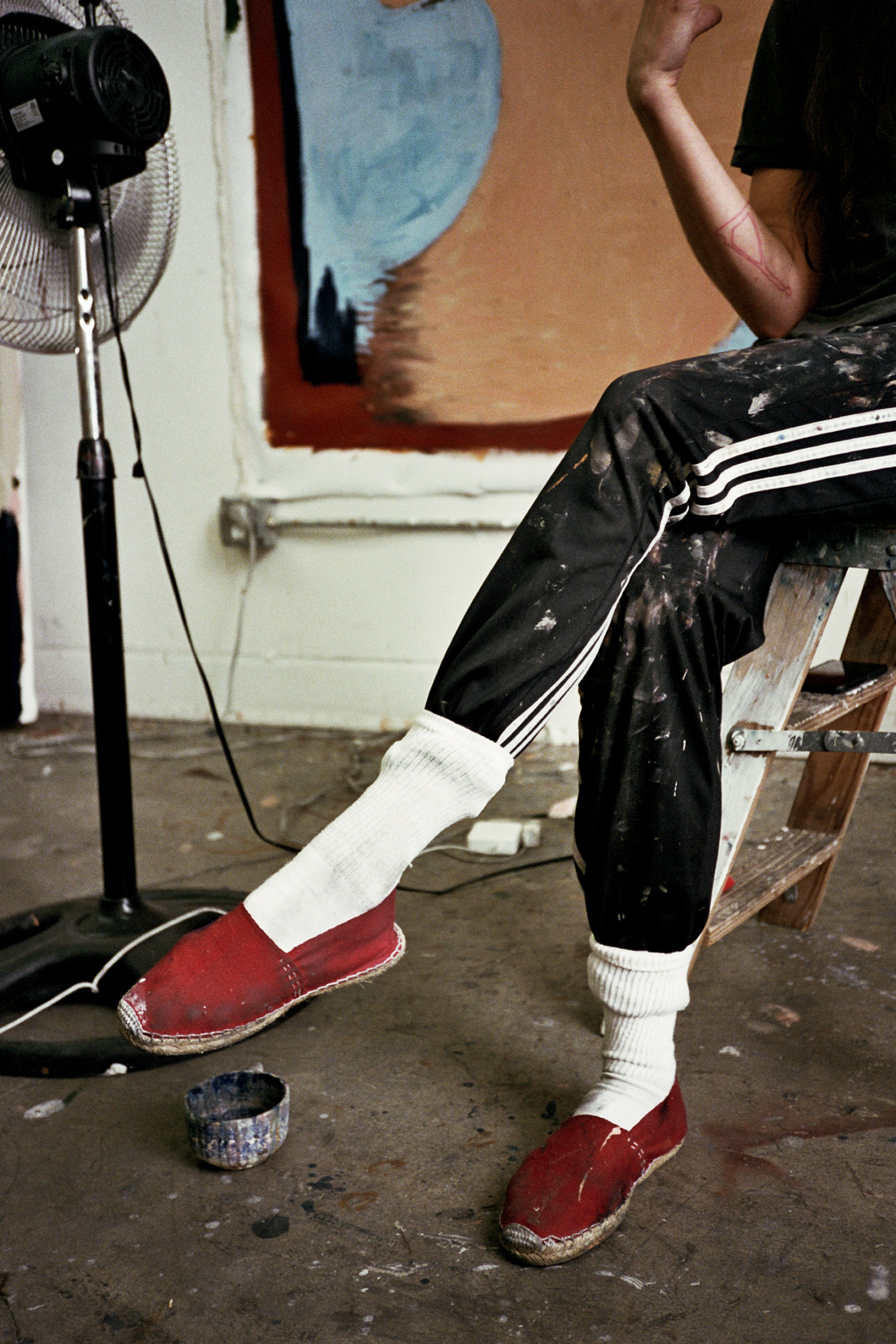 This is the first official women's issue. Do you think that's important?
Absolutely. Like any big movement, like the Civil Rights and Women's Rights, that happened for a reason and people risked their lives for that. And we're given this opportunity and now we have to honor and acknowledge it. I do find it annoying sometimes, to be totally honest. I think it's a lot sometimes, being around feminist groups. And I don't ever want to be put in a box where I'm a feminist painter. I'm a humanitarian, man—I love the world, and I love everybody in it.
Do you love painting?
It's the great love of my life. I don't know what else I would do if I didn't paint. It doesn't feel like a chore. And I know how lucky I am to be in a position now that I can only paint all day. Like, this is so cool I get to do this every day. Mind you, of course, it's not all rainbows and butterflies. It's incredibly frustrating and self-deprecating, and sometimes there are days when I paint and I just sit there and smoke a cigarette and say, "FUCK THIS SHIT." But just being in my studio and being around my paintings makes me happy. Because it's a reminder to me that I'm doing what I want to do, you know, and a part of this form of self-expression is going through the struggles and showing that. It's a journey.
For more from Mattea Perrotta, follow her on Instagram.
Photography and Video by Tony Accosta. Music by Nikolas Escudero.