This is a preview of our feature on Sickid in upcoming issue 16. You can pre-order here.
Sickid is… well, one fucking sick kid. Harlots, fast food, dildos, and pro wrestling are just a few themes that frequent this up and coming youngsters work. A weapon on the streets and equally on canvas, it's not crazy to assume that this is only the beginning of a lifelong tour of offending the establishment wherever he finds himself. I had a chance to meet up with him while he was getting some pieces ready to send to his first showing at Art Basel. After picking up his go-cart from his mom's house we sat down and got to talking.
Ok, let's start this show. Hit us with the basics, who are you, how old are you, what do you do, why are you so nasty?
I'm Sickid. I'm old enough to click "Enter" on most porn sites. I do graffiti and paintings and work for wag (hit me up), and I'm nasty because I have a cup full of pee that's been sitting on my window sill for about three weeks now.
We talked about growing up in LA in the 2000s, I'm a decade older than you but we were still into the same shit. Tell us about the scenes you were involved in. How did you get into graffiti?
I went through a bunch of phases. One that particularly sticks out was being really into the LA garage rock/DIY venue scene of the late 2000s. That shit was fun; I went to at least three shows every weekend. I used to wear cringey flip hats with band names painted on the brim and a denim jacket full of band pins. I pretty much looked like a fixed gear bike guy but without any athletic ability. I got involved in graffiti around seventh grade. These kids I was friends with brought postal stickers to school and my mind was blown by them. That later evolved into wheatpasting. I never had good wheatpasting equipment compared to people who would screen print and laser print their posters. Once I got over that, I got into using spray cans but never wrote letters, so a lot of really male dominant, "I'm not gay" type of graffiti guys dislike me, but I think they're pretty sexy.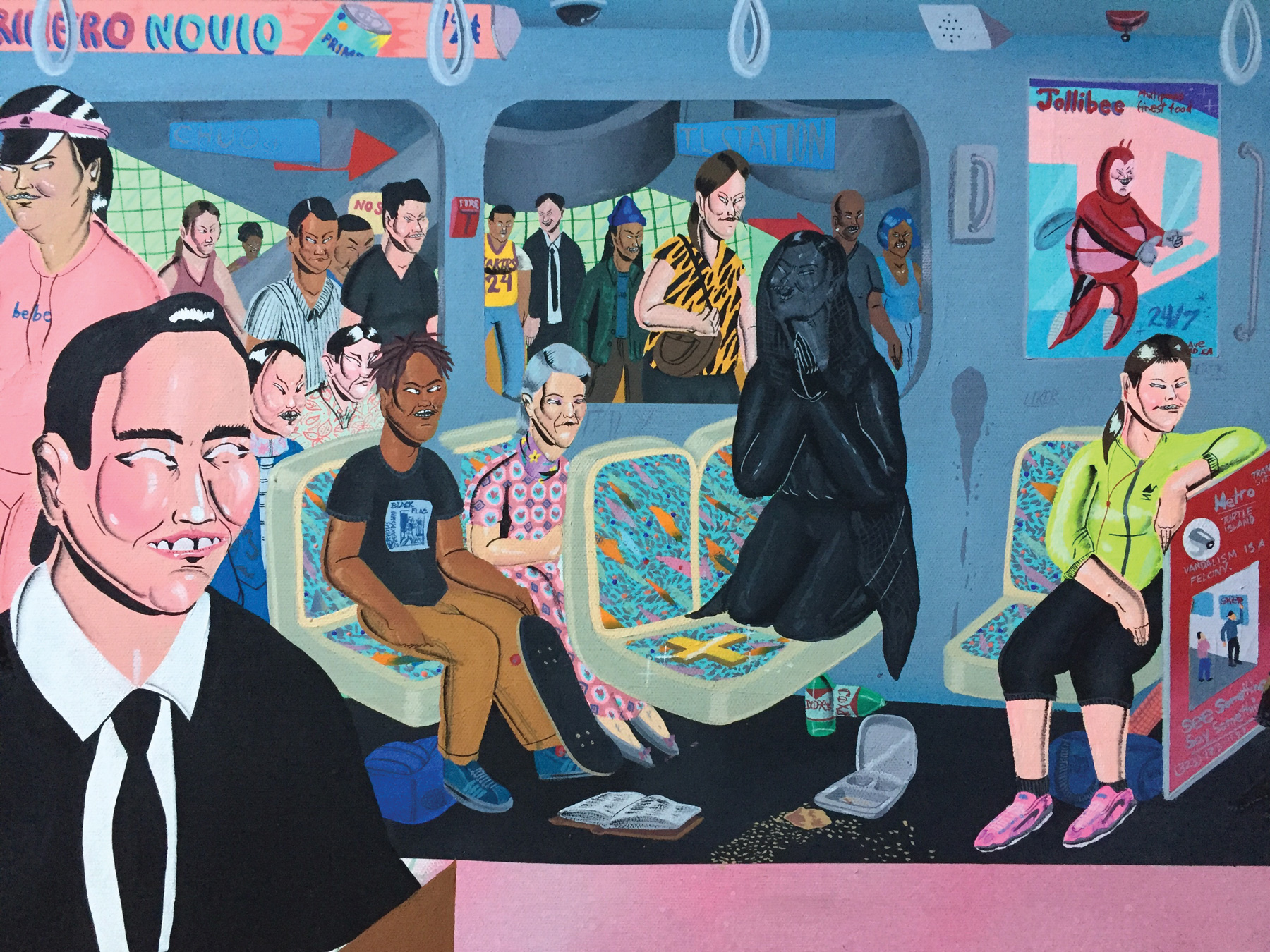 What's the trick to not getting caught?
Never wear headphones, even though the new Sam Smith is really swag. Lookouts are really good. I always do 2:30 am or later.
A lot of artists from LA are inspired by the very specific cultures that surround it. Your work seems to mash every single one together. Tell us about growing up here and your influences.
I feel like every culture has its own type of sub-subculture in LA and that really made an impact on me. We also have a shit ton of variety in food. It's gnarly. I went to high school downtown and I was dumb so I had to go to summer school every year at a different school. I took in pretty much every area surrounding downtown until I eventually called everyone in my way a "foo." So everything around me inspired me in one way or another. Everything from someone's tagger name on the side of a textbook to a sun-bleached photo of a guy with a sick lineup on the window display of a barbershop.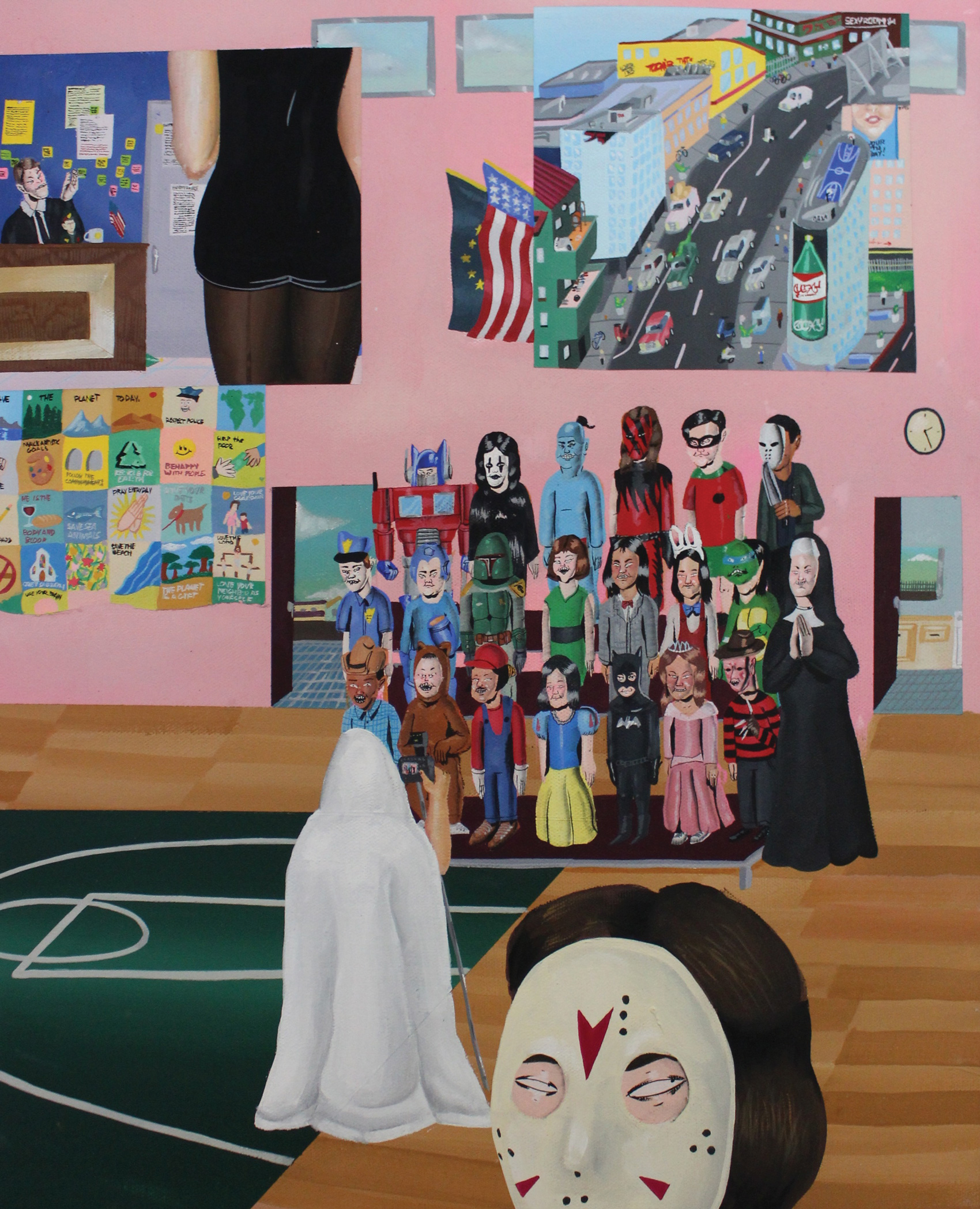 Let's talk about vandalism, do you have more fun putting up billboards and walls instead of painting at home? Your fine art is obviously way more refined but still has the same style as your work on the street.
Yeah for sure! The feeling of walking away from a huge wall or a billboard you hit is way more rewarding than finishing a painting. It's the combination of productivity and the feeling of getting away with something. I'm a bit addicted to that feeling and I don't drink or do drugs, so it's my personal thrill. I also do paintings and drawings just because I like creating and turning abstract visions into real things. I don't ever want to limit myself in what I can do. Doing billboards forever would get boring, but also painting indoors forever would get boring too.
For more from Sickid, follow him on Instagram.