This is a preview of our upcoming issue 18 feature on Yvette Mayorga. You can preorder the issue here.
Midwest Latinx artists seem to be at the vanguard of contemporary ideas and concerns prevalent to current social issues. But at the same time, appear to get lost amongst the profusion of Latinx artists from Southern California. Chicago-based Yvette Mayorga is an artist that is giving the Midwest a winning tally; one that is well overdue.
It has been over a year since I last visited Chicago, a place I called home for several years. And it has been that long since being near Yvette's artwork. I make that last point because it is more than just to view Yvette's work on Instagram, where she posts constantly about new works in her studio. Yvette's work needs to be smelled; it needs to consume you to feel a real connection. Just as Yvette Mayorga is consumed in her artworks, spending countless hours in her Pilsen studio, the audience needs to be imbibed in her pieces. You will feel empathy and anger at the same time. Her colors are vibrant, the gesture is strong, and that will make you look closer, as she creates a new place within her art. While images don't do her magnificent pieces any justice, it is one step closer to getting into Yvette's world.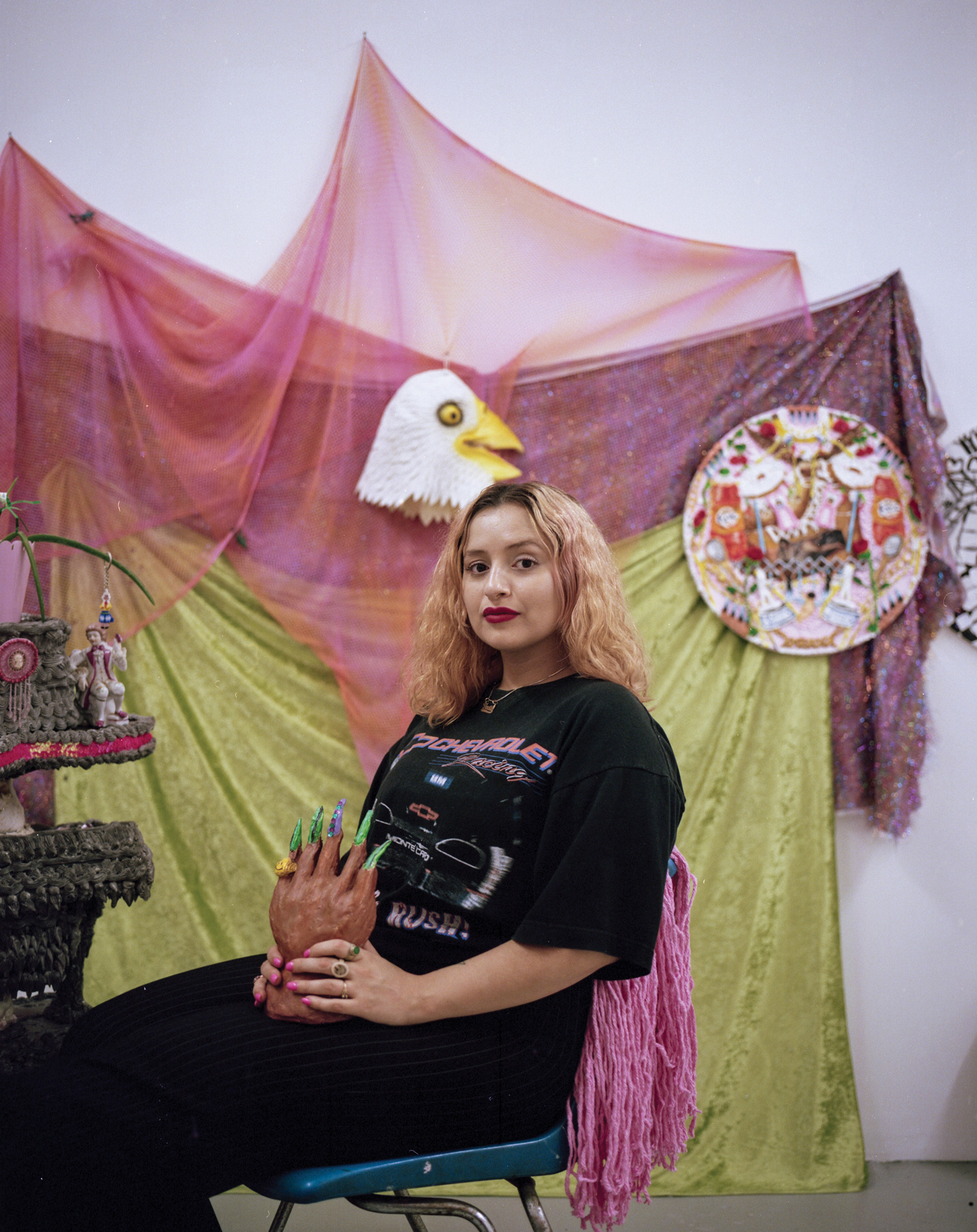 How did you start with your aesthetic?
I started with my aesthetic around 2012, when I began experimenting with real frosting in my work. I was studying to be a painter and hated oil painting. I was tired of the medium and what it stood for so I rebelled. Frosting also offered me a way to talk about labor in my work, which felt genuine to my personal narrative.
Does it have any connection with memories of your childhood?
Yes, my aesthetic is celebratory, physically tiring, and takes you back in time. I use frosting (and the idea of frosting) to reference my mother's labor and mostly only labor she had while working in a bakery in 1970s Chicago, before becoming a stay at home mom. It also references all of the celebrations, recuerdos, and cakes of my childhood that filled my home and made it a place of art. Similarly, I cull specific visuals from my experience growing up Catholic, which to me, felt like the first art I witnessed—specifically the paintings on the walls of the church—the ones ordered from a magazine on my living room wall.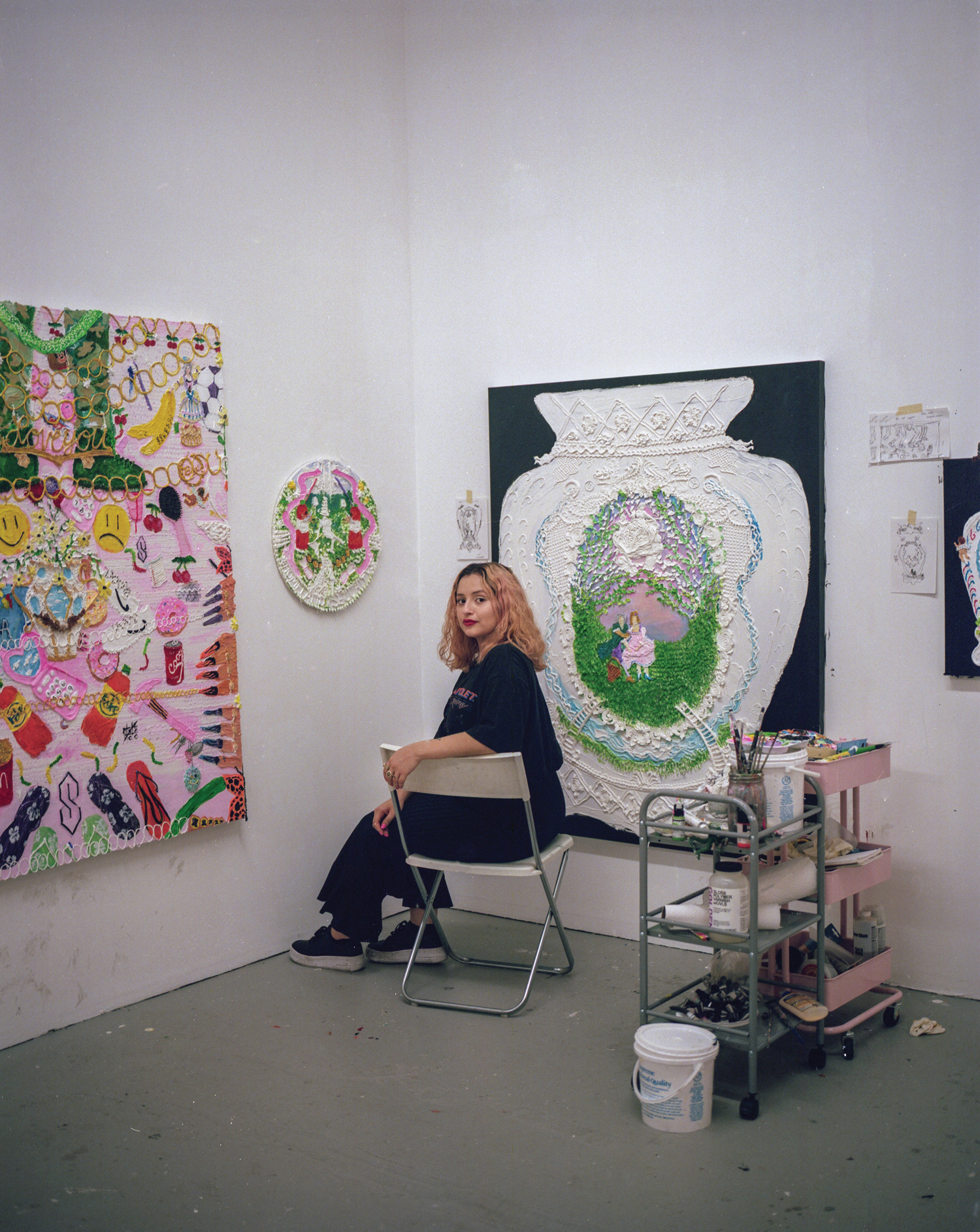 How is place a factor in your work?
I think of an imagined place in my work. The place I create is always referencing a real place but is largely obscured in order to lend itself to the rococo, the dreamy, the liminal. I am interested in creating these fanciful made-up worlds where I address immigration, in order to cross-reference the imagined ideal of the American Dream and how it is also this sort of liminal made up place to most.
How connected do you find your work to political discourse?
I find it to be disconnected and connected in a way. Disconnected because it's a constant bombarding of images that attempt to understand immigrants as the other and my work does the opposite. My work uses the idea of the American Dream as the protagonist in the work, the one that gets away with it all and sees brown bodies as disposable. And connected in the way that issues around immigration have been in my family long before this election. We have all been talking and dealing with it—sometimes in silence—in confidence with our family and always problem-solving.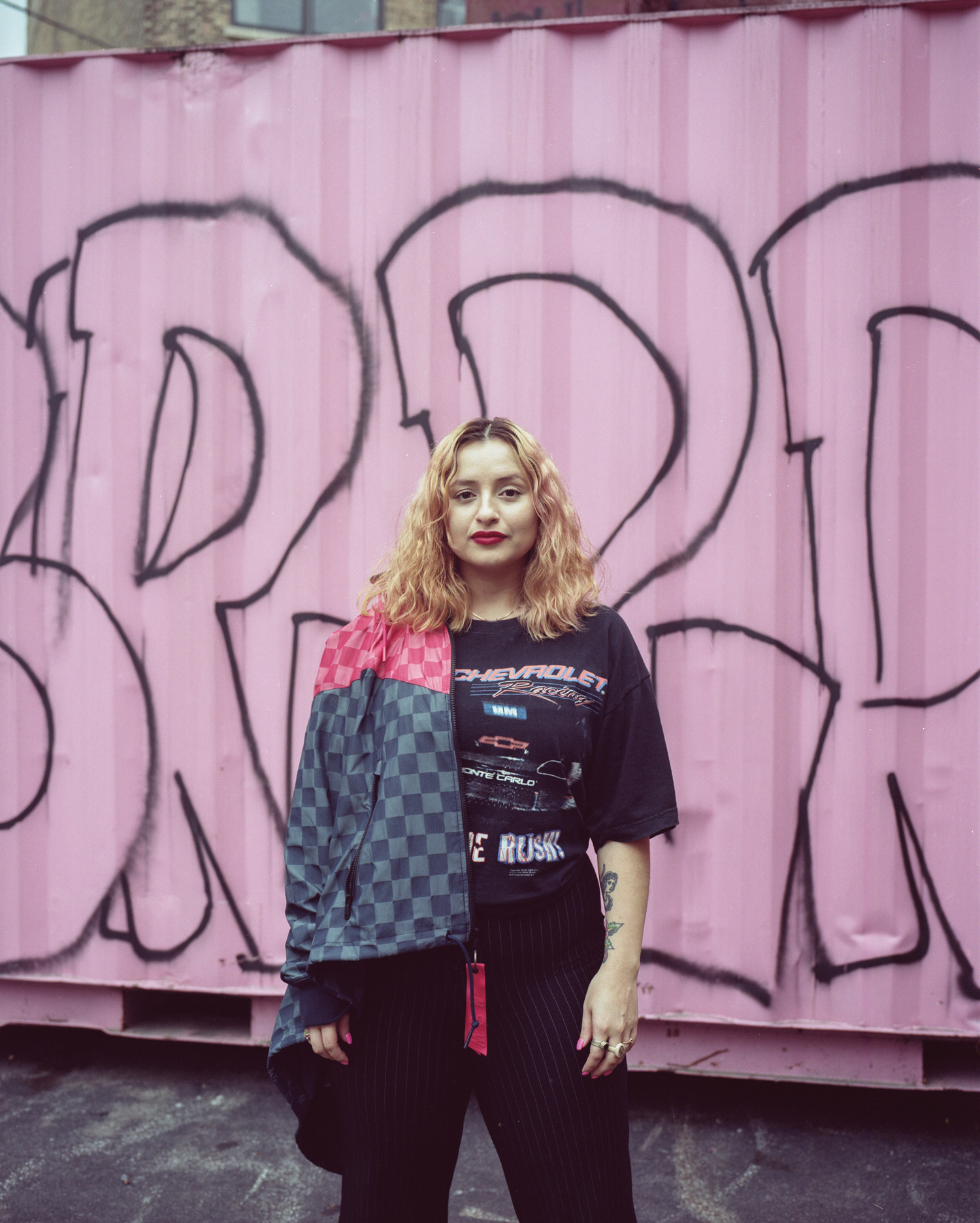 Do you find your work to be accessible? How do you go about it?
Yes, the materials I use and the references I make to a Latinx household, celebration, iconography, and toys we grew up with, all lend themselves to be accessible.
For more from Yvette Mayorga, follow her on Instagram. 
Photography by William Camargo.